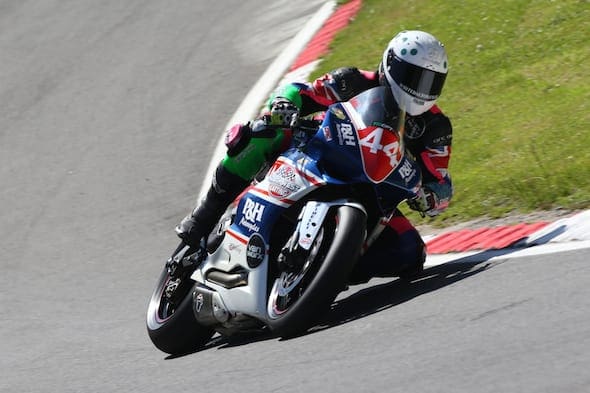 As the Saturday evening sun set on Brands Hatch, inebriated fans flocked to the off-track entertainment and James Toseland performed to thousands. Many wondered if we were at a British Superbike race weekend or a summer festival. Packed crowds revelling in scorching sunshine, enjoying unbelievable racing and a just as unbelievable lightning display: ladies and gents – this is how you put on a show.
Round 4 of the Ducati TriOptions Cup contributed heavily to the shindig, with the usual feast of bar-banging amusement on the GP circuit.
Free practice highlighted little surprise, other than a 50-degree track temperature and me finishing 5th. Yeah, I know. 5th? Fresh from a clean sweep at his home circuit of Knockhill, my P&H Motorcycles teammate Dennis Hobbs was fastest by a good chunk just ahead of my other much shorter teammate, Leon 'Little Legs' Morris. We were edging ever closer to the 1-2-3 P&H podium.
Qualifying later in the day was slightly cooler but the pace got hotter, as Hobbs grabbed pole position from a resurgent Jon Railton, who recently ditched his 899 Panigale for a trusty old 848. Rob Guiver completed the front row, with Marty Nutt, Morris and Sean Neary on the second row. I made a goof with the gearing and headed the 3rd row in 7th spot.
(Insert your favourite lightning photo from Friday evening at Brands Hatch here)
We had to wait all day for Saturday's Ducati Cup race but, by Jove, what a beauty. Sean Neary rolled up to the grid with a terminal clutch problem and promptly rolled back into the pits to retire. Dennis Hobbs continued his winning streak with another victory – he was the only rider to lap in the 1:31s. Marty Nutt was second, with Morris in third. Little Legs had recently become a father for the first time, so Nutt and Hobbs made sure he had a shower of champagne.
Pics: Ravensdale Photographic
I managed a season-best 6th place finish but had a lonely race: 10 seconds in front and 10 seconds behind to the nearest rivals.
Sunday's feature race was a much closer affair. Rob Guiver joined Hobbs and Morris in the front pack, as the trio buggered off and left Marty Nutt and Sean Neary. Hobbs failed to make a last-lap pass stick (with the help of a backmarker) and ventured onto the grass, leaving Morris to take another win and Guiver in second. I was involved in a race-long skirmish with Aaron Brown to claim 8th.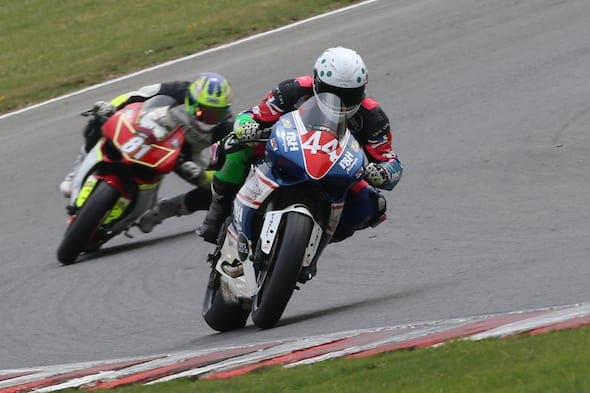 Guiver's best time of 1:31.2 would have been good enough for a top-20 in British Supersport, so the 899 Panigale is slowly finding pace. The 848s were nowhere to be seen in Kent this weekend. Leon Morris' championship lead remains at 23 from Dennis Hobbs, and my 18-point haul hauled my ass into 10th in the standings. All in all, a good weekend.
We miss Thruxton BSB but we're back at Oulton Park in a few weeks. You can read an in-depth report of my weekend in the magazine very soon. In the meantime, check out the highlights on YouTube, and it's another chance to thank all the boys at P&H Motorcycles for having me, and Vanworx, South West Karting and White Dalton for getting me there.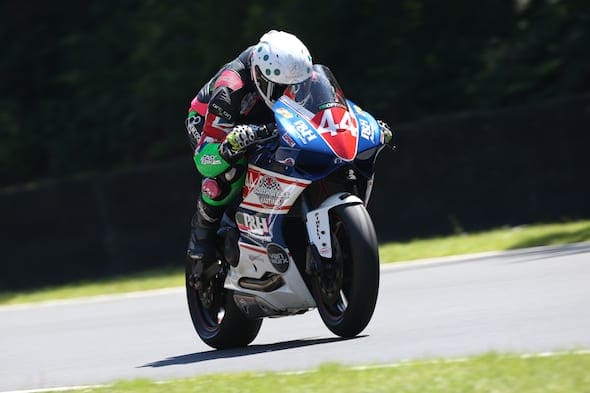 Enjoy more Fast Bikes reading in the monthly magazine.
Click here
to subscribe.