Dan's final blog on the Multistrada GT is up, before getting the Panigale 899. Take it away, Dan!
I got a text last night and it was Benjamin saying the Multistrada GT has to go back to Ducati. I thought when I started this journey that this would be the best text I'd ever had, but instead it brought great sadness. I really did think with my height (and belly) this bike would be a hassle but once I got used to it, it was no longer an issue. So the Multistrada, what can I say? Great, great bike, it does everything I have said in previous mags. I can't get over how comfortable it is, how amazing the new Skyhook suspension is and how much grunt it has – it has everything and does it all perfectly, go try one (whatever you ride) it will genuinely surprise you. I really am also genuinely surprised at how sad I am to see this bike leave.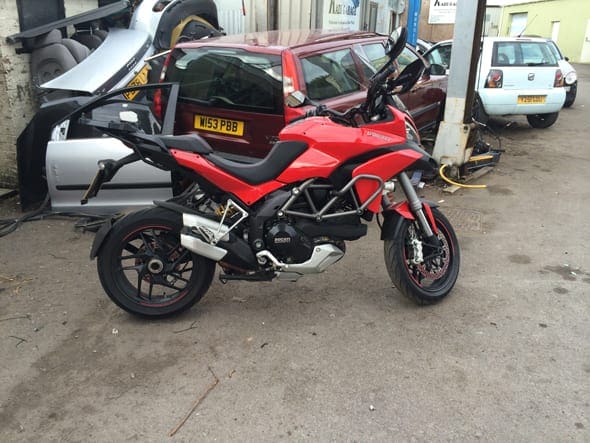 The misses wants me to sell the ZX-10R and buy one, but I use the Kawasaki most when I go out with my mates and due to the bikes we all ride the Multi' would be frustrating after a while. Yes it can keep up surprisingly well, but its hard work keeping up with its Panigale cousin and so on.
There aren't enough words to sum up how good this bike is and you'll all be fed up of me banging on about how good it is by now, and I'm not just saying this because I've been lucky enough to win the comp. Last word on it go and try one for yourself.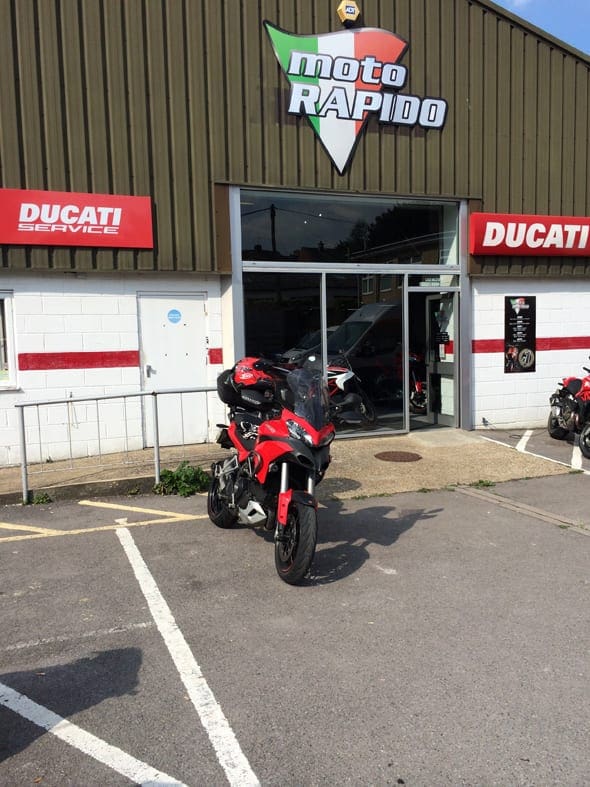 Right, first off I had to take the bike to Moto Rapido my local Ducati dealers to have the rear tyre replaced, as it picked up a puncture at Ducati HQ and had a temporary repair on the way home at Moto Rapido. The Guys there really know their stuff and were so helpful – if you want to buy a Ducati in the Hampshire/Dorset area pop in and see Julian, he is the most helpful and knowledgeable salesman and the guys in the workshop are just as helpful and most of all accessible for info. An hour later the bike was done and they gave it a full check over before I made the trip back to Ducati HQ.
The tyres fitted to the Multi' are Pirelli Angel GTs and they're great, giving plenty of feedback and loads of grip. The set fitted to my bike have done 3,000 miles now and still look like new, hardly worn at all. I've attached some photos from before they were changed so you can see.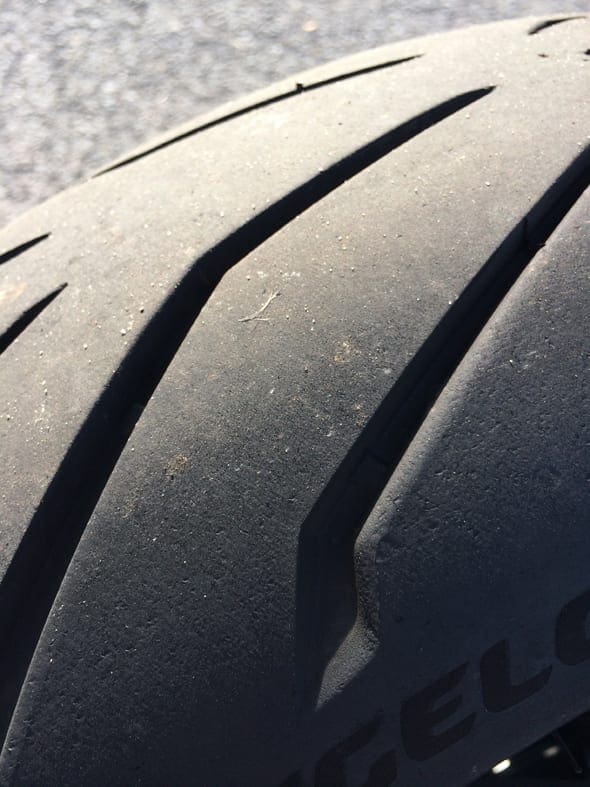 So then, now it's the long trip back to Silverstone and I am going to make the most of every mile. Bye Bye Multi' the next bike has a hell of a lot to live up to!
Cheers all.
Dan

Enjoy more Fast Bikes reading in the monthly magazine.
Click here
to subscribe.