The latest blog from our competition winner Dan…
Hi all!
So it's been a couple of weeks since my last blog, but I have managed to get out on the Pani' a couple of times. What has surprised me on these rides is how quickly the Pirelli Rosso Corsas get up to temperature and how well they perform in the cold. I had the same tyres on an R1 a few years ago and forgot how good they are. Although, trying to get my head round the fact they work so well in the cold and damp, and trusting them, has been difficult. Strange how a few degrees drop in temperature plays with your head.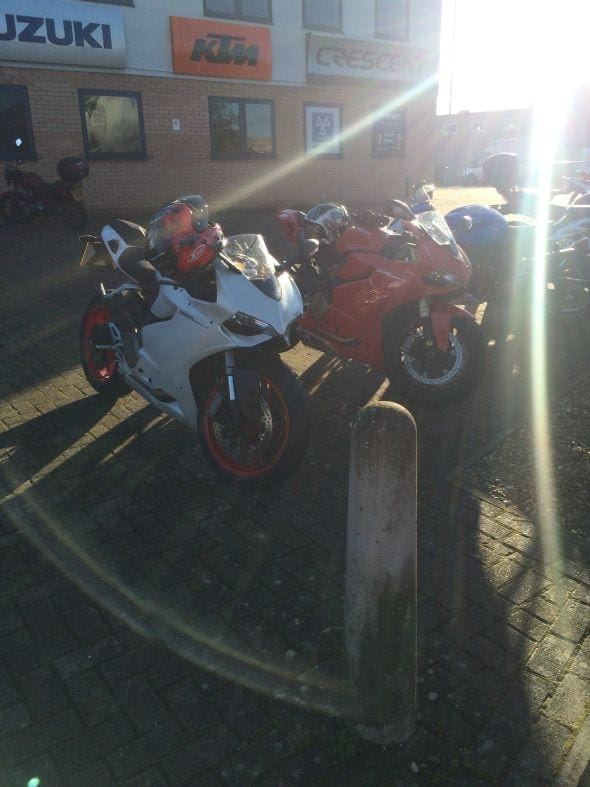 Speaking of the cold temperatures I really needed the Multistrada's heated grips over the last few weeks, maybe it's time to invest in some new winter gloves? On one ride me and my mate popped into Crescent's main dealership at Verwood to warm up and have a nosy at the WSB workshop that you can view from their coffee area. We started to have a look about and I was surprised to find heated gloves (You didn't have to attach to the bike's battery) for sale – what a great idea, I didn't realise they existed.
As normal the 899 performed impeccably chasing down Del on his 1199. I'm not going to bang on about how good this bike is again, but go ride one and ask yourself if you need any more from a road bike. It also still surprises me how much mechanical grip the 899 and 1199 have, my mate's MV and my ZX-10R seem to permanently have their traction-control lights flashing in these conditions, but even under the trees on slippery leaves and damp roads it's very rare to have the TC cut in on the Ducatis.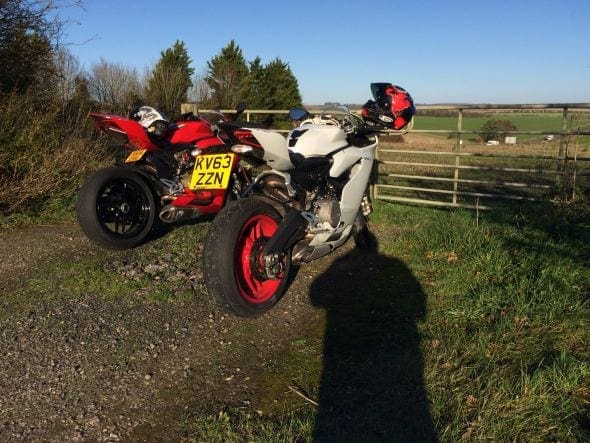 I was kind of thinking that as the winter drew in it would be nice if Ducati had accidentally built a bike with a heated seat, but typically as it's got colder the exhaust does get as hot, though now when I need an under-seat one they don't do them anymore. Bugger! The other thing I can't get my head around is how the 899 is louder than the 1199, even with the 1199 wearing Termignoni pipes. I would love to hear the 899 with a set of cans on it.
Anyway I have had the email back from Alan at Ducati with a price for the 899 and the moment the ZX-10R is sold there will a cheque winging its way back to Alan, hopefully before I have to give it back. That will be a very sad day if the Kawasaki is still unsold.
On the other side of things I have started to sell the parts that were fitted to the ZX-10R so I can start putting my shopping list together for the 899. Maybe I will get chance to take it out more now the Christmas holidays are here and I have a little bit of time off, maybe a trip up to Wales that I keep thinking about but haven't had time to sort out. We ll see.
Hope you all had a great Christmas and have a wonderful New Year!
Dan

Enjoy more Fast Bikes reading in the monthly magazine.
Click here
to subscribe.