So there I was, stood at the side of a road in the middle of Gloucestershire waiting for Al to come past on the Superleggera for the dozenth time, when the familiar tiny face of a VFR400RR buzzed slowly into focus.
As he was already going pessimistically slowly for the approaching bend, I was surprised to hear him change down two gears, at which point his immaculate hobby began sounding like a sewing machine – definitely the NC30 then – and it was more because of his period-style attire that I snapped a frame or two.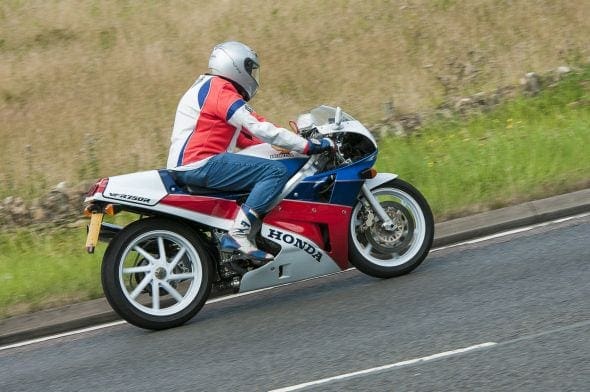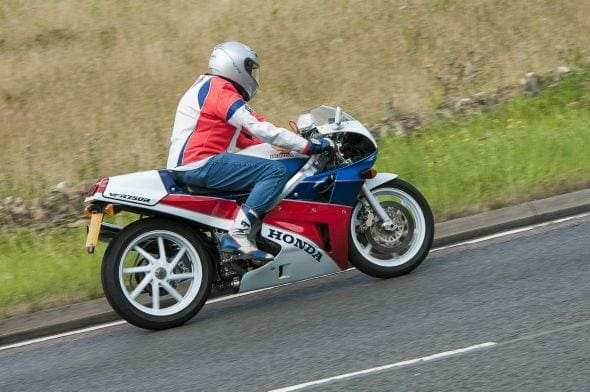 I zoomed in on the screen to see if I got a good one, upon which scrutiny revealed the legend VFR750R in that understated font. The 14-year-old boy in my head squealed "holy shit it's an RC30" and a little tingle ran down my spine then back up to the hairs on my neck. Still quite excited when Al pulled up next to me, I was quite relieved to find his enthusiasm was at least equal to mine. It seems some things are just universal.
What was the fuss about? Mint rare bike on the road. The years of care involved. That model's place in motorcycle technology history. Who rode its racing brothers to win which races how many times having been modified and tuned by whom. This is all hidden behind that beautiful bodywork but you know it's there.
You can, of course, still purchase an un-used RC30, at a multiple of its original selling price, just the same as a quarter of a century from now you'll probably be able to find a virgin Superleggera – but you'll never see either of them being ridden along an ordinary road in an ordinary county of England on an ordinary weekday.
Jonny Gawler
Article continues below...
Advert

Enjoy more Fast Bikes reading in the monthly magazine.
Click here
to subscribe.