Following the recent launch of Ducati's blisteringly gorgeous new superbike, the 1299 Panigale S, here's ten things that struck us about it.
1 – It's still gorgeous / The mildly altered styling, nor the new seat unit, has done anything to alter the sex-appeal, rather it's been increased instead. Oddly though, from some more obscure lean angles, the new LED headlight makes it look like it has a little of Honda's latest VFR800 about it! May have to squint a bit to see what we mean, mind you.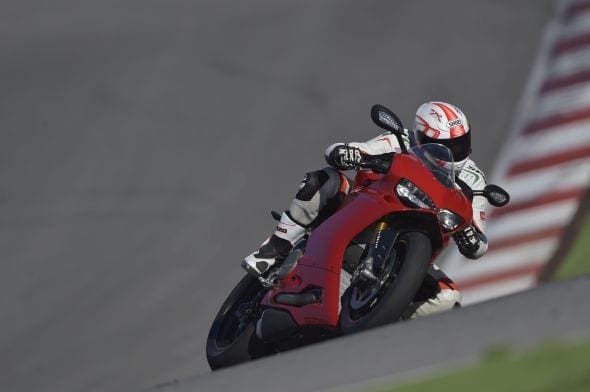 2 – Extra capacity isn't cheating / This is nothing to do with racing, that's what the 1199 R is for, this is Ducati taking the Panigale in a direction more in tune with road craft and making a bike that suits it better. It being even more effective on track is almost an aside to the majority of people likely to buy one. The fact it now makes 205bhp at the crank however (roughly 185-190bhp at the wheel), is the kind of insanity we just can't get enough of.
3 – Electronics rule / Anyone who complains about electronics on modern bikes likely hasn't ridden using any, and this is especially more pertinent at speed, on track. Trying to tame the 200+bhp beast isn't impossible without them, however they not only make it safer and more fun, they also make you faster. We're not sure what's not to like about that. The 1299's digital suite is top-drawer and helps, rather than hinders.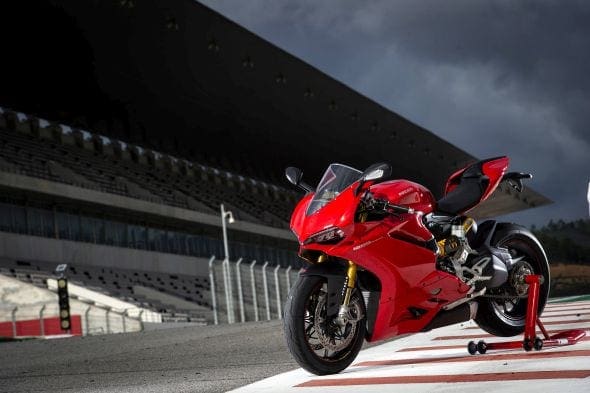 4 – It's still crazy / Yes, the new engine has increased usability hugely, and burbling down pit-lane it appears low speed manners have been dramatically improved also. However, get through the meat of the torque and upwards in the range, and it still revs bloody fast and rips your arms off just like the large capacity two-stroke you've always dreamed of.
5 – It sounds even better / Whether through the extra capacity, or the altered exhaust, there's a deeper and heavier hitting pitch to each boom, be it at tick-over or at the red-line. Like the 1199 wasn't sexy sounding enough…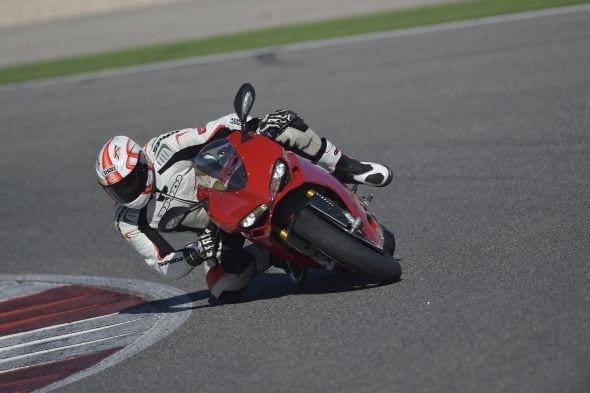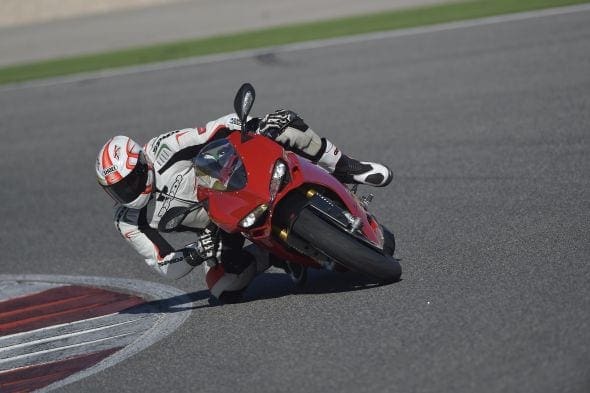 6 – Anti-Wheelie suits everyone / For those who hate wheelies for whatever reasons, or even those that love them, this system is a boon. You can set it so high it'll never lift at all, so any natural inability to wheelie in the first place (Or just an inherent dislike of them) will forever remain hidden while barely affecting acceleration. For those that do, set it lower and it'll still carry the front while driving forward. It feels very, very cool, especially at Portimao when the front lifts a couple of foot over the finish crest at 150mph, and carries it for over 100 yards before gently setting down. Wanna do big lofts? Turn it off and go nuts. See, something for everybody!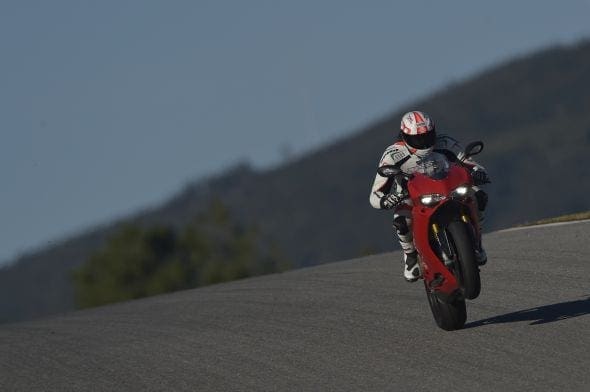 7 – 4mm is a lot / Doesn't sound much, but Ducati lowering the swingarm pivot point by that amount has transformed how the Panigale feels and handles. Track and road, it's a different beast entirely and the stability increase is palpable in the extreme.
8 – Öhlins' 'event-based' electronic suspension sets the new standard / Other systems such as on BMW's S 1000 RR & HP4 are very good, but this one is incredible. It reacts, rather than constantly adjusts. It's amazing to the point where it doesn't feel like semi-active suspension at all, it feels totally natural, which is a trick others haven't been able to fully pull off convincingly quite yet.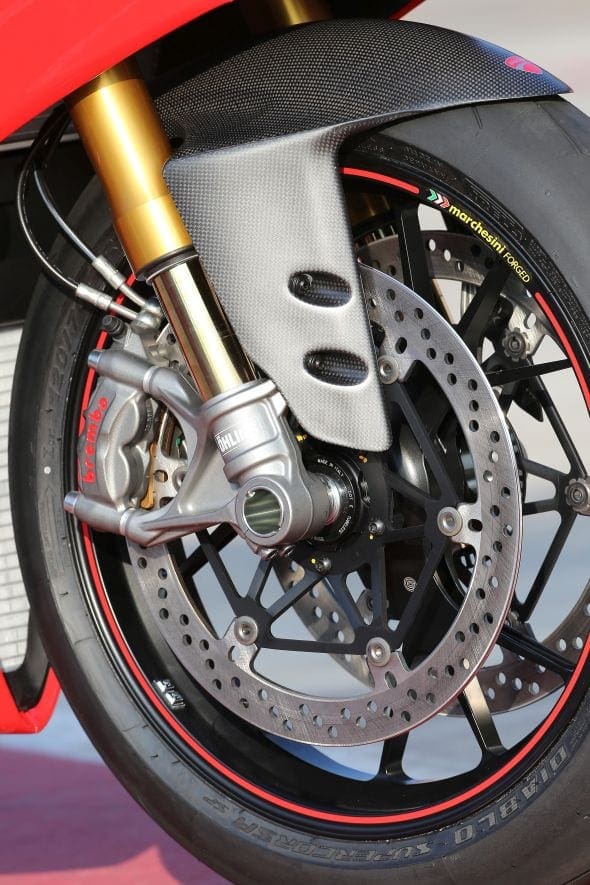 9 – Downshift blippers for Everyone! / They're now coming on more and more bikes, and by rights should be fitted to everything within a few years. The 1299's (which only operates below 10,000rpm) is very slick and will work well on the road, meaning the clutch has a far easier life. Plus it's ace just to bang it down the box.
10 – It's still one big, banzai, blood red rolling drama / Despite the newly found grace, this is a relative term, as the 2015 Panigale will still take an expert hand to squeeze that last 5% from. But now more folk can get more from it, though it'll make you work harder for the pay off than other bikes out there. The big reward for your efforts is an involving, dramatic and completely engrossing experience which assaults all your senses, that's worth every penny of the lofty asking price. At the end of the day, it still remains a proper Panigale – like nothing you've ever ridden before…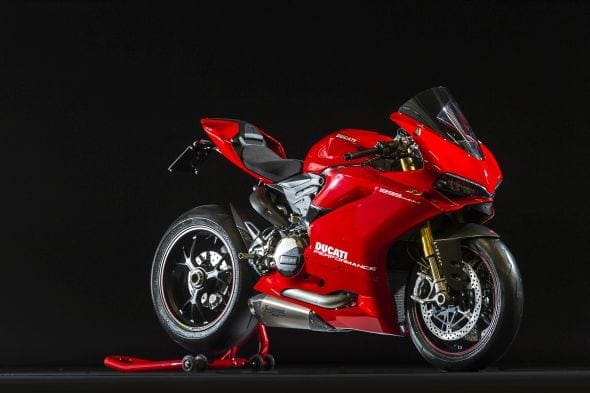 The S version costs £20,795, or £235 a month on their TriOptions PCP scheme
The Standard Panigale weighs in at £16,695, or £179 on PCP.
We await the launch of the new Panigale R with baited breath…
You can find more details here: www.ducatiuk.com
For the full test and verdict on the new 2015 1299 Panigale S, look out for issue 299 of Fast Bikes – Coming soon!

Enjoy more Fast Bikes reading in the monthly magazine.
Click here
to subscribe.