If you go down to the woods today, well, we doubt you'll see any racers, bar maybe one coincidentally walking his dog!
But at Motorcycle Live at the Birmingham NEC, from the 28th of November to 6th December, many racers, champions and racing luminaries will be out in force. So, if there's one in particular you'd like to chat, gawp, rub shoulders or chew the fat with, here's a list of who's currently going, and on which days. This could help you plan your trip, all the bikes and gear will be there all week, but some of the racers will only be there on certain days.
But you can expect world champions Johnny Rea and Johann Zarco, TT Legends John McGuiness and Michael Dunlop and BSB champion Josh Brookes to be attending, to name just a few. See below for the full list of who's booked for which day, and do expect more to come too, so keep an eye on Motorcycle Live's website for updates.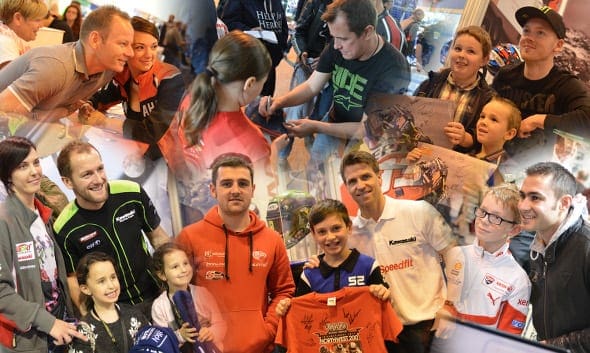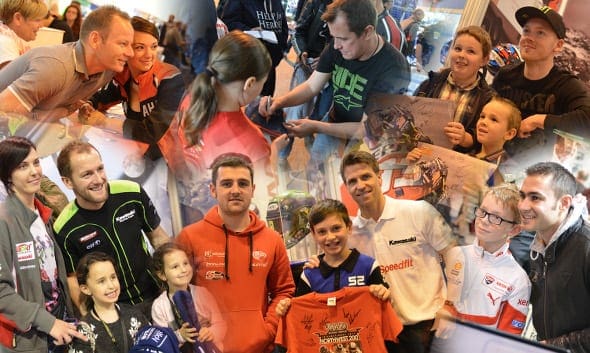 SATURDAY 28 NOVEMBER
Jonathan Rea
Josh Brookes
Tai Woffinden
Leon Haslam
Maverick Vinales
Shakey Byrne
Scott Redding
Dan Linfoot
James Ellison
Rory Skinner
John McGuinness
Micheal Dunlop
Michael Rutter
Ben and Tom Birchall
Matt Roberts
James Hayden
Taylor Mackenzie
John Reynolds
Scott Redding
SUNDAY 29 NOVEMBER – CLASSIC TT DAY
Johann Zarco
Dan Linfoot
James Ellison
Rory Skinner
John McGuinness
Michael Dunlop
Michael Rutter
Dean Harrison
Daniel Cooper
Henry Cole
Michael van der Mark
Taylor Mackenzie
Dan Kneen
MONDAY 30 NOVEMBER
Stuart Easton
Tommy Hill
Johann Zarco
Sylvian Guintoli
Scott Redding
Bruce Anstey
Dan Kneen
Ben and Tom Birchall
Michael van der Mark
Taylor MacKenzie
Danny Buchan
Eugene Laverty
TUESDAY 1 DECEMBER
Ryan Farquhar
Keith Amor
William Dunlop
Peter Hickman
Taylor MacKenzie
Tommy Bridewell
Matthew Birt
WEDNESDAY 2 DECEMBER
Dean Harrison
William Dunlop
Lee Johnston
Taylor MacKenzie
Keith Huewan
THURSDAY 3 DECEMBER
Gary Johnson
Dean Harrison
Ivan Lintin
Lee Johnston
Taylor MacKenzie
Julian Ryder
FRIDAY 4 DECEMBER
Gary Johnson
Ian Hutchinson
Conor Cummins
Taylor MacKenzie
SATURDAY 5 DECEMBER
Bradley Smith
John McGuinness
Michael Dunlop
Conor Cummins
James Hillier
Peter Hickman
Henry Cole
Taylor MacKenzie
Tom Sykes
John Reynolds
SUNDAY 6 DECEMBER – TT DAY / MAD SUNDAY
James Ellison
John McGuinness
Michael Dunlop
Conor Cummins
James Hillier
Peter Hickman
Lee Johnston
Ian Hutchinson
Ivan Lintin
Bruce Anstey
Ben and Tom Birchell
Dave Molyneux and Dan Sayle
Tim Reeves and Patrick Farrance
John Holden
Conrad Harrison and Mike Aylott
Taylor MacKenzie
Chaz Davies
Motorcycle Live Link: Racers at the NEC
Comments
comments