Although the first wheels won't spin on a race weekend till the 8th April at Silverstone, the season-long battle really starts next week where the vast majority of riders line up for two days of official testing on Tuesday 29th and Thursday 31st, at Silverstone and Donington respectively.
This will be the first time many of the BSB teams will be testing their complete packages on UK soil, new and old, alongside the rest of the field. So here is where you REALLY see how everyone's progressed in the off-season, who's 'on it' and who's 'off it' for round one, and we'll be there testing and keeping you updated! So how do the teams fair?
Be Wiser Ducati:
After great initial tests throughout winter at Portimao and Valencia, the new-look Be Wiser Ducati squad had a bit of a Shakey time on the Pro-test at Cartagena (sorry, just couldn't help myself). This being said though, Byrne found a much better feeling at Guadix, putting in the work and the long runs – and absolutely no one can count out the four-time champ' with another two days under his belt! On the other side of the garage, Glenn Irwin is becoming much more accustomed to the big Panigale R, although he's still got a massive learning curve to climb after jumping from Supersport to Superbike. Even just watching from trackside the Ducati looks loose; but he looks fast. If he can get dialled in, there could be some great results coming throughout the year.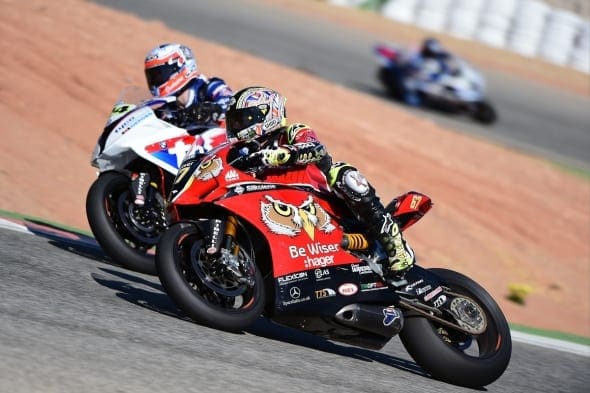 ePayMe Yamaha:
Although the team is brand new for 2016, we have our suspicions that they'll be fast, even if it's not straight out the blocks. Speaking to Tommy Hill he sounds grounded but incredibly confident, and with the SMR (Milwaukee Yamaha) data from last year they should be in a great place; especially with the vast experience of John Hopkins and Stuart Easton in the saddles. Even though the they only tested at Cartagena it did go well for the Yamaha racing duo, but they've got to nail that little bit more at these tests to get in line with the top boys; especially Easton, who's always gone faster on the day rather than in testing . This is absolutely possible though, and we know they're both rapid. At least there's no hard feelings between Hopper and Hill from 2011…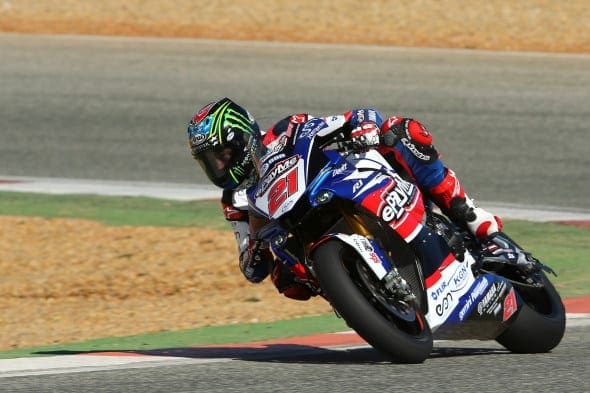 JG Speedfit Kawasaki:
Anyone else a little shocked when the three rider line up was completed? Because I was; that's a lot of work! But after an incredibly heavy test programme, the JG Speedfit Kawasaki squad must've spun more laps than anyone this winter and are well on their way to a great place. Running the brand new ZX-10Rs with a whole host of changes, (including the move from Ohlins to Showa suspension), the boys are really having to put the work in. But it is showing from the pace in testing with Haslam finishing Guadix fastest, and Ellison not far off – even on the harder tyre. We know Leon will be quick, and if Ellison finally gets some well deserved luck there could be a pretty deep rivalry in that garage; without the factor of Hickman, who after last year's performance will be a real dark horse for 2016.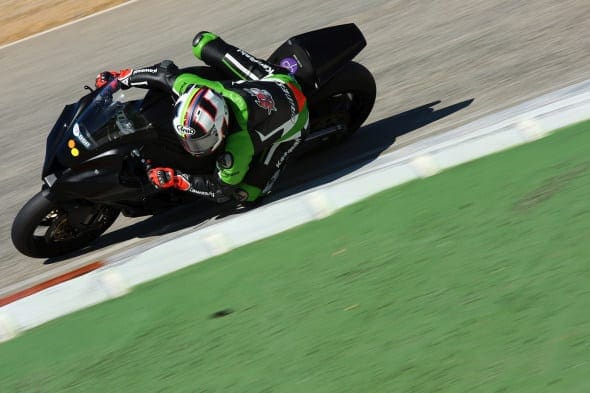 Lloyds British Moto Rapido Ducati:
The other team to be running an Italian stallion; and I'm not talking about the rider. The team at Moto Rapido have an abundance of experience with the Panigale R; its potential shone through at the end of last year and throughout their pace in testing this season where they've had some great speed, even on worn tyres. With a confident and mature looking podium finisher of Danny Buchan at the realm, the showdown could be well within their reach.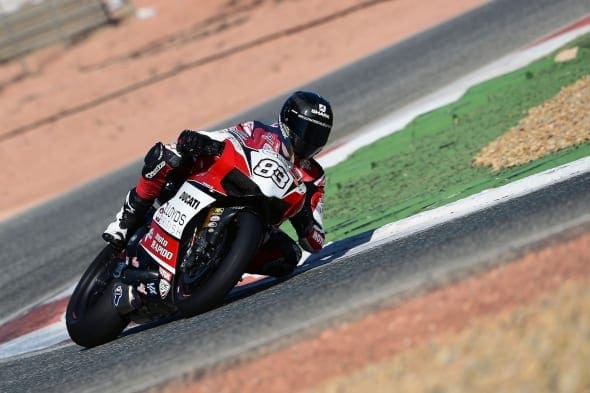 Bennetts Suzuki:
A whole new line-up for 2016; and one full of big potential in my opinion. Both Kiyo and Bridewell have gone consistently faster and faster in testing, and if they keep going in the same direction at the official tests both riders have a good shot at it this year – even though a lot of people shun the older Suzuki. There has been a lot of negativity surrounding Kiyonari over the past few seasons, but if his mind is in the right place he can nail it; while if Bridewell stays consistent and gets the GSXR dialled in he can feasibly make the showdown again.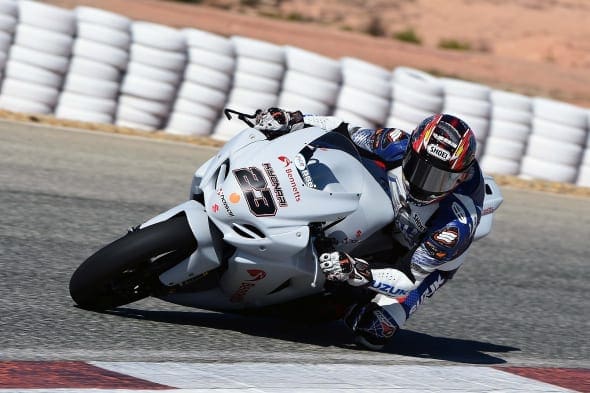 Tyco BMW:
Another team with a heavy testing schedule, it would take a madman to bet against the Northern Irish Tyco BMW Squad after their form at the end of last season and throughout the winter of 2016. With Laverty feeling confident and comfortable after spending last season dialling in the S1000RR, testing has been a real effort to help with race pace and tyre longevity at both the Spanish tests, while Iddon has just been getting to grips with the big Beemer. A real strong duo…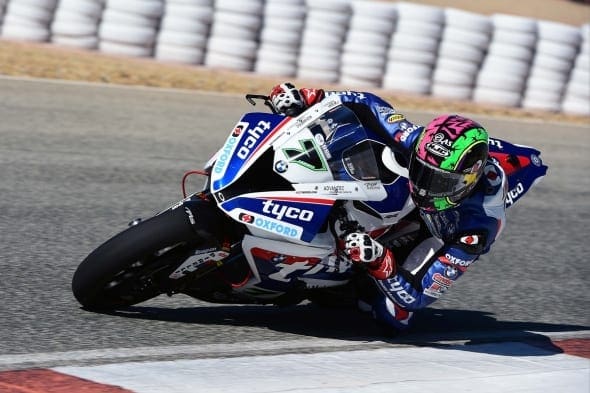 Team WD40 Kawasaki:
As much as I'd love to say these guys have had a successful pre-season, it's been far from it. The team had both Superbikes and their Supersport bike stolen a few weeks back, and although one ZX-10R has been recovered, the other two are still adrift, all because some f*ckers wanted to make a quick buck. They had a great season last year with Jack Kennedy, and with Sam Hornsey joining the team I just hope this means some good karma is on the horizon.
Honda Racing:
After a rocky 2015 (due to injury of Linfoot and O'Halloran) , the Honda racing team are back with the same three strong rider line up and an abundance of mileage under their belts before the season gets underway. With O'Halloran back from injury and Tinmouth and Linfoot brimming with confidence, all three riders seemed over the moon with their progress at Monteblanco and Almeria. This is good news for the factory squad, who have worked hard on a solid base setting for the coming season to be stronger from the off; especially with the continuity from last season.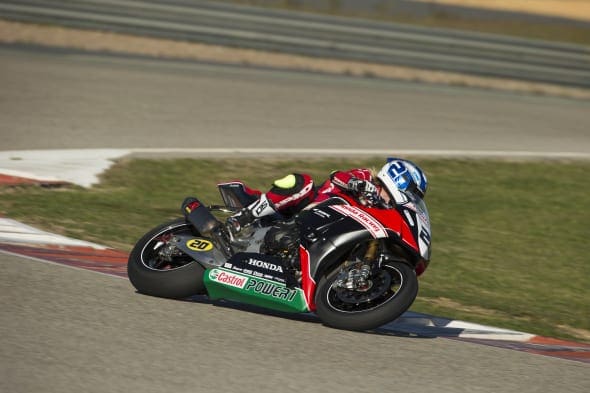 Anvil Hire TAG Yamaha:
Switching to Yamaha machinery for 2016, the Anvil Hire TAG trio have had a busy winter, out testing numerous times on stock/hybrid machines… but only this week they had two days at Calafat and a taste of the full-blown Superbike spec weapons they'll be on for the season. This means a lot work will be done to get the trio of Billy McConnell, James Rispoli and Shaun Winfield up to pace, but the potential of the Yamaha is huge, and with those guys there could be some fireworks…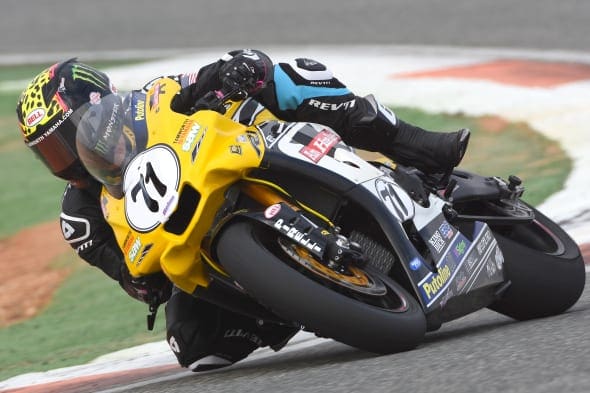 Buildbase BMW:
With Buildbase onboard once again, the team are on a real high after signing Richard Cooper and Lee Jackson for the 2016 campaign. Cooper made a bloody awesome showing at the end of last season, and after a solid test at Cartagena he'll be a force to be reckoned with on that Beemer. Alongside him I'm punting on Lee Jackson making some big impressions this year, and after posting some solid times in Spain the Buildbase duo should not be underestimated.
Quattro Plant Teccare Kawasaki:
Fair play to these boys, last year they put in some great results with Luke Mossey behind the bars just missing out on the showdown; and this year looks no different. Mossey is oozing with confidence and an incredibly hot pace in testing (he was fastest in Cartagena) which is the perfect set up for the UK tests, while Swede Filip Backlund will continue to improve once he gets to grips with the new team.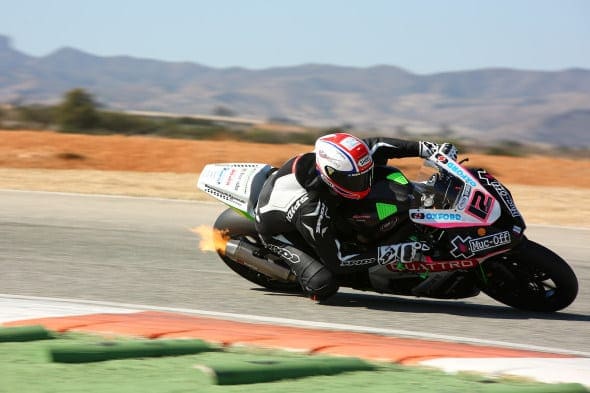 Smiths Racing BMW:
Another shake up for 2016, Smiths BMW have grown into a two man team with Howie Mainwaring and Jakub Smrz taking over the reins after a pretty solid off season. Even though the duo are new to the BMW machinery, they completed successful tests at both Guadix and Almeria, focusing on getting the Supersport Championship-winning team back on the box. Keep an eye out…
Royal Air Force BMW:
Taking on Alastair Seeley for 2016, the Royal Air Force BMW team completed a solid test, spinning a bunch of laps on both the Superbike and his road bikes. A previous race winner, Seeley should be up to pace before we know it and hopefully they'll take the fight to the top boys.
Riders Motorcyles BMW:
Another road specialist, Martin Jessopp rejoins the grid once again for the 2016 season. With an abundance of experience under his belt and some great road performances last year, there should be some good point scoring finishes on the board for this year.
Gearlink Kawasaki:
After the struggle of last season, Italian Vittorio Iannuzzo rejoins the grid onboard Gearlink Kawasaki's Superbike steed. The team have had one shakedown test at Calafat, before heading over to Silverstone next week. Let's just hope they get the results to match the effort put in.
Platform Hire Yamaha:
Returning for 2016, Aaron Zanotti is back with a brand new sponsor for the coming season. Having a good solid test at Cartagena putting in some competitive times, he should be stronger than ever.
Lloyd and Jones/PR Racing:
They haven't yet completed a test programme so will be on the back foot, but IDM race winner Matej Smrz is a strong rider who will be looking to beat his bro. The team have experience within the paddock, so let's hope they can get it together for 2016.
FS-3 Racing Kawasaki:
Another team without a test plan; although they're currently without a rider as well. I mean, if you still need a pilot I'm here and waiting…

Enjoy more Fast Bikes reading in the monthly magazine.
Click here
to subscribe.