This Winter has seem some of the most strenuous testing plans I've ever seen. A whole host of teams throwing copious amounts of rubber at the tarmac in return for that miniscule advantage; and it's showing. At Donington (just testing remember) the top boys went quicker than the qualifying pace last year, which means this year is going to be a belter with a bunch of records smashed along the way. So coming into the UK tests, the build up was huge: Could Be Wiser Ducati make that Panigale work? Would Tyco BMW be able to carry the momentum back home? Would the JG Speedfit Kawasaki squad fulfil their potential? Would the brand new team ePayMe Yamaha cope? The answer is yes, and there is a whole host of other competition too…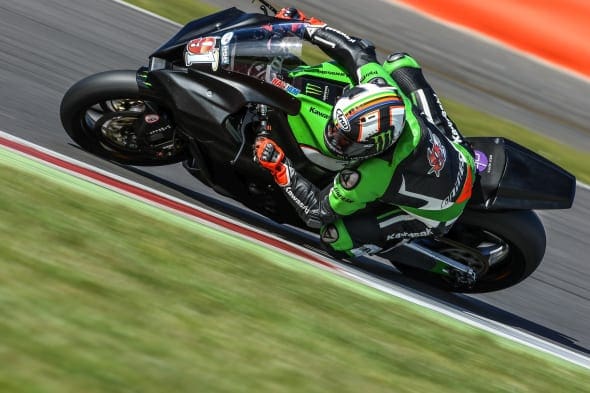 Now it has to be said, Silverstone was a pretty dismal return to normality. With conditions far from perfect throughout, riders got to test in the cold reality of the U.K (many for the first time this season) – which bode well for most, getting some solid base settings in mediocre weather. But others, like Moto Rapido's Danny Buchan, didn't even venture out until the times dropped! For anyone spectating on the day it might've seemed disappointing, but in reality it was perfect as it led to an end of the day dogfight to climb the timing screens. Interestingly, the last session was led by BMW, Ducati, Honda and Yamaha before the Kawasaki of Leon Haslam took the final honours, posting the fastest time of the day on his final lap; cool as you like. The combined results are as follows:

1-Leon Haslam (JG Speedfit Kawasaki) 2m:06.182s
2-Michael Laverty (Tyco BMW) +0.122s
3-Filip Backlund (Quattro Plant Cool Kawasaki) +0.223s
4-Christian Iddon (Tyco BMW) +0.233s
5-Danny Buchan (Lloyds British Moto Rapido Ducati) +0.392s
6-Dan Linfoot (Honda Racing) +0.481s
7-Shane Byrne (Be Wiser Ducati) +0.642s
8-John Hopkins (ePayMe Yamaha) +0.762s
9-Richard Cooper (Buildbase BMW) +0.790s
10-Jason O'Halloran (Honda Racing) +0.844s
11-Luke Mossey (Quatro Plant Teccare Kawasaki) +1.024
12-Jakub Smrz (Smiths BMW) +1.111
13-Lee Jackson ( Buildbase BMW) +1.334
14-Tommy Bridewell (Bennetts Suzuki) +1.337
15-Peter Hickman (JG Speedfit Kawasaki) +1.469
First ten covered by under a second at the longest circuit on the calendar, and a blend of underdogs mixed with the favourites. What more could we ask for?! And there's still one more test to play with…
With the JG Speedfit boys sitting out the Donington Park Test, it was all to play for to get that last niggle of an advantage before the first round. It's worth mentioning though that Billy McConnell didn't make an appearance either, as he and the Anvil Hire Tag Yamaha parted company just before the first round. Word on the street is he is linked with the spare seat at FS-3 racing team on the ex-PBM machines – but his next move is anyone's guess and we wish the ex-Supersport champ all the best.

Thankfully, Donington Park held better fortunes weather wise, giving us an absolutely belting day which drew in over 7500 people to spectate. I was there and I couldn't believe it was just a test day with the volume of fans! This meant that people got plenty of laps in, and the pace was absolutely stonking. But who got the last laugh?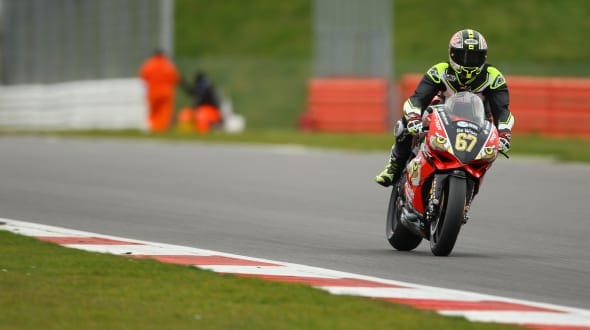 Under the glorious sunshine Byrne and Laverty were on fire, taking turns at leading throughout the day, and even dipping under Kiyo's pole time from last year in the process. Fast throughout the whole of pre-season you have to give Laverty his due as he is absolutely spanking that Tyco BMW; stealing the top spot from Shakey in the dying minutes of the day just as Leon Haslam did to him at Silverstone. This is good news for the Tyco BMW boys as you can really see beaming confidence from the Northern Irishman even when he's just wandering round the paddock – meaning he has got that bike tweaked nicely. He'll be strong from the off, and with a years experience on his shoulders on the S100RR, will have some real strong race pace.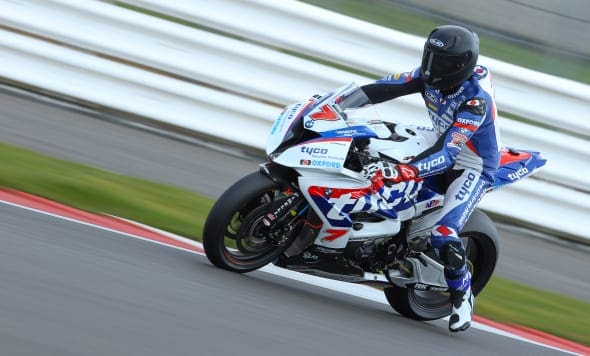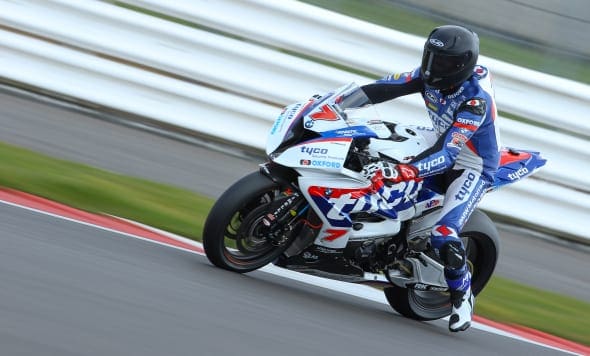 And who can write off Shakey Byrne? Finishing up just 0.044 behind Laverty, he has done his bit at silencing the Ducati-doubters for now; I'm just hoping he can keep up the same pace for the whole race distance. He'll have to be on the ball anyway, as although the pair at the front have over half a second advantage, there is a long line of competition lining up to strike: Iddon, Mossey, and O'Halloran round out the top five showing impressive form, with Linfoot, Kiyonari, Irwin, Seeley and Buchan all covered by half a second behind the first two. The top 15 are as follows:
Article continues below...
Advert
1-Michael Laverty (Tyco BMW) 1m:29.298s
2-Shane Byrne (Be Wiser Ducati) +0.044s
3-Christian Iddon (Tyco BMW) +0.630s
4-Luke Mossey (Quattro Plant Teccare Kawasaki) +0.634s
5-Jason O'Halloran (Honda Racing) +0.634s
6-Dan Linfoot (Honda Racing) +0.669s
7-Ryuichi Kiyonari (Bennetts Suzuki) +0.733s
8-Glenn Irwin (Be Wiser Ducati) +0.864s
9-Alastair Seeley (Royal Air Force BMW) +1.007s
10-Danny Buchan (Lloyds British Moto Rapido Ducati) +1.069s
11-Jakub Smrz (Smiths BMW) +1.121s
12-Fillip Backlund (Quattro Plant Cool Kawasaki) +1.201
13-Luke Quigley (FS-3 Racing) +1.630
14- James Rispoli (Anvil Hire Yamaha) +1.642
15-Sam Hornsey (Team WD40 Kawasaki) +1.644
Although testing isn't gospel, it's always a good insight into what the season will hold, and if the pre-season is anything to go by, then this year is going to be a belter. We can't wait for the first round at Silverstone on the 8th-10th April – but we also want to send our best wishes to Filip Backlund who broke his collarbone; we hope it fixes as soon as possible after such a good pre-season!
All pictures credit @Raceline Images!
Article continues below...
Advert

Enjoy more Fast Bikes reading in the monthly magazine.
Click here
to subscribe.