WE MADE IT TO SILVERSTONE!
If you read my last blog, you'd of seen I made a bit of a mess. We ended up taking the bike back in a bunch of pieces wondering if it was all just a big nightmare. Yet, somehow, after a week of hard work and doubt we made it on the grid for the first round of the Ducati Tri-Options cup. Hell to the yeah!
So after decimating the bike, we got it back together and dropped it straight off at Steve King Motorsport, in order to give the whole thing a good going over and to make sure the engine was still functioning; the crash had ripped the battery clean out so we couldn't even check if it still ran! We ordered all the bits needed (tank, air tubes, front bracket, levers, pegs, etc,etc) and let the week roll on. And as expected, absolutely nothing showed up on time. So we headed up to Silverstone unknown as to whether or not we'd even make it out…
Thankfully, we managed to pillage all the bits we needed from various teams in the paddock, and made the trip up to Coventry to pick the bike up, to see if it actually ran (we just got hold of a tank). We stuck it together, hit the ignition and she roared into life, sounding just as sexy as ever. The relief was unreal, so we loaded her up and got it back to get a good night's sleep before a manic day of building. With practice late on Friday it took us all day to get the Panigale back together; but 20 minutes before free practice she was complete. We managed to get out, and used the session to make sure everything still worked properly and was all back in the right place – which it was although my times were pretty shit! But hey-ho, always look on the bright side and thankfully we managed to get the bike sorted, feeling a bit more comfortable and ready for Qualifying on Saturday.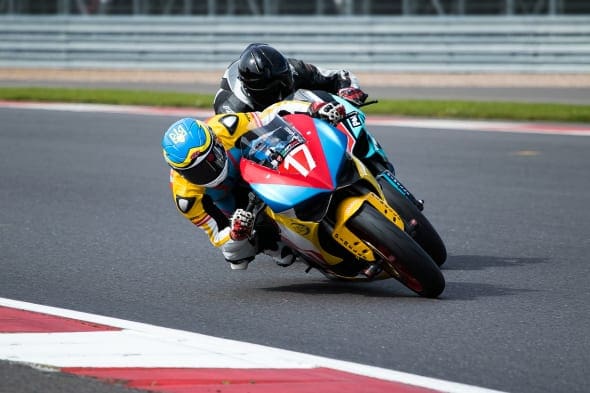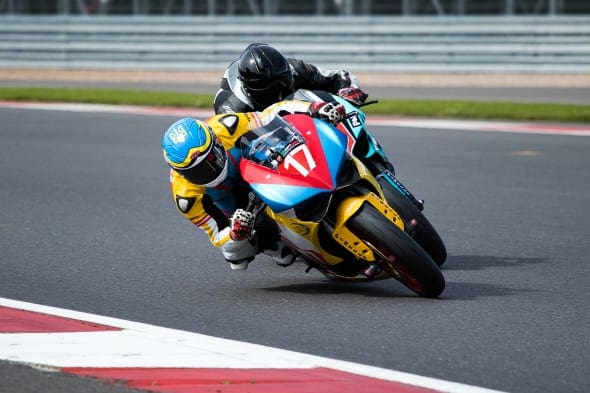 Which of course, absolutely pissed it down. And of course, it was a 9:00AM session. In fact, a freezing cold soaking wet Silverstone wakes you up better than a pint of black coffee laced with Red Bull. It was so slippery twelve people went down, but I managed to keep the thing upright and put in time to get me just outside the top half of the grid. Progress is progress after all, and the track looked to be drying for race one which would be a lot better for my confidence…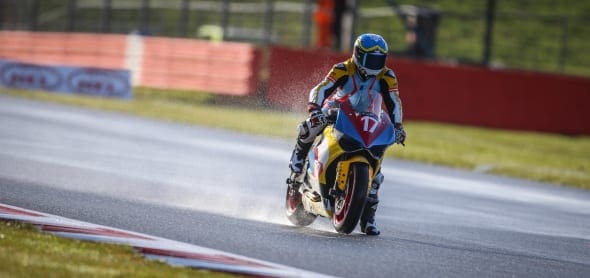 So race one? By now the track has completely dried out, so we roll out onto the grid and with six minutes before race starts the heavens absolutely open. It's utter carnage on the grid; we are given an 8 minute window to change both tyres, and we did a mint job to get them done in time! Unfortunately, I stiffened up the bike in anticipation of going faster and didn't get to soften it off, so after two warm-up laps we gave it our best shot. The track was immensely slippery (they had to cancel the Supersport race later on it was that bad…), and no matter what I just couldn't get any feedback through those Pirelli wets, giving me absolutely no confidence at all to push on. It didn't help that I got royally messed up going into Vale and lost a load of positions and dropped me off from the group in-front, meaning after a race long battle all I could muster up was a feeble 22nd position.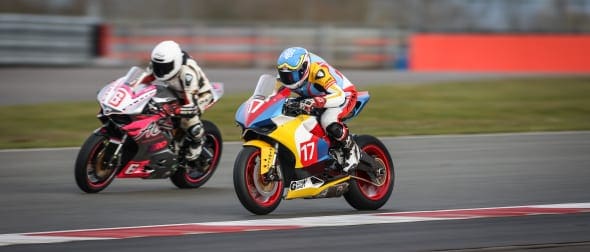 Article continues below...
Advert
Still building up confidence piece by piece, I was pretty thankful to find race two a dry affair; even if I did need a pair of binoculars to see the lights from row 8 on the grid. I got a good initial launch, and managed to make up few places on lap one although things were a bit messy! Lap by lap we got faster and faster, posting my quickest lap on the last lap, even with two overtakes and defending. I ended up finishing 18th but with pace to finish 14th, and a hell of a more to scrape out the barrel for next round. We kept her upright and got through the first weekend! Now we have a tonne of work and a bit of testing before the next round at brands on the 18-20th May. Bring it!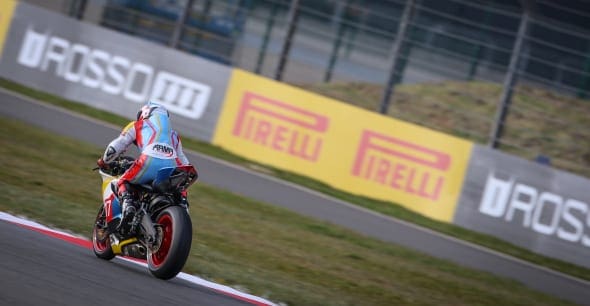 As an aside, I don't usually do this, but I'd like to say a special thanks to these guys, as without them there is no chance I'd of managed to ride:
-Steve King Motorsport
-Glynn Racing
-Freeman Harris Solicitors
-Team Art of Racing
-True Heroes Racing
-K-Tech
-ARMR leathers
-Kabuto Helmets
-My father, family and everyone close!
Article continues below...
Advert

Enjoy more Fast Bikes reading in the monthly magazine.
Click here
to subscribe.