Does the name Massimo Tamburini ring a bell? Well it should. Not only did he play a role in the creation of Bimota, but he designed two of arguably the most iconic and beautiful machines laden with two wheels: the Ducati 916 and the MV Agusta F4. So how can you top that?
Give the man an open canvas and he creates this, his final ever design…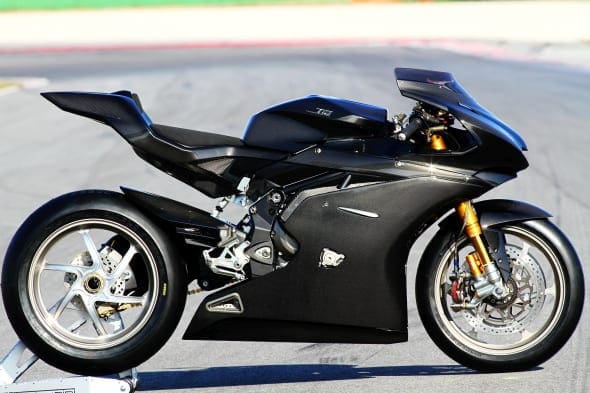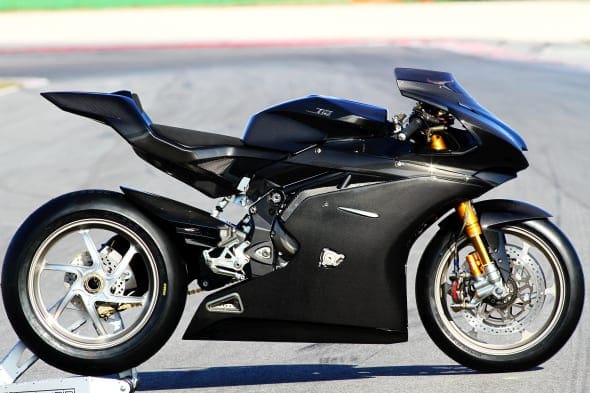 The T12 Massimo is about as pure and extreme as you'll ever see nowadays, being a track only sports bike with no street legal version currently on the cards. But then imagine this on the roads? With a dry weight of 154.4KG, everything has been kept as focussed as possible – the chassis for example is a classic trellis design of high tensile steel alloy tubing, a signature of Tamburini's legacy, yet more refined than ever. I mean, the man was Working 12 hour days in its creation, and even constructing the clay model himself by hand, showing how every avenue here points towards utter perfection.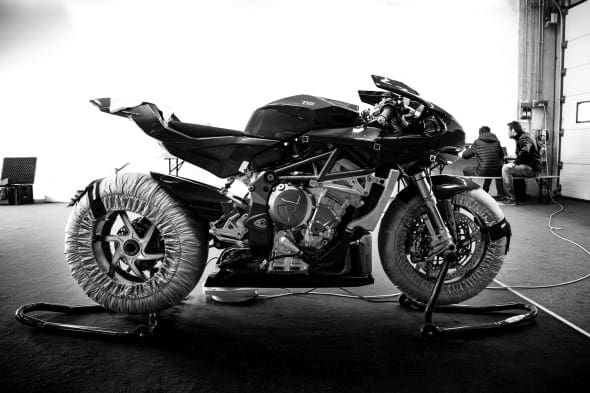 The structure itself incorporates his very own patented system which gives the rider easy adjustability of the flex and rigidity of the frame – something you'd usually see in the GP Paddock. In fact, pretty much everything is pristine, from that beautifully iconic magnesium-casted swing arm to the carbon fibre air box and ventilation ducts; with every detail you can see in typical Italian fashion that no expense has been spared. Massimo Tamburini even blessed the T12 with a carbon fibre tank! It's important to remember though that none of this is a gimmick, as it actually plays a role in the structural resistance with the tail unit and engine; meaning the T12 could be the absolute of king of handling.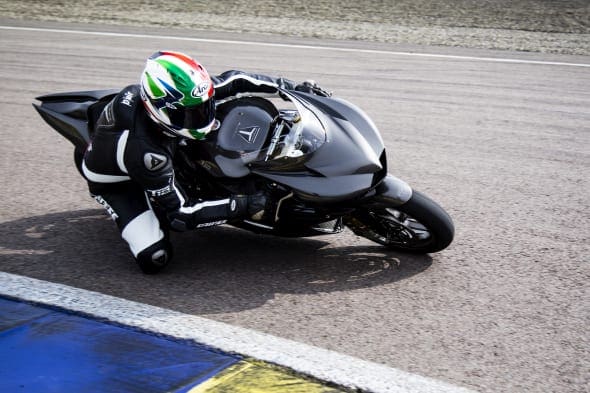 Especially when you see the GP-type Ohlins system the T12 Massimo comes with both front and rear, modified specifically for this machine by a bunch of technicians commissioned by the man himself. The stopping power comes from some huge 320MM Brembo brakes with a four piston caliper, which will gave an absolutely monumental feeling on both front and rear, fed through those ever popular Pirelli slicks.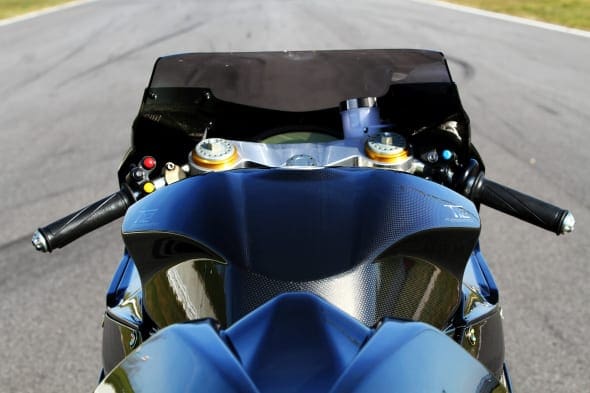 And those tyres are going to take a battering. Hidden underneath that beautiful chassis is a tuned up Superbike spec (More details to come later) BMW S1000RR engine, which is claimed to be spitting out over 230BHP, equipped with an arrow exhaust and full on quick-shifter system. Oh my. Powered through a heart of sophisticated Motec electronics, the T12 will be a powerhouse on track, and we can't wait to get our hands on one. If it goes as well as it looks, it will no doubt appear on everybody's Christmas lists. Including mine.
Specs:

Chassis
Patent: Adjustable lateral stiffness
Frame: high tensile steel tubing trellis with cast magnesium plates
Front suspension: Öhlins GP type
Rear suspension: Öhlins GP type
Front brake: Brembo Racing
Master cylinder: PR 19×18 GP type
Front calipers: GP type, four pistons P4.34/38 Monoblock lines Staubli quick release connection
Front rotors: 320mm steel
Rear brake: Brembo racing
Master cylinder: PS13 GP type
Caliper: GP type, monoblock P2.34
Rear rotor: 218mm steel
Front wheel: forged magnesium MFR
Rear wheel: forged magnesium MFR
Front radial: Pirelli Diablo SBK racing 120/70-17
Rear radial: Pirelli Diablo SBK racing 200/60-17
Steering axis rake: adjustable
Teleforks tri-clamps offset: adjustable
Trail: adjustable
Wheelbase: N.A.
Fuel tank capacity: N.A.
Dry weight: 154.5 kilos
Engine
Type: BMW S1000RR SBK
Displacement: 999cc
Bore: 80mm
Stroke: 49,7mm
Compression ratio: N.A.
Distribution: gear driven DOHC
Induction: 4 valve per cylinder
Cooling: by fluid
Power: 230+ Hp
Torque: N.A.
Electronics: MOTEC M170
Lubrication: forced, wet sump
Exhaust system: T 12 4-into- 1 by Arrow
Primary transmission: by gears
Clutch: oilbath
Gearbox: 6 speed, quick shift race type
Final transmission: chain

Enjoy more Fast Bikes reading in the monthly magazine.
Click here
to subscribe.