So a huge crash and engine blow up down already this year, we got ourselves together for the next (and fastest) round on the calendar: Thruxton.
Thankfully, after Donington we managed to get the bike straight up to Wilf and the team at Moto Rapido, who worked their wonders on getting the old girl ship shape and shiny with time to spare. This meant giving her a gentle running in session at Brands which was really successful; only after not making the first trackday for being 7DB over the noise limits. But with some specially made baffles and a nice sunny day, the Panigale was finally back to her old self and ready for some racing.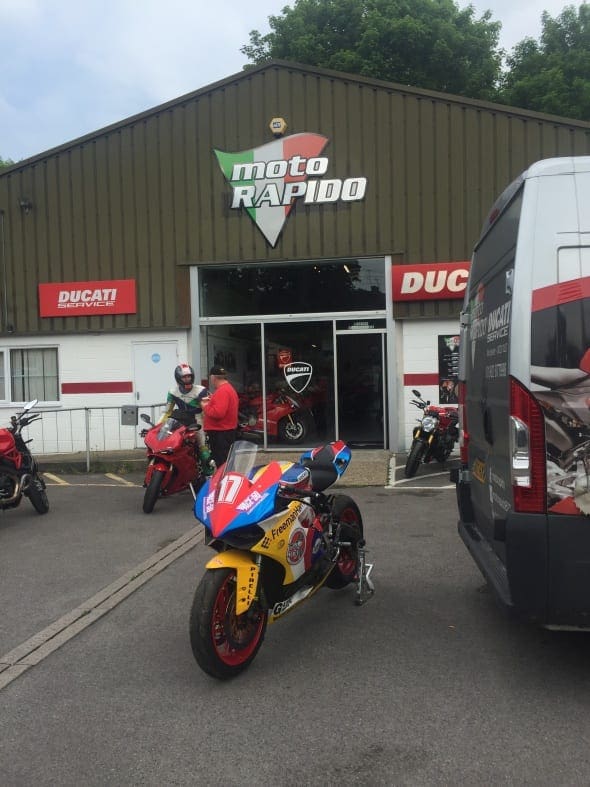 Having never been to Thruxton, it's fair to say that free practice was more than an eye-opener. For anyone who's seen it on TV, it's a billion times bumpier, faster, and exciting than a camera lens could ever catch. It's a real shame there isn't more racing at this circuit, as it is absolutely bloody immense. 5th gear, edge of tyre everywhere with some absolutely mahusive slides promised through (near enough) every corner. What more could you want?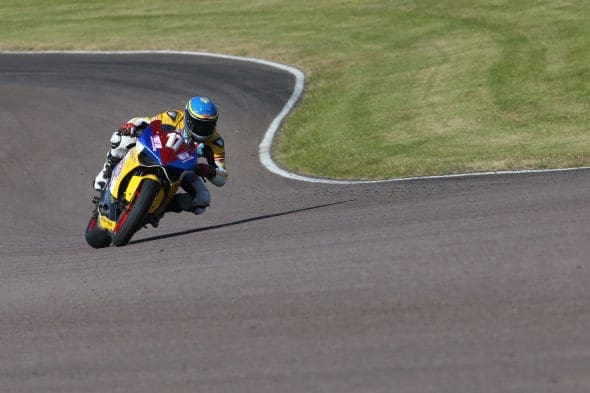 Tyre life. With the Ducati Cup being restricted to just four new tyres for three sessions, it meant that tyre strategy was a real pickle when our nine o'clock qualifying session arrived on Saturday morning. So, we softened up the whole set up (To get some more edge grip while coping with the bumps better) and headed out. While everyone went out and did a load of laps to learn the track, I kept it simple and did four laps; in order to keep a brand spanking new set for Sunday's race. Okay, it meant I was down in 19th for the race, but whereas everyone was running new rears and the same front all weekend, I could stick on brand new boots and (hopefully) have a better shot of a decent result.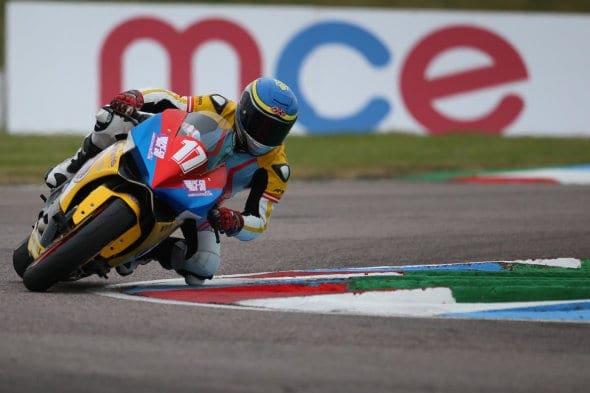 So with a little bit less track knowledge and an older rear than what most were running, we got race one underway with a half decent start – doing my best to find some sort of rhythm round this monstrous track. Making some silly mistakes I lost touch with the group in front, which meant a race long battle that wouldn't even end in points for us. It was pretty handy actually; being around other bikes I could see that I just didn't have the same pull out of corners, eventually coming across the line in a measly 18th position. The worst bit was that as I'd been pissing about, my best lap was only good enough for 21st on the grid; which would mean a good start to be able to finally get back in the points. So we changed the gearing, stiffened up the rear end slightly and stuck on new rubber; not in any sort of rush though, being last race on Sunday meant a nice lay in and relaxing day before we'd see our lights go out.
Article continues below...
Advert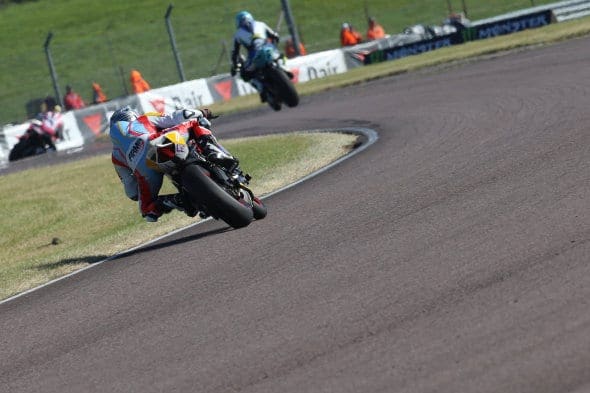 Even though I needed some binoculars to see the lights from p21, I was feeling pretty confident; until I dumped the clutch and got a rather shit start.. Making up about one position. This meant lap after lap I just tried to build and build; which in turn worked in my favour gaining positions as I was getting comfortable. By lap six I was battling for points, and jumped into 14th at Church a lap later with 13th a second or so down the road, dragging him in bit by bit while we were all battling. Seeing +0 is a real shit every lap on the board, but with the laps ticking down the bike felt better and better the harder I pushed, and 13th was within touching distance coming into the last lap. I could feel the other guys breathing down my neck the whole time, and getting an awesome drive out of Church, I managed to grab it on the last lap into the last corner.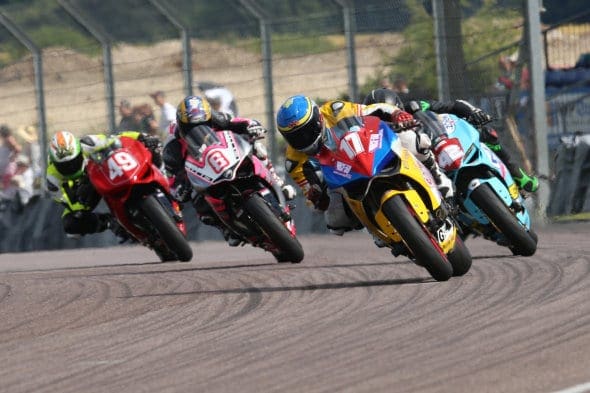 Yeaaaaaaa buddy! About time I got my season off to a decent start…
Article continues below...
Advert

Enjoy more Fast Bikes reading in the monthly magazine.
Click here
to subscribe.