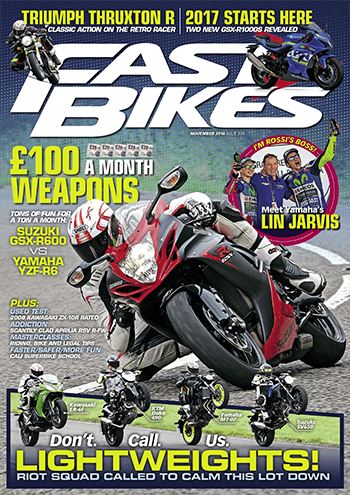 FEATURES
8 2017 NEW MACHINERY REVEALED
Say hello to a new Suzuki GSX-R1000, Honda Fireblade, new beemers and much more new metal!
22 TRIUMPH THRUXTON R
Our first shot on Triumph sexual retro machine. It's perplexing, we'll give it that!
40 DON'T CALL US LIGHTWEIGHT
MT-07 takes on KTM'S Duke 690, a Kwak ER-6F and SV650
54 KIDS IN RACING
How to ensure your child becomes MotoGP world champion. It's easy. Ish
60 CALIFORNIA LOVE
Rootsy heads to Cadwell as part of Operation Fast – his bid to get quicker on track
64 ADDICTION
A droolsome super trick Aprilia RSV-4 R-FW APX Race for your delectation
70 LIN JARVIS
Valentino Rossi and Jorge Lorenzo's boss on what it's like to run the Yamaha squad
IT'S THE NEWS
8 UPFRONT
2017's bikes have landed. Read all about 'em
GEARED UP
22 PRODUCTS
The latest in top kit gets a good going over
GET IT FIRST
124 SUBSCRIBE
Get that winning feeling by getting Fast Bikes delivered every month – with 20 per cent off!
THE KNOWLEDGE
78 USED BUYER'S GUIDE
The 2008 Kawasaki ZX-10R falls under our microscope, and what a good buy it is too
MASTERCLASS
90 RIDING
Keith Code takes us to the threshold – whever that might be. Fancy exploring where it is?
92 TECHNICAL
Working on your bike? You need the best paddock stands you can afford
95 LEGAL
Andrew Dalton answers yet more woes
YOUR LIFE ON BIKES
96 CHATTER
It's laugh a minute with you lot!
98 TRAVEL AND TRACKS
The world is a big place – go ride it!
OUR LIFE ON BIKES
100 STAFF BIKES
What a busy month it has been for the fleet – what were you expecting for summer?
•Kawasaki ZX-10R •MV Agusta F3 800 •KTM Super Duke R •Yamaha MT-10 •Ducati Monster R •Triumph Speed Triple R •Suzuki GSX-S1000F
RACE SECTION
112 PIT PASS
The season starts hotting up from here
116 RACE FEATURE
How Alvaro Bautista and Maverick Vinales are enjoying their differing seasons
COLUMNISTS
127 JAMES ELLISON
Seasons don't get more frustrating than this
129 CHAZ DAVIES
The ups and downs of racing in Germany
130 STEVE PARRISH
Pontification at its finest from Stavros

Enjoy more Fast Bikes reading in the monthly magazine.
Click here
to subscribe.