Part 3 of our Greatest Roads series, in association with Dunlop, is here! This time it's Duke's Pass on the A821 in Stirlingshire…
Most decent biking roads are fabled routes etched into the minds of most motorcyclists. Even if you've not abused them, you'll know about them, have had mates gas on about them, and will have them on your bucket list – think Cat and Fiddle, the Llanberis Pass or Bealach na Ba. But, somehow, the A821 (also known as Dukes Pass) had slipped under my radar. Of course, there are many fabulous roads in Scotland, many of them famed the world over and appearing in top ten lists of great roads in many other lesser publications. So when we stumbled across it, looking like a decent cut through across the Trossachs National Park, you can imagine our giddiness at what was presented to us. On this sunny summer's day it was almost like all of our Christmas's had come at once.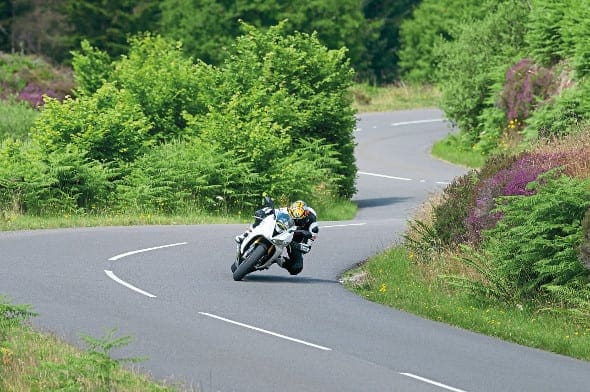 It's an absolutely brilliant ride, offering all a gallimaufry of gorgeous curves, luscious lips and smooth surfaces to really get stuck into. It initially climbs out of Aberfoyle in splendid fashion, and then as habitation fades you get sucked into the climb up and then decent down towards Loch Achray and then Loch Venachar. The road straightens up at this point, what with it hugging the shore line, so you may want to do a quick U-turn and enjoy it all again. That will depend on how much traffic you hit, and given the vistas available it does get more than its fair share of gawping tourists admiring the blues and greens of the backdrop. It's got the real feel of an alpine route, and as such you can quite easily get stuck behind a caravan wheezing its way up the route for many a mile such are the lack of overtaking opportunities. If so, it's easy to pull in, count to a hundred and then go at it without any frustrating restriction ahead of you. And this isn't a road that needs to be attacked, as there's so much going on for you to concentrate on. Relax, ride well and you'll be beaming by the end of it.
The area isn't short of other decent runs to link it all together, so if you're up near Glasgow, or heading further north to enjoy some of Scotland's other sensational roads up the A82, be sure to stick in this as a more than decent diversion.

Enjoy more Fast Bikes reading in the monthly magazine.
Click here
to subscribe.