Still buzzing from Oulton, our next venture was the completely bonkers TT Circuit Assen; or the Cathedral of Speed as it's so beautifully known. One of the best tracks on our calendar and indeed in the world for the next round of the Ducati Tri-Options Cup…
It's also one of the hardest rounds though as we only get 20 minutes practice before we're thrusted straight into qualifying; meaning every second counts. Going out on the bike we had from Oulton things were pretty damn challenging, and even though we had a pretty awful feeling we still managed to go fairly quick; which wasn't too shabby at all. Even the weather held out for us, although the session was cut short by our very own Fagan having a pretty damn unlucky spill (literally, the massive curbs didn't take nicely to the 899); but all was well as we made some monumental changes to the bike before qualifying, thanks to the help of Rocket Ron and Leon Haslam – you can check out why in November's mag.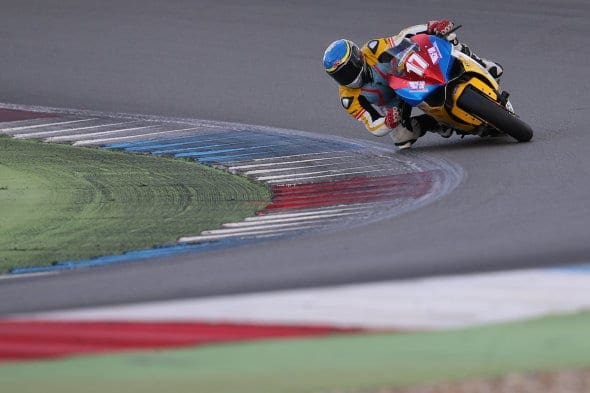 So after a relatively (un)healthy dose of chips and mayo, the green flag dropped on our qualifying session, as we all fired down pit lane and onto the lengthy circuit. Having got a dose of the old arm-pump in Free Practice I gave it my best to put in some good laps straight off, but the harder I seemed to try the slower I seemed to go. I came and stuck a bit of preload on the front end to get a bit more stability when we chucked the anchors out, and having a drink I could see I'd only gone a second quicker than in the morning. So with four minutes left, I went out and chucked in what I thought was a bloody slow lap and knocked another second off. How on earth does that work?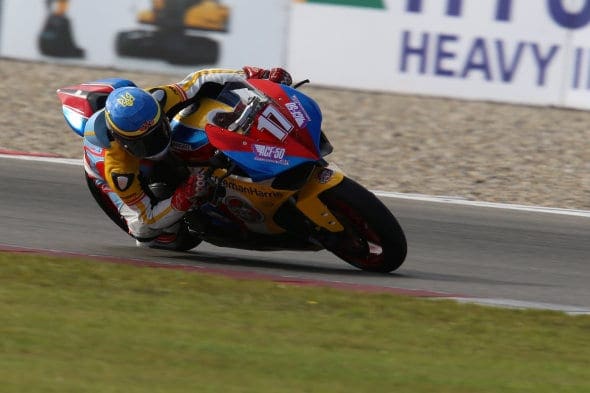 Even with that, I was still down in 19th on the grid. No matter what I just can't get the qualifying game down to a T, which always means I've got to really pull my finger out for the race. Regardless, as that red light faded out I managed to get the old girl out the blocks rather well, with a solid first lap bringing me up to 16th by the end of lap one. Even with this work though I was just out of touch with the group in front, meaning a four rider freight train from 13th to 17th throughout the race. Constantly battling we put on a bloody good show and had a whole load of fun throughout; grabbing 13th on the last corner equalling my best result so far this year. Not too shabby!  Even though we were buggering around the whole time my fastest lap still brought me up a few places on the grid to start 16th for race two, which would be an incredibly cold 10:30AM start. Was definitely not made for this.
Article continues below...
Advert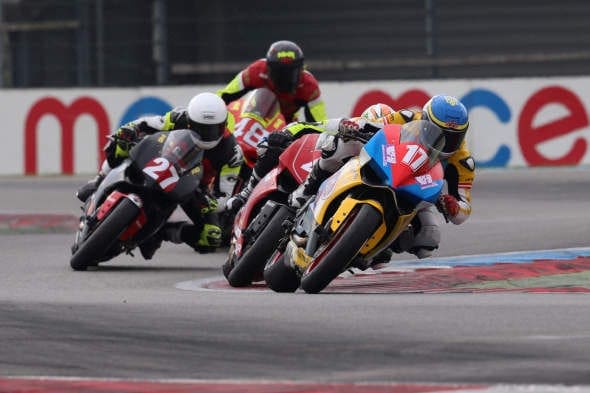 Getting an unreasonably shit start, I somehow managed to put in absolutely spanking first lap ending up in 10th position some how, as cold tyres and temperatures caught out  some of the most experienced riders. With such a manic first lap there was no choice but to bring out the safety car for three laps to clear up the mess, and once those lights went out it was gun-ho. I managed to make up a position into turn one bringing me up to ninth, but for some reason I seemed as the laps were ticking down my visor was becoming increasingly fogged up, and impossible to see any details but the bright red on the curbs. Pissing about with me vents,  opening the thing down the straight and shouting at the bloody thing I was trying everything to lift the curse of condensation; but to no avail. From feeling comfortable floating around the top ten my lap times where dropping drastically, and by the time the last lap came I could barely make anything out; dropping six places and out the points.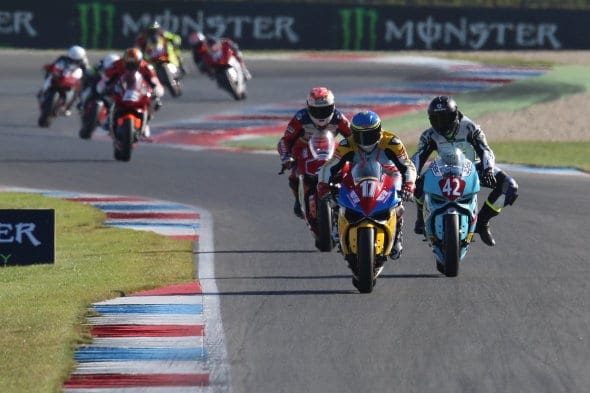 Article continues below...
Advert
In the end the only thing I could see was that first top ten falling away with breath. So after a strop, a cup of tea and a tonne of stroopwaffles (the best Dutch invention ever), we could look back on a positive weekend. I equalled my best result of the season, felt comfortable running in the top ten and brought everything back in one piece! Okay, a rider is never happy, but it wasn't as bad as I made out initially. I'd like to wish a special thanks to my Dutch pal Dennis Leiting who came and crew chief-ed/ spanner-ed /told me how to go faster all weekend, and all my friends, family and sponsors who helped  me get here. The end of the season is almost upon us!

Enjoy more Fast Bikes reading in the monthly magazine.
Click here
to subscribe.