Videoing yourself riding has become all the rage these days, hasn't it? How far we've come since those huge VHS tape recorders, it completely boggles the mind for us older crew! Folk use these gizmos for many reasons, whether you want to wank over skills (© Al Fagan…) after a thrash around track or a spirited road ride, or just to record your journey in case any incidents occur, cameras are coming to the fore. And the technology is moving quickly forward, too, in pace with the rapid ascent of pixels or LED dots on a modern TV. 4k tellys are becoming common-place, as are 4k laptops and so on. As such, there are now a few cameras that will record in this ultra-high-resolution medium – but not all will cost you a pretty penny. And don't forget that if you do go down the 4k route, you'll need an appropriate memory card (class 10) to record on it, so factor that cost into your buying decisions.
Most of us will be fine with 720 or 1080p resolutions for some time though, and they're a cheaper camera than the new boys so well worth your time. Many of these units come with USPs, like the ability to watch what's going on via a screen while recording, or wireless transfer and editing services, or some such other benefit or reason to consider them over a rival. So long as they do the main job we say, basically, um, recording what happens, that's the most important part. So if you don't need the latest and greatest you'll find something here to do a job without breaking the bank. There's also drones you can buy now, too, but that's a story for another day…
Go-Pro: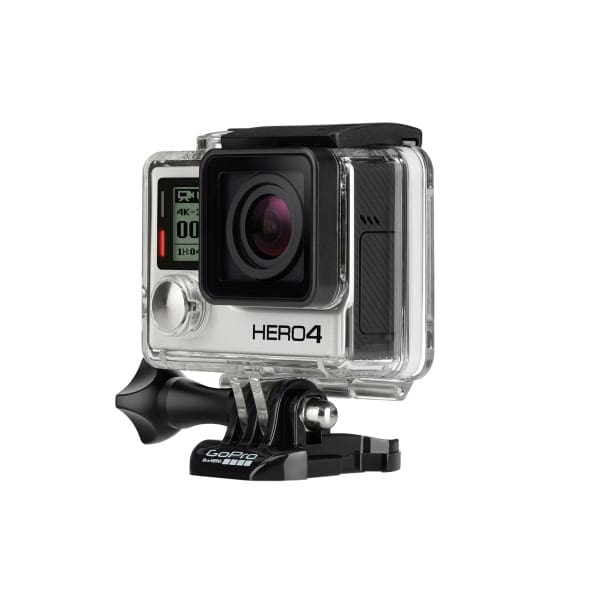 Go-Pro Hero 4 Black
£479.99
www.gopro.com
Buy now – Buy Go Pro Hero 4
Probably the best known of all the cameras here, GoPro have a solid footing in the market and reputation for quality. The Black is their 4k camera at 30fps, and can also manage 240fps super slow-motion video at 720p – which is incidentally the current resolution TV channels broadcast their HD content in.  it can do time-lapse runs, has a night-photo setting and a selectable field-of-view. It's waterproof up to 40-metres, automatically rotates the image if mounted upside down, has built in WiFi and is compatible with all of GoPro's available mounts. One of the most expensive, but the price is that high for a reason.
Garmin: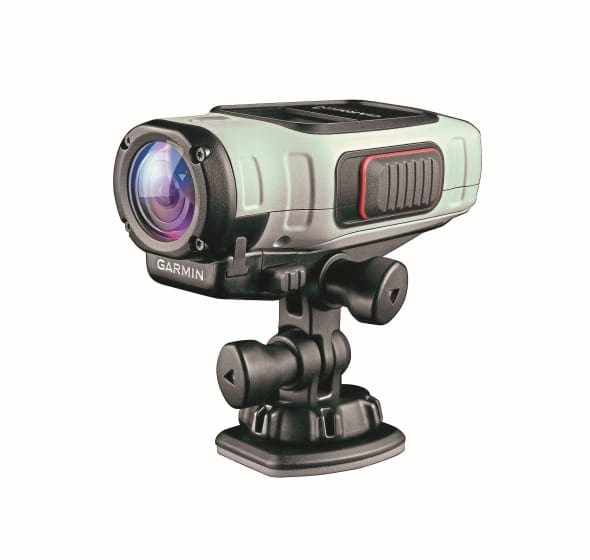 Garmin Virb Elite HD
£149.40
www.amazon.co.uk
Buy now – Garmin Virb Elite HD
The Virb, yet another of our staple cameras, is bloody good value for money. It records 1080p video at 30fps, and can do so for over three hours via it 2000mAh battery. It features Wi-Fi and GPS functionality to use in tandem with smart phone apps, has an accelerometer and also a barometric altimeter if jumping out of planes is your bag as well as riding bikes. These sensors mean you can incorporate all that data in playback, including a heart-rate monitor, so you know just how much you're shitting yourself! Great little unit, this is.
Drift: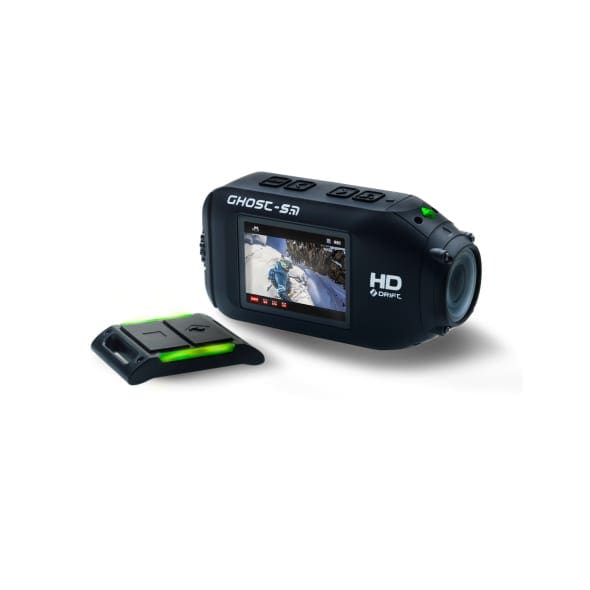 Drift Ghost S
£249.99
www.driftinnovation.com
Buy now – Drift Ghost S
Drift is another make we use quite often, and have had terrific results from, too. The Ghost S is a 1080p camera, running at up to 60fps which also doubles as a slow-motion function.  It has a slated 3.5 hour battery life, the ability to adjust to differing light conditions and a 'clone' mode that allows synchronised cameras (up to four at once) to be recording off a master unit. Pretty cool stuff! At just 171g it's light, features a rotatable lens and a 10x digital zoom. It's also waterproof up to 3-metres without it's special housing, so don't dive too deep on holiday if you forget it!
TomTom: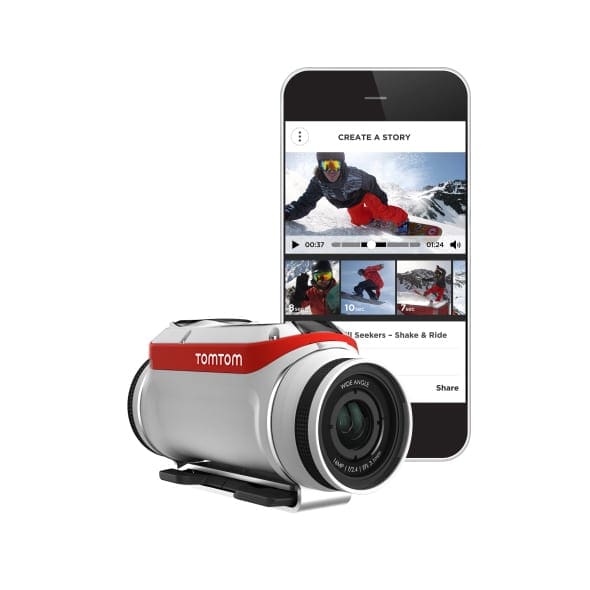 TomTom Bandit
£279.99
www.tomtom.com
Buy now – TomTom Bandit
Ah the TomTom, once mostly busy telling you where to go (in the polite and useful sense), but now branching out into the action camera market. They say this is the first to come with a built in media server, working with an app, allow sharing and transfer within minutes of recording with the ability to plug the unit in directly via a built-in USB drive and charge at the same time. It records at 1080p at 30 or 60fps, or 4k at 30fps. Battery life is up on the last model and it sports the latest 16MP CMOS sensor, and is completely waterproof. Price is for the Bike Pack version, the standalone camera is £239.99.
Sony: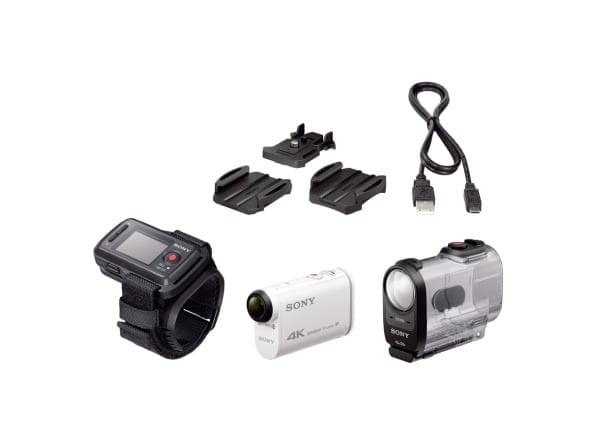 Sony FDR-X1000VR 4K Camera
£450
www.sony.co.uk
Buy now – Sony FDR-X1000VR 4K
The new Sony FDR  is a great camera, featuring advanced steady-shot technology, 100mbps bitrate recording and high frame rates for ultra cool slow-motion replays. It has built-in WiFi and comes with a selection of mounts. The price above includes the waterproof wrist accessory control screen (with just mounts and waterproof case it's £319), which we suppose you could attach somewhere on the bike for by the road side deleting, or checking shooting angles. An excellent piece of kit for a pressie, we've used this and it rocks, but we often use the 1080p version each week, and that rocks too!
Midland: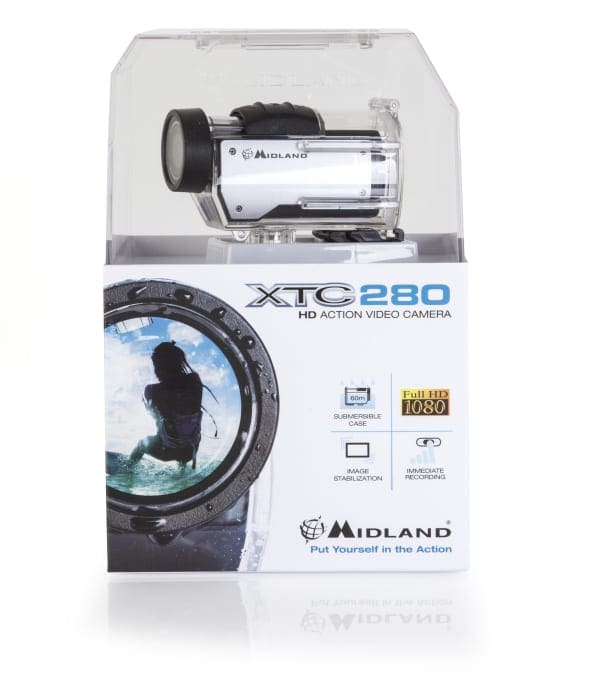 Midland XTC280
£164.99
www.midlandeurope.com
Buy now – MIdland XTC280
The XTC280 is slated to be very easy to use, with a rapid charge battery and an image stabilisation system, plus an extensive variety of available mounts. It records in 1080p and comes with a waterproof case, safe up to 200ft below the surface. Not that you'll be riding your bike down there, but if you do happen to pitch into the sea by accident at least you'll be able to record your journey all the way down! Better yet is the price, which should be palatable to all.
Olfi:
Olfi 4k HDR
£149.95
www.dogcamsport.co.uk
Now then, a 4k camera at less than £150? Sounds too good to be true, right? Well, we'll be giving this little UK built fella a try out soon so will be able to tell you how it works out. But as it stands, it has impressive specs. It records UHD at 24fps, 1080p at up to 60fps and can do up to 120fps slow-motion clips. It's waterproof to 30-metres and the powerful 1600mAh battery means it should last long too. It automatically creates a time-lapse video for you, and time stamps all your recordings. It can also take stills in a 4609 x 3456 resolution, too. We like the idea of this unit a lot, so will get back to you as soon as we get our hands on one!
ISAW: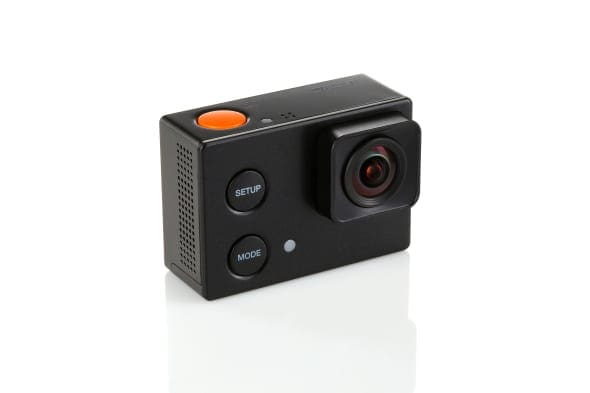 ISAW Edge
£164.99
www.dogcamsport.co.uk
Buy now – ISAW Edge
The ISAW uses a Sony Exmor sensor, 16Mpx, slated to be the best in the business. It can shoot at different high resolutions, 4k at 10fps, 2.7k at 15fps, 1440p at 30fps and 1080p at 60fps. It's apparently the smallest unit in its class, waterproof (in its WP housing) up to a 40-metre depth and has an 'ultrawide' feature for wide-screen effect without distorting the centre of its 19:9 framing. It has an LCD display, Wi-Fi to connect to a smart phone and a battery of accessory mounts to choose from.
Road Hawk: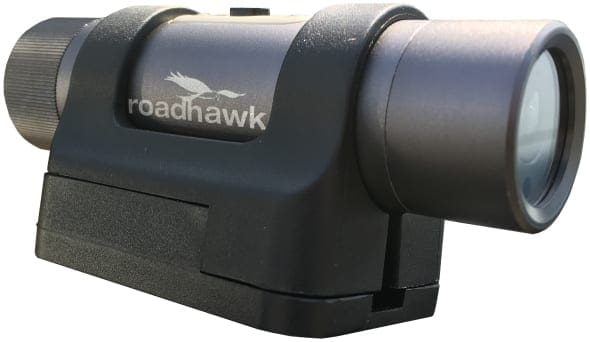 Road Hawk Moto
£159.99
www.roadhawk.co.uk
Buy now – Road Hawk Moto
The RH Moto is a nice, sleek little cylindrical unit capable of 1080p at 30fps and 720p at 60fps. It has a 135-degree, wide-angled lens, it waterproof up to 10-metres and can both loop record and apply time stamps via its one-button operation. Battery life is slated at 90 minutes, and there is software for both Windows and Macs available to download to run the camera through. Small, light and robust, it may not be the blingest of units but it does what it says on the tin very well.
Sena: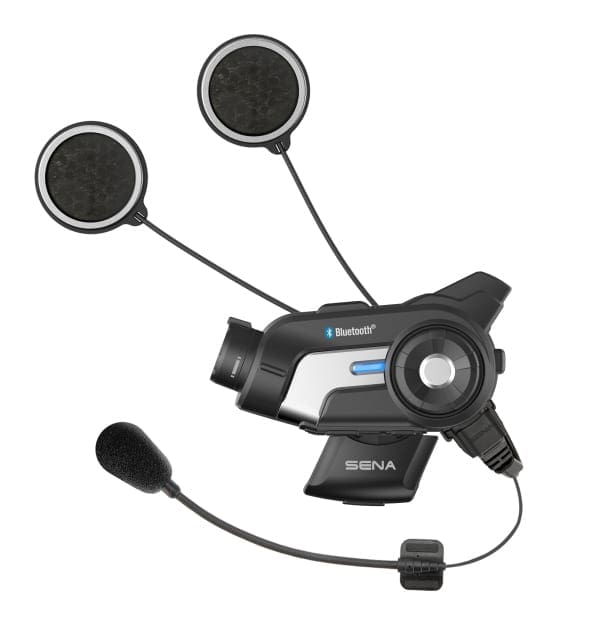 Sena 10C
£314.99
www.motohaus.com
Buy now – Sena 10C
Slightly different here, in that this is (apparently) the world's first attempt at integrating a 3.5MP lens shooting at 1080p (at 30fps) camera and Bluetooth comms system into one unit. It also does still shots, too, and can allegedly add in-helmet commentary or music to your recordings. It's water-resistant, has an FM radio tuner and a tagging feature which allows you to mark 60 seconds of footage should it be important, for whatever reason. As alluded to, it also does comms too, so you should be able to hear both you and your pillion screaming at any close calls you experience together!

Enjoy more Fast Bikes reading in the monthly magazine.
Click here
to subscribe.