Hot off the heels (get it?!) of our gloves special, we follow up with some super sweet boots this time around. It would appear on the outside, that crafting a proper set of boots is a lot easier than making decent gloves. We'd all be forgiven for thinking that the case, but it just isn't.
The sheer range of movement your foot/ankle/lower leg is capable of means there are all sorts of potential injuries a boot manufacturer must try and protect against. But much like gloves, there's always the protection versus freedom of movement and loss of feel debate to be had. Some race boots can be properly stiff and unforgiving, at least until they're wear in and this can take much longer in some cases than others.
Manufacturers try and allow for a lot of feel where you need it, at the gear change for example, and most achieve this in a decent fashion while keeping the protection quotient high.
There are however, many different price levels when it comes to boots. Some cheap (but certainly not budget), and some that would make you spill your tea when you see the asking price. We've collected a vast number of different boots here for you to peruse which should meet all wallets. Just remember, always buy the very best you can stretch to. Enjoy!

Dainese: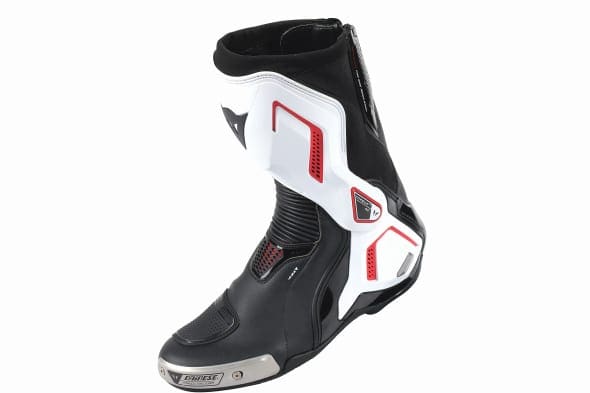 Dainese Torque D1 out
£379.99
www.dainese.com
As worn by someone a bit famous in motorcycle racing (actually wears the also available Axial Pro In), Dainese's boot is a marvel to behold. It features a gear-shift guard, TPU inserts, Velcro calf adjustment, a nylon heel and comes with magnesium inserts on the heel and toe for those all-important, and often cool looking sparks. They come in sizes 39-47, in pure black or black and white, red and, of course, yellow.
Gaerne: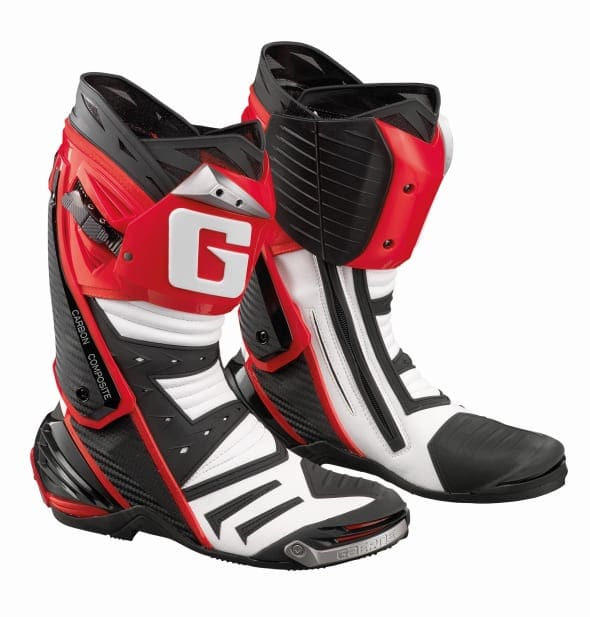 Gaerne GP1
£269.99
www.motogear.co.uk
The GP1 is made using Gaerne's unique 'floating system' created from carbon composite which prevents ankle twisting yet retains flexibility. It also has an anti-shock heel, a replaceable 'micrometric' carbon-look fitment buckle, a magnesium tow slider. The inner sole is also washable and can be removed from the anatomically designed footbed. Available in sizes UK 5-12, in white with red or black, plain black and black with fluoro yellow.
Spada: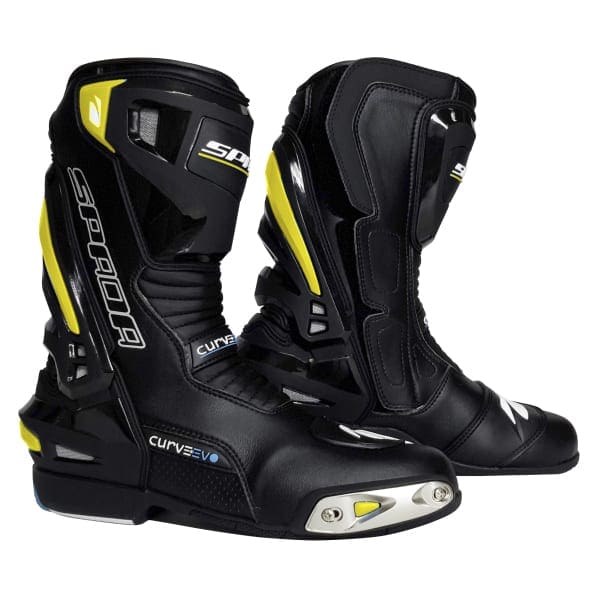 Spada Curve Evo
£119.99
www.spadaclothing.co.uk
One of the cheaper numbers here, the Spada Curve Evo offers decent value for money. It has a 100% PU microfiber outer, with a TPU moulded shin and heel protector. It's fastened using zips and Velcro, features metal toe sliders, a plastic insole underlay, a moulded gear change pad and a Hippora waterpoof membrane. Available in sizes 41 – 47, in a variety of colour highlights on a mostly black canvas on all.
Puma: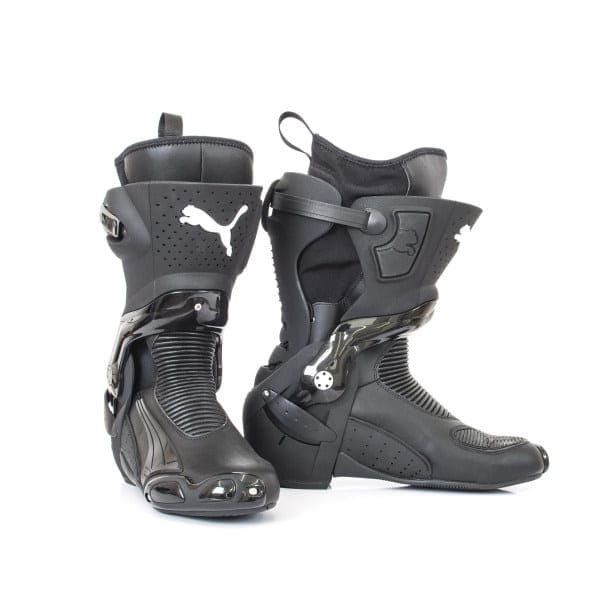 Puma 1000 V4
£249.99
www.moto-direct.com
There was once a time when these looked all space age and futuristic, yet despite others modernising their designs this still looks just that bit different. Different enough, and from a left-field manufacturer when it comes to bikes, to snare many. It's made from a perforated leather construction, uses a large nylon toe slider and a ski-style secure closure system. It pivots open to allow easy fitment, and has updates to the internals for increased comfort and a redesigned heel cockpit. Available in UK sizes 7 – 10.5, in colours white/dark, shadow/red and black.
RST: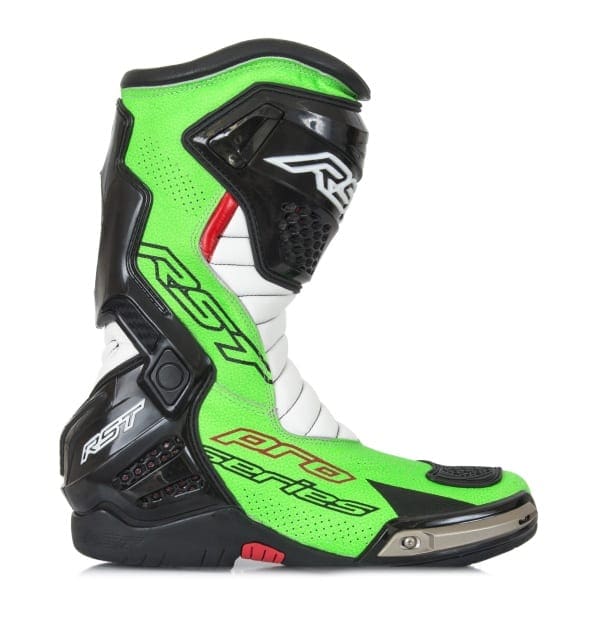 RST Pro Series
£169.99
www.moto-direct.com
Hitting almost the perfect balance between price and protection, you'll see the RST Pro being worn by a good portion of the various BSB grids. It has a zinc alloy toe slider, a reinforced twin-structure PU heel cockpit, plenty of venting to keep your piggys cool and a soft-touch inner lining in addition to an antibacterial gel insole. Available in UK sizes 7 – 13, in a whole host of colours.
Falco: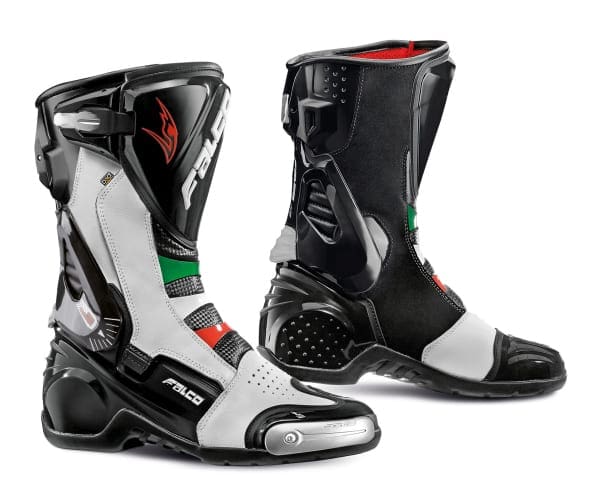 Falco ESO LX2.1
£219.99
www.tranam.co.uk
Falco is an Italian brand, and this ESO is a CE approved boot which features a micro-synth upper with an air-tech vented lining. It also sports D30 impact cups, a PU moulded toe protector, an alu-zinc replaceable slider and a dual density racing rubber sole alongside its Eso-Motion 2 articulation system and rear unlocking button. Available in UK sizes 7-12, in either black or black/white.
Daytona:
Daytona Voltex GTX
£689.99
www.tranam.co.uk
Not the most expensive here, but still quite a pricey number. However if you want the best, which Daytona is most certainly perceived to be, then one must pay for it. Daytona's dual boot system is in evidence here, but one thing a picture can't show is the ludicrous level of comfort these waterproof boots provide – but still with a sports slant. The equal of the Supertech we say in terms of comfort. The spec' is ridiculous too, so go check it out on their website. Available in UK sizes 5-13, in white/black or black.
Daytona: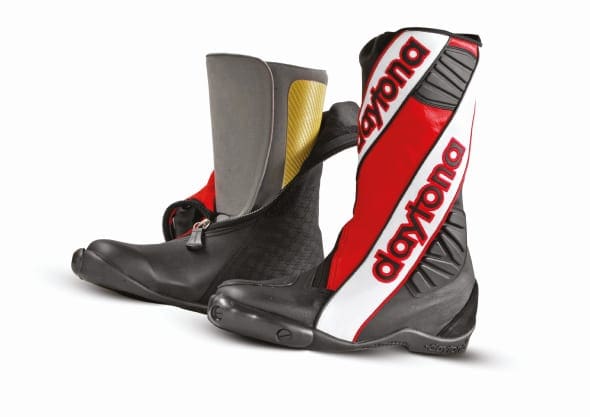 Daytona Security Evo III
£1,289
www.tranam.co.uk
There's a reason racers opt to buy their own Security Evo III boots if they can't get a deal on them – they're the most protective boot available. They may not be the last word in comfort, and can take an age to bed in but once your feet are ensconced they've never felt safer. It uses the two-boot system, with the carbon Kevlar inner and leather outer, which also has ceramic toe sliders, a Kevlar heel and a whole host of other benefits. You can even have your name embroidered on them! Available in sizes UK 6.5 – 12, in a variety of colours
Alpinestars: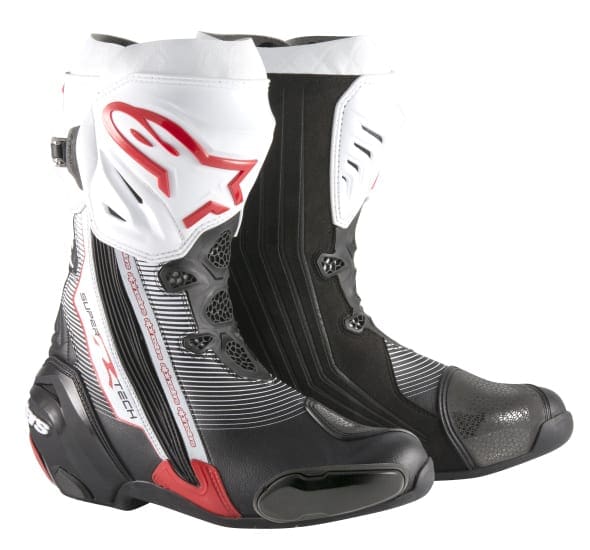 Alpinestars Supertech R
£379.99
www.alpinestars.com
Considered by many as the most comfortable race boot around, you must have been having a nap with Rip Van Winkle if Alpinestars' gear has passed you buy. Ridden and raced by some of the best, and worn by many normal bikers, the Supertech is an impressive bit of kit. It has TPU shin protection, a redesigned flex area, a microfiber upper, a lightweight rubber racing sole and a TPU/alloy toe slider. A proper boot, this is. Available in sizes 39-48 in colours mostly black but with white, yellow or white/red highlights.
Black: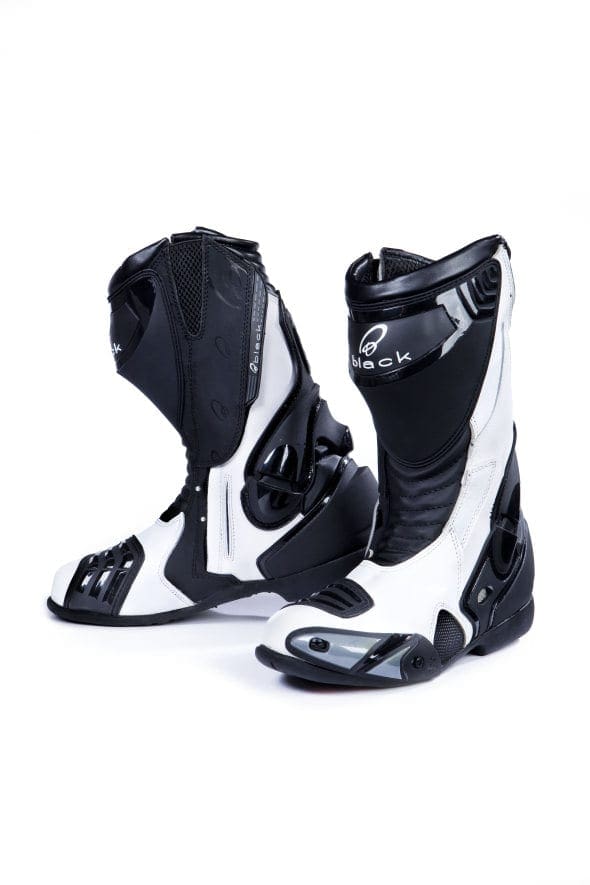 Black Venom
£79.99
www.ghostbikes.com
The Venom comes in under £100, or at the very most £109.99, but is a lot of boot for little cash. It has an air-mesh breathable lining, an oil and petrol resistant VR sole, an external moulded ankle support system, replaceable tow sliders and a Techno GI Thermoplastic toecap. It's available in UK sizes 7-12, in black, blue, red or white.
Prexport: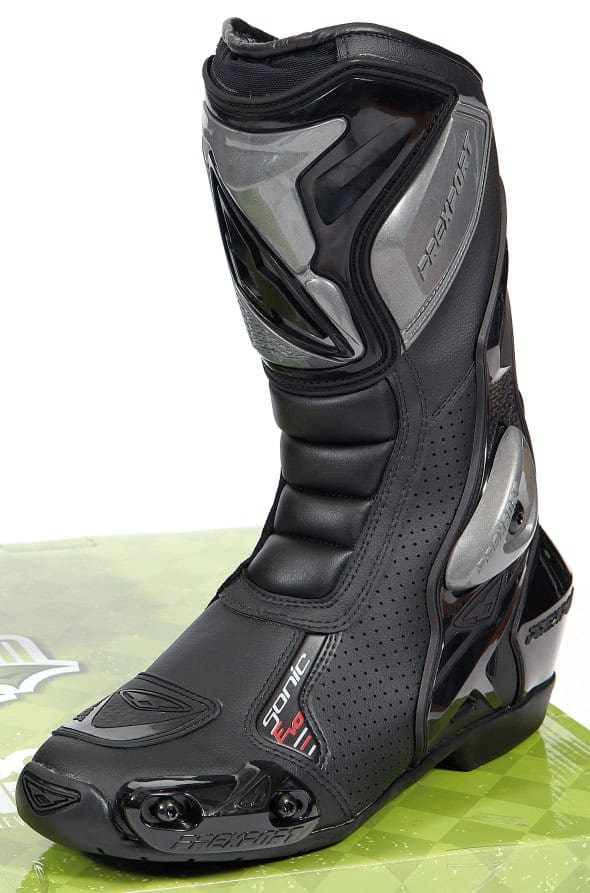 Prexport Sonic EVO
£149.99
www.thekeycollection.co.uk
Prexport hits us with another finely priced affair, the Sonic EVO. It has a micro-fibre upper, a Prexport Pro-Race sole, an Air-tech lining and a Texon insole with steel blade strengthening. It also sports plenty of PU shielding, flex joints on the instep and gear-shift reinforcement. Available in UK sizes 5-12, in colours black or white/black.TCX: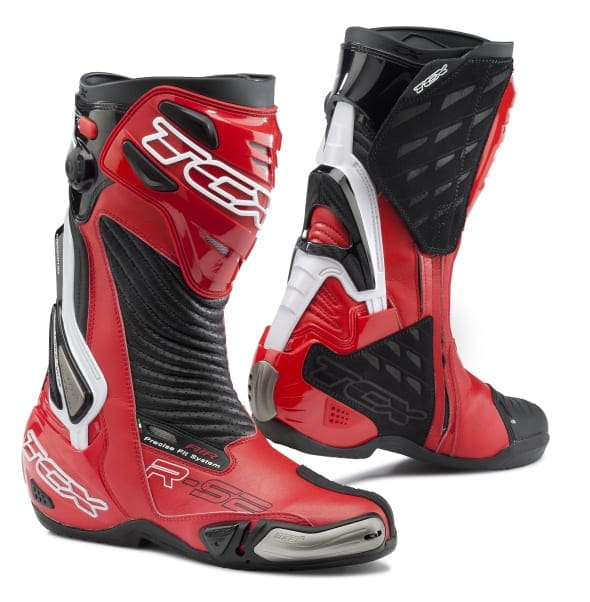 TCX R-S2 Evo
£299.99
www.nevis.uk.com
TCX go from strength to strength, and their latest boot shown here is a beauty. It has an anatomic, breathable footbed, a low profile mono compound rubber sole, zip and Velcro closure systems, a polyurethane shift pad, calf slider plus shin plate, and the alloy toe-sliders are replaceable. They come in sizes 38-49, in white/black, black/graphite or read and black.
Sidi: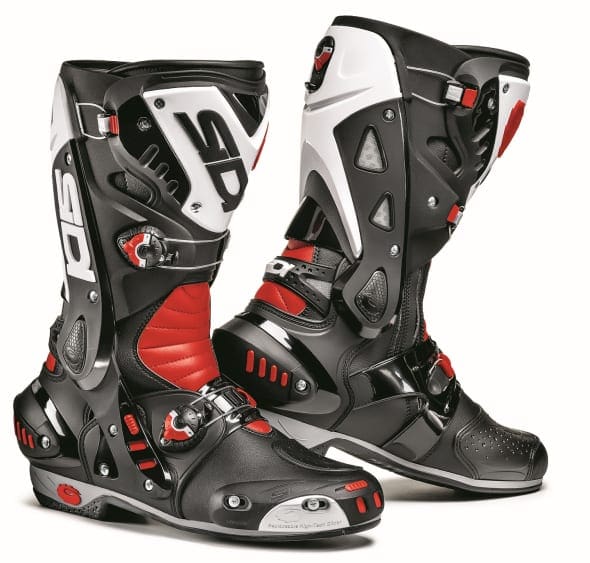 Sidi Vortice
£299.99
www.sidiselect.co.uk
Sidi boots have always looked proper Bo, and have been worn by many, many famous racers over the years. The Vortice continues this trend, with an upper boot made from Lorica, a lining of Teflon air-mesh, replaceable shin plates and Tecno calf, shin and instep fastening system. It also has ankle support braces, a shock absorbing heel and comes in sizes 39-48, in black with white, yellow or just black.

Enjoy more Fast Bikes reading in the monthly magazine.
Click here
to subscribe.