Here at Fastbikes we have a lot of time for things that are fast, exclusive and absolutely drop-dead gorgeous. So when Norton announced their V4 SS & RR we were bloody excited, and for good reason. We delved into the details to see why you should be excited about this bike…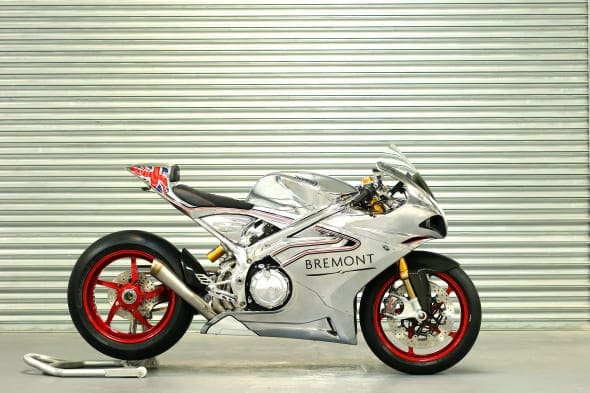 It is a step in the right direction for Motorcycling:
Don't get me wrong, I love the idea of nakeds and cafe racers, but nothing gets my heart pumping like jumping on a whole heap of carbon fibre caressing an almost uncontrollable amount of power and thrashing it like there's no tomorrow. There is so much stigma surrounding the looks and gizmos that true function is almost being overlooked; and here the guys at Norton have purely focused on making an incredible machine – that so happens to be a work of art.
It's made Norton a whole different brand:
In all honesty, I've never been a fan of Norton to any degree. It has always seemed like a brand for the more mature crowd among us, and I definitely don't fall into that. But they haven't just designed a sportsbike here, they have gone big; they did the Isle of Man TT in order to help craft this thing, where it cracked a 131mph lap. The Norton brand may only be about 120 employees, but the spirit in this bike is bigger than I have seen from a Japanese factory in god knows how long because they can keep things crisp.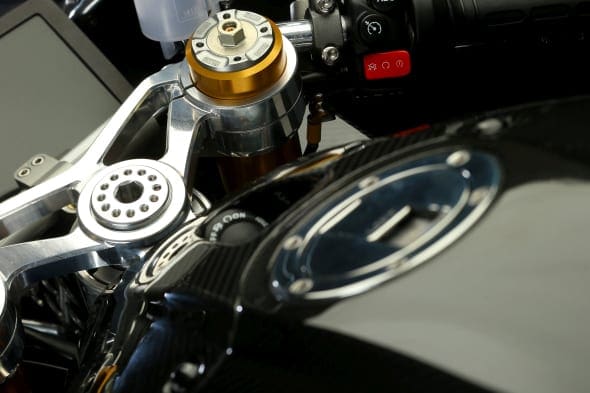 The bike is cheap:
Yes, I said it. But how much is a new 1299 Superleggera compared to this? You're looking at an extra £28k. I know that's a bold comparison but I urge you to get a look at this bike and tell me I'm wrong. This model has such a level of faultlessness that the carbon fibre fairings were sent back three times just because the weave wasn't the perfect way!
The level of detail shows that not every bike is built by a machine just to make money:
You can feel the passion when talking to Norton's CEO Stuart Garner, and this oozed all over the production of the V4. It shows that biking isn't just as business and riding isn't dead. For example he swingarm alone takes about 35 hours to make up, and even though it weighs just 3kg it comes from 70kg's worth of billet being machined down.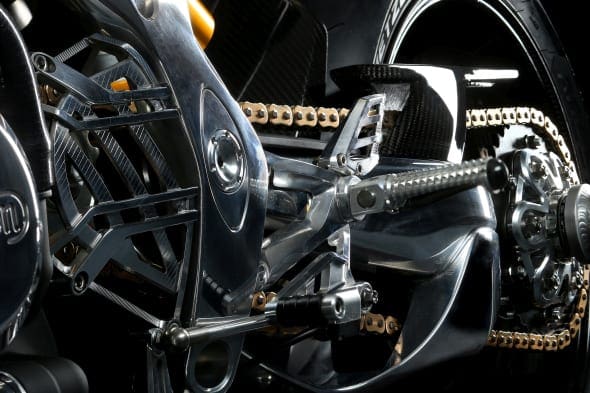 It is modern, and isn't built in a shed:
The V4 comes laden with a quickshifter, auto-blipper, traction control, wheelie control, launch control, cruise control and data-logger. Add in a fly-by-wire throttle, slipper clutch and a whole heap of different settings, and you're there. This is all fed through a massive 7 inch HD screen (reminescent of an aeroplane TV) which also has full engine mode adjustability as well. Oh, and a rear view mirror. No unmarked police  car detectors just yet though…
It should be reliable:
From what is essentially similar to an Aprillia V4 engine, these guys have squeezed out over 200bhp and 130Nm of torque, while keeping the thing bloody small; like a little bullet. Yet as it's hand fabricated and built with the best materials money can buy, so it should last. Especially as it has evolved from all those racers below. Oh, and its Euro4 compliant.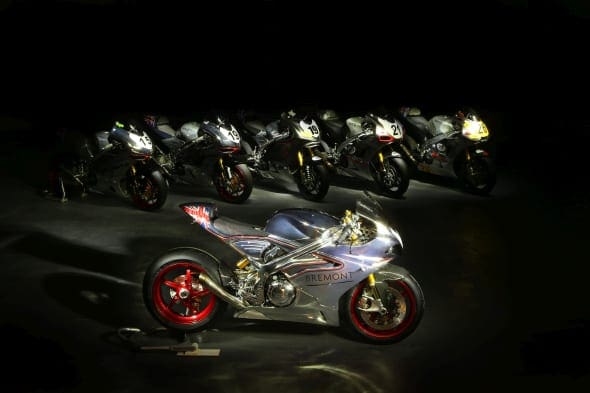 Don't believe me still? Check it out for yourself and come back to me…
Specs:
ENGINE:
Type: Norton 72-degree liquid-cooled V4, 1200cc. Chain-driven cams with idler gear for reduced engine height. Titanium inlet valves. Slipper clutch
Bore x Stroke: 82mm x 56.8mm
Compression Ratio: 13.6:1
Power: 200bhp + @ 12,500rpm
Torque: 130Nm @ 10,000rpm
Fuel injection: Electronic fuel-injection system. Constantly variable inlet tracts. 8-fuel injectors. Full drive-by-wire system independent of front and rear banks of cylinders for ultimate control and feel.
Euro 4: Full compliance including oil thermostat, knock sensors, secondary air injection and EVAP
ELECTRONIC EQUIPMENT:
INSTRUMENTS: Full-colour 7-inch display with multiple functions. Engine mode adjustability including: Road, Track and Pro-Race. Road modes include rear-view camera.
QUICKSHIFT: Full quickshift system and auto down blipper
ELECTRONIC AIDS: Multi-setting traction-control, wheelie control, launch control and cruise control. Uses six-axis Inertial Measurement Unit (IMU)
BUILT-IN DATALOGGER: Full data-logging capability including: lap times, max lean angle, max speed, max throttle, and max braking force.
ENGINE MODES: Road, Sport, Pro-Race
IGNITION: Keyless ignition system
CHASSIS:
TYPE: Polished aluminium twin tube Shotgun chassis.
ADJUSTABLE GEOMETRY: Chassis is fully-adjustable including swing arm pivot and adjustable rake angle. 23.9 degree steering head angle as standard set-up.
SINGLE-SIDED BILLET SWINGARM: 570mm long. Braced and underslung design developed in conjunction with SG5 TT race bike. Billet machined from 7020 billet aluminium.
WHEELBASE: 1,430mm
DRY WEIGHT: 179kg
FRONT SUSPENSION: Ohlins NIX30 system front fork. Fully-adjustable.
REAR SUSPENSION: Ohlins TTXGP Norton bespoke fully-adjustable rear shock.
STEERING DAMPER: Ohlins damper
FORK YOKES: Billet machined top and bottom
FRONT WHEEL: Choice of carbon or forged wheels depending on spec
REAR WHEEL: Choice of carbon-fibre or forged wheels depending on spec/colour
FRONT BRAKE: 2 x 330mm full-floating discs. Radially-mounted Brembo Monobloc calipers. Brembo discs, and Brembo master cylinder
REAR BRAKE: Single 220mm disc. Brembo caliper and master-cylinder
BODYWORK & STYLING: Full-carbon-fibre bodywork. Available in either bare carbon-fibre, or chrome with air-brushed Union Jack on the tail unit.
LIGHTING:  Full LED lighting system including super bright low beam & high beam, angel eye DRLs, rear lamps and indicators
FUEL TANK: MotoGP-style 18-litre fuel tank is all carbon-fibre, with Kevlar reinforcement and chemically coated internally to meet fuel resistance standards. Underside of tank forms part of upper airbox.
FOOTRESTS: Billet foot rests, billet pedals and billet sprocket cover supplied on SS model. Forged foot controls on the V4 RR.

Enjoy more Fast Bikes reading in the monthly magazine.
Click here
to subscribe.