The new Bell Race Star helmet is one of those products that we are sent at Fast Bikes and clamber over each other to review. We have been waiting for its arrival in the UK for around 12 months and now that it has landed, could not wait to see what new innovations the iconic brand has implemented into the Star range.
To start from the beginning you open the red and black Bell branded box to reveal a quality helmet bag inside of the same colour scheme, complete with handles, side pockets and 'The Choice of Professionals' emblazoned down the side setting the scene of what's to come. First thing you notice if you have got is right is the snug fit. Bell's introduction of the now standard ProFit means that the Star range comes with the option of five different shell sizes from XSM, SM, M, L with XL and XXL sharing the same shell configuration. Each size has its own impact liner so that you do not need to pad out the helmet to fit and your head is closer to the three layered Flex impact Liner that I will detail shortly.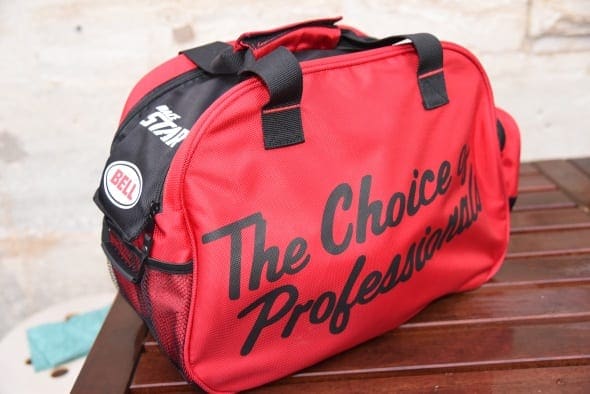 The extended field of view is also instantly noticeable, with the visor recessed further back and slight cut out in your peripheral vision you are getting a claimed 30% more vision than before. Obviously, as is apparent in the name this is designed as a Racing / Trackday lid but with the road in mind. As it says in the brochure its for 'the racer with a day job' so this enhanced peripheral view is perfect for non mirrored machines in on track activities, but doesn't hurt on a rain soaked M42 either.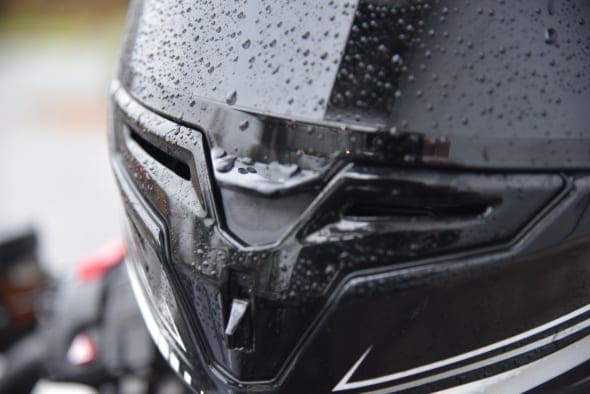 Pull the visor down and it snaps securely into place via the spring-loaded mechanism.  The visor itself is indented to fit the pinlock perfectly and is a class one optic visor; it's a kind of Hi Definition view without any differed vision or impurities. Of course the standard visor did not stay on for long as I had also requested a smoked visor, thus fitted the Panovision Shield, complete with tear off posts, with ease by simply pressing in the buttons on the sides of the visor, slipping off the clear and snapping in the dark. This is as easy a change as I have known across a range of helmets and must leave one of Gary Johnsons TT pit crew with a lot of time on their hands. There are a great number of visors available for the Star series, from a number of gradients of Panovision smoked, Hi-Def Orange and Blue, Iridium and finally the Transition, a visor with react–to-light qualities.  The latter is priced at £207, which is a fairly hefty price indeed and unbelievably comes as standard on the Bell Qualifier, an entry-level helmet that almost means you are getting a free helmet with the visor, but I digress.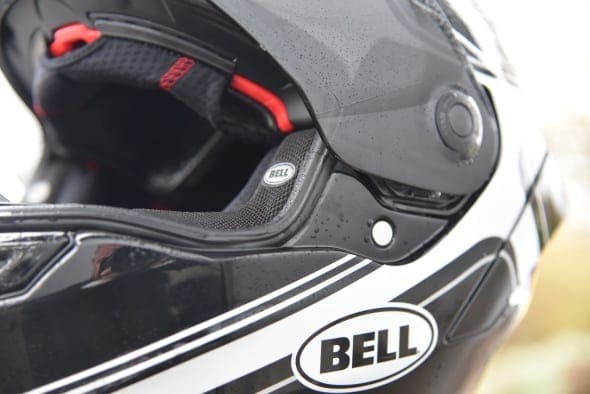 First outing in the Race Star was an NEC run to Motorcycle Live, raining of course and on a Triumph Speed Triple that is not necessarily the bike this lid was designed for. As a track weapon it is cut aerodynamically for the full tuck and aggressive positioning you aren't going to get on a trumpet with a tank bag. That said this was the perfect condition to feel the benefit of the warming qualities of the lining that has 'Virus' technology built in. As I understand it these are small balls that are woven into the lining that release and contract heat according to changes in temperature keeping you cool in the heat, and warm in the cold maintaining a constant temperature.  The lining is also antibacterial, tried and tested on the Motor-cross range so potential sweat ensued hums should be alleviated. Also worth mentioning at this point that the check pads, complete with virus technology, go in and come out easily via MERS Magnefusion.. (Really good magnets basically)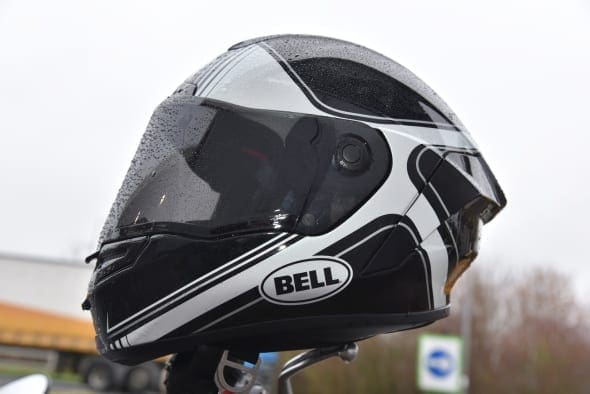 At speed the helmet is very quiet, the vents are designed to be small though effective and again I have to say they are. The chin vent goes direct to the visor and despite requesting a pinlock for my smoked visor I don't need one. If you want more air from the chin then there is a plug on the inside of the helmet that directs more air internally. One slight annoyance is the switches for the vents being a bit tricky to locate and activate on the move, but then I was in winter gloves and this hardly a touring product, yet the real beauty of the Race Star though is from within. The 3K-carbon shell encases a progressive layering system. Firstly is Expanded Polystyrene – EPS (as is the norm), then Expanded Polypropylene EPP and finally EPO, Expanded Polyolefin. Each layer designed to take different levels of impact with the final layer, closest to your head having a 5mm give in each of its six sections rotating energy away from your head what ever shape it may be.  This Flex technology is an evolution from the MIPS system – Multidirectional Impact Protection Systems that you will find in cycling and off-road helmets.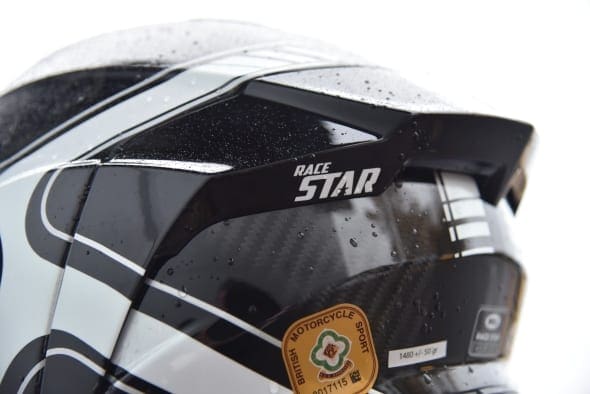 The Race Star is yet to be Sharp tested to date, but historically Bell helmets targeted to this level have achieved 5 Star certification and I have been told they would be amazed it the same did not apply in this case. Overall I am extremely happy to have this on my head, though I have only really used it for a job its not designed to do. I look forward to the sun appearing and the tracks opening and have a proper hoon in the Race Star. This may have been a long review but the product warrants it, at £599.99 you need to know what you are buying and to my mind it has to be one of the most impressive helmets I have ever worn.
+ Looks, comfort & the technology within.
– Takes a lot of words to describe how good it is…
To buy the Bell Race Star, click here


Enjoy more Fast Bikes reading in the monthly magazine.
Click here
to subscribe.