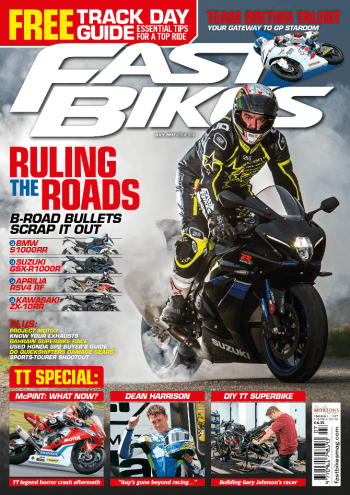 Ruling the roads
BMW S 1000 RR, Aprilia RSV4 RF, Suzuki GSX-R1000 R & Kawasaki ZX-10RR fight it out for supremacy on 'er Maj's highways!
Avon Spirit ST
Beej heads out to Portugal to try Avon's latest mid-range, do-it-all hoop!
McPint Magic
We learn the secrets of the TT from JMG
Chez TT Racer
Gaz Johnson builds his TT bikes at home, all by himself. Well, sort of!
Toured stupid
Ducati SuperSport S, KTM Super Duke GT and Kawasaki's Z1000 SX make their cases for your dollar!
Bahrain SBK
We send Carl off to do battle in the East!
Addiction
One very special Honda RS250…
IT'S THE NEWS
Upfront
New bikes, new books, new news!
GEARED UP
Products
All the best gear if you've no idea!
THE KNOWLEDGE
Used Buyer's Guide
Honda's exotic VTR1000 SP-2 set the track on fire but not the showrooms
Bull Busters
Bustin' the bull about gearboxes this month!
MASTERCLASS
Riding
Got back ache? Find out why!
Technical
Know your exhausts folks – all about 'em!
Legal
How badly can you get stung for wheelies?
YOUR LIFE ON BIKES
Chatter
The best readers in the world speak!
OUR LIFE ON BIKES
Project bikes
Charlie's TZR and Bruce's Moto3 latest!
Staff bikes
The fleet, it grows!
• Kawasaki ZX-10RR
• KTM Super Duke R
• Triumph STR 765
• BMW S 1000 R
• Honda Fireblade SP
• Aprilia RSV4 RF
RACE SECTION
Pit pass
All the news and views from racing!
Race feature
John McPhee & his British Talent Team
COLUMNISTS
Pretty Boy
Carl wastes some champagne in the Ducati Tri-Options Cup
Gary Johnson
Podiuming at Thundersport GB
Chaz Davies
So what about Jonny? Chaz addresses the elephant in the room
Steve Parrish
Our BJ receives an unexpected after dinner 'gift' from Mr P
Comments
comments