Charley Boorman has a new book out, but before you flick to the next webpage, just hold your horses there a wee second…
Say what you like about Charley Boorman, yet the fact of the matter is that if you're not a fan of his, but then get to actually meet the bloke, even the most hardened hater will end up wilting. Why? Because he is genuinely a really decent fella. We've always enjoyed whatever time we've spent with him and he's always amazed us just how much more interested he is in listening to what you've been doing on or around bikes, rather than what he himself has.
We sent our intrepid London hack, Ian Perryment, to the star studded launch, so, over to Ian!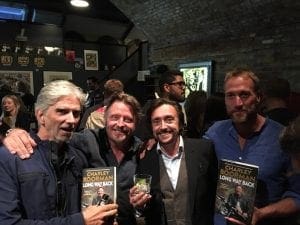 Charley Boorman loves motorbikes like a fat kid loves cake. In person he is the likeable, enthusiastic, happy go lucky character you see on your screens and possibly the right type of person you'd want alongside you on a long bike trip (motorcycling tours being one of the many pies he's got his finger in). In short, it's almost impossible to not like the bloke when he's yapping away to you.
Born and now based in London, he chose the BikeShed in Shoreditch for the launch of his autobiography Long Way Back. Oddly, he polarises opinion in true Marmite fashion, but believe us he's the real deal when it comes to biking and his motorcycling CV. From supporting Unicef and Dyslexia charities through biking, riding across continents, riding at trackdays, marshalling at the TT, collecting classics and becoming a Triumph ambassador he's definitely earned his stripes.
He's probably better known however for his TV exploits, namely Long Way Down, Long Way Round and Race to Dakar but he does a lot more than that. Well, he did until he smashed himself up in a horror accident in Portugal last year, on a bike launch, which put all his plans on hold. "I've had to turn down so many trips and lots of work" he told us, nursing a broken tib/fib/ankle and finger back to recovery.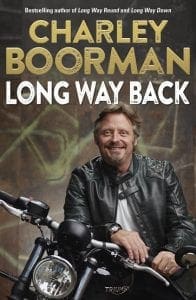 He now looks healthy and happy and had the crowd in the palm his hand, recounting stories and introducing his book which flicks between the past and present and details his recovery from the crash. Friends Damon Hill and Richard Hammond to name a few were there to offer support and we wish him the best with his recuperation. It's out now, and when we have a read, we'll get back to you and let you know what we think.
Ian
You can find Charley's book here

Enjoy more Fast Bikes reading in the monthly magazine.
Click here
to subscribe.