A lot went on at Catalunya in 2017, and not all of it was gravy, far from it, in actual fact…
Catalunya's 2017 MotoGP round was, really, something of an oddity to be completely honest. Never mind the fact that the new chicane (added to replace the old 'dangerous' F1 chicane used following Luis Salom's sad and untimely demise in 2016), was binned off after Friday's practice (And Jack Miller insisting on using it anyway when he shouldn't have been…), nor the fact that Marc Marquez couldn't even walk out of his garage without ending up rolling around on the ground, either. No, it was the heat that did the job, and for some (Yamaha, cough…) it royally cocked everything up, and then some…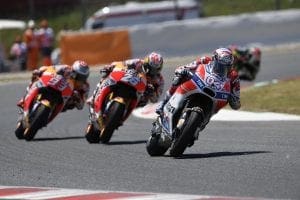 With tyre life foremost in everyone's minds, and lap-time drop-offs reckoned to be up to a staggering four or five seconds near race end, everyone was taking it easy. Well, whatever passes for 'taking it easy' at that level, that is. With a track surface older than a lot of the teenagers watching in the stands, grip was at a premium and nobody suffered with this more than Yamaha.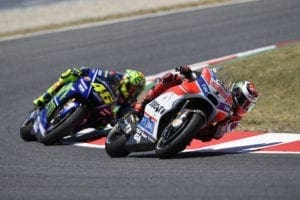 It's weird, because the M1 is slated to be the bike with the best throttle/wheel connection (which should in theory allow for better dealing with less grip, not that it quite works like that, at all…), but it looked anything but in Barcelona. Series leader Maverick Vinales shook his head so many times, and so often, over the perplexing lack of grip, he began to look like someone had left a nodding dog on its side! He had only just made it through to the second qualifying round, by the skin of his teeth, while team-mate Valentino Rossi had to start from a head-scratching 13th place. No bueno…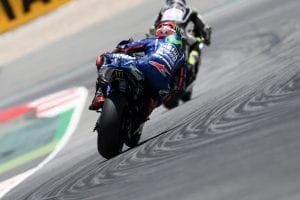 In the race, it was Jorge Lorenzo (who'd stuck it on the front row) that led for a good while, before Marquez, Dani Pedrosa and Andrea Dovisiozo stole past him. Then Jorge went to sleep for a bit, allowing others past too. Rossi had begun well but, as he'd predicted, slumped after 10-laps and would eventually finish the race a very, very distant (and probably extremely pissed off…) eighth place. Worse for Vinales, was tenth and a huge cut from his title points lead down to a mere seven. Ouch! Worse still, was the ignominy of both factory bikes being beaten by both satellite Yamaha machines of Jonas Folger and Johann Zarco – double ouch!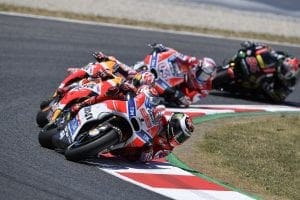 But cut to who? Amazingly, because we also struggle to quite believe it, to Andrea Dovisiozo, winning his second MotoGP race in a week and matching what had taken him about a zillion years to achieve in the premier class, in the space of seven short days. Well done Andrea! Dovi had followed Dani Pedrosa for a while, saving his hoops from perishing with his ultra smooth style, and then passed the Spaniard and on to glory. Marquez nipped past (and gapped) Pedrosa, and the trio went on to podium glory. Marquez even rolled around the floor a bit in parc ferme, taking the Micheal out of himself for his bizarre number of gaffs and crashes over the weekend. Everyone was happy. Well, nearly everyone…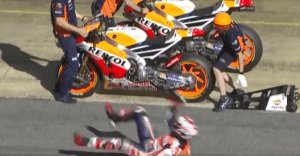 Lorenzo, meanwhile, eventually woke up from his fugue state and made his way back up the field to finish fourth. In fact, another lap or two and he'd likely have taken Dani Pedrosa for the final podium spot such was his end of race pace. Maybe it was his choice of the harder tyre that spooked him mid-race, but we can only imagine Ducati bosses will be wondering exactly what was going on. Either way, Jorge is starting to click it together inch by inch, bit by bit.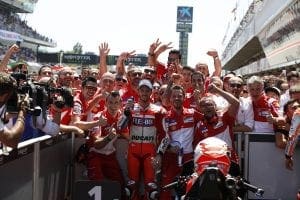 As for Yamaha, well, the good news is that most of the next few tracks coming up shouldn't have low grip quotients, so they shouldn't suffer in the same way as they did in Barcelona. Likewise, unless Ducati and Dovi have turned a serious corner then it may be 'business as usual' from Assen onwards. Or maybe not, we guess we'll see, won't we?
Catalunya Top Ten:
1 – Andrea Dovisiozo – Ducati
2 – Marc Marquez – Honda
3 – Dani Pedrosa – Honda
4 – Jorge Lorenzo – Ducati
5 – Johann Zarco – Yamaha
6 – Jonas Folger – Yamaha
7 – Alvaro Bautista – Ducati
8 – Valentino Rossi – Yamaha
9 – Hector Barbera – Ducati
10 – Maverick Vinales – Yamaha
FB
Pics: Yamaha & Ducati

Enjoy more Fast Bikes reading in the monthly magazine.
Click here
to subscribe.