You can argue with us all you like, about what the world's most beautiful race bike ever is, but you'll still be wrong! That's because the most sumptious, to-die-for looking race machine is, and always will be, the one and the only, Cagiva C594…
Yes, it's true, that men and women of a certain age hark back to the GP500 two-stroke times as the best, the 'golden age' of Grand Prix racing. Whether they're right or wrong, in this instance, matters not. We only care about the C594 at this very moment, drinking in every detail the pictures allow. It was Cagiva's most successful 500cc race machine in the hands of the odd-but-fast American, John Kocinski. It was also the zenith of a remarkable engineering project, with included such modern toys as traction-control, corner by corner electronic suspension damping, carbon chassis experimentation and a whole host of other developments and 'aids' that apparently never existed back then.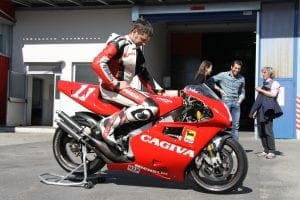 But it was a long road to the C594, Cagiva really starting to appear in the public eye when Randy Mamola signed to race for the Italian factory in 1988. From there they'd have talent from the likes of Alex Barros, Ron Haslam, four-time GP champ' Eddie Lawson, Doug Chandler and Matt Mladin, to name a few, bringing the factory on leaps and bounds year by year.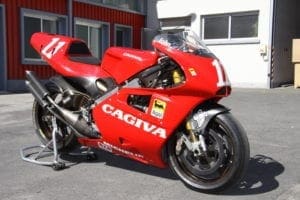 Here's a picture gallery from some of those years leading up to the awesome C594, with a couple of choice interviews thrown in – Enjoy!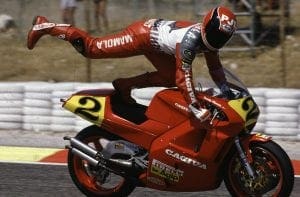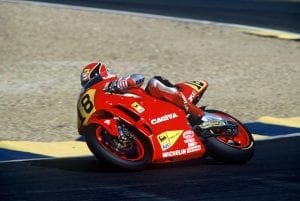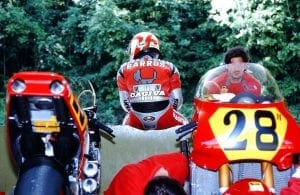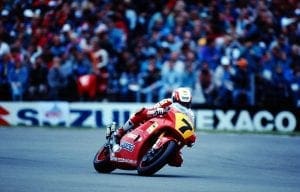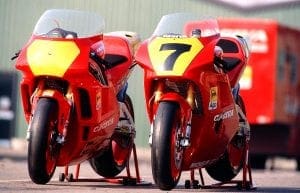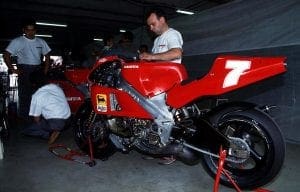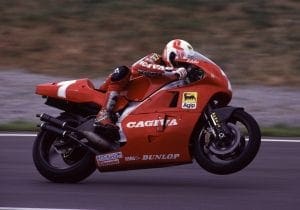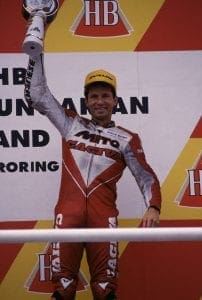 Interview – who better to ask about just how advanced the Cagiva was by 1992, than a man who was working on the project?
Mauro Marelli
Electronics R&D Chief – MV Agusta
"I worked on the Cagiva 500 project from 1987 to 1994, when it ended. The first Cagiva was a square-four. We had some tests with an inline engine, but stayed with the square. We introduced the V4 in 1986. I remember Kenny Roberts tested the bike and was fast. Mamola's bike was designed by Massimo Tamburini (of Ducati 916 fame), it was beautiful, but also we worked with many different materials like carbon. In some tracks we would use a carbon swingarm, on others an aluminium one. For example, when we rode with Eddie Lawson he preferred the carbon one, but sometimes switched to aluminium for less rigidity. The same was with John Kocinski, it depended on the track. We also had a mechanical anti-dive some races, and also with Lawson we had electronically controlled suspension in 1991 and 1992, which controlled compression and rebound. We mapped the track via the throttle, gear and rpm position, and in 1992 we start to work on the traction-control which was used in 1993. We did race at Donington with Carl Fogarty with electronic fuel-injection, too. I was there for all of it, including Kocinski's win in Australia on the C594. There are so many memories, I wouldn't know what to choose as the best, every one is fantastic, a great period. I started working here with Cagiva and what I learned led my career to here and now. I started with Juan Garriga, then Raymond Roche, Mamola, Barros and Lawson. It was all fantastic. We had our big change with Lawson, my favourite Cagiva rider I think. Our best result was with Kocinski but our big step was with Lawson. I don't know what you know, but we had a good relationship with Kenny Roberts who brought a Yamaha to us to look at. In combination with Lawson, that was our best time. With the C594, maybe one day we will build this bike again, who knows!"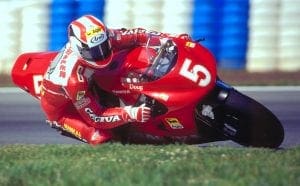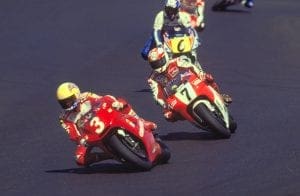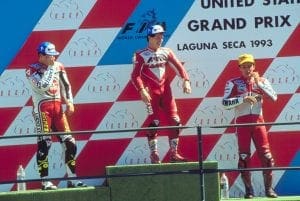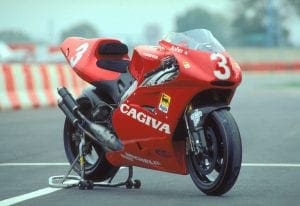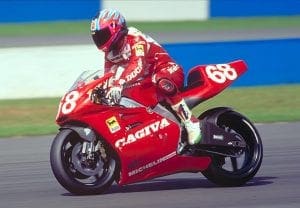 Interview – With the current boss of MV Agusta (and thereby Cagiva, too), Mr Giovanni Castiglioni… 
"The C594 was the last 500cc racer we made – and the most successful. We almost won the championship that year with Kocinski, you may remember. That bike for us is an
iconic machine which we treasure, the last Cagiva that raced. My father had one in his living room and we have two here at the MV Agusta factory. It's one of the most historical bikes we have made, it was really a concentrate of technology, power and performance. And I think the best 500GP bike on the race track in 1994. We had a bit of bad luck that year, otherwise we could have been world champions. It has so many amazing parts, which we changed per circuit, even the wheels were in carbon or aluminium. I had a chance to ride the bike on the track a few years ago and it was incredible. It was so different from any other bike I have tried. Just to start it, you had to rev it so much it made you look like you really don't know how to ride a bike! It took me a few tries just to get going, but it was an amazing experience. My best memory of Cagiva racing wasn't the C594, it was with Lawson in '92 when we won the first race. The conditions didn't matter, it was an incredible moment and such a feeling of joy I didn't feel again until MV won our first World Supersport race in Australia on the F3. I spoke a few years ago about bringing the C594 back again, it is something I still want to do but only when we have the time. We are focussing on other racing activities and our production bikes, but I have not forgotten, it would be fantastic!"
And now, the main event…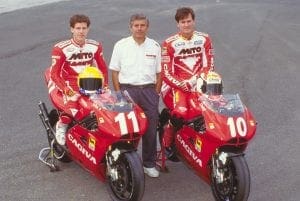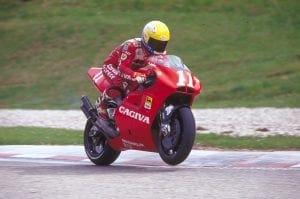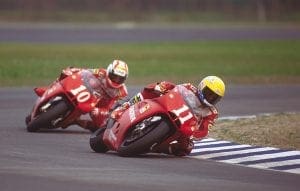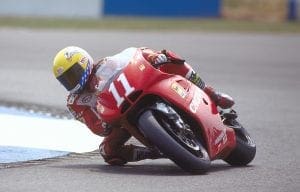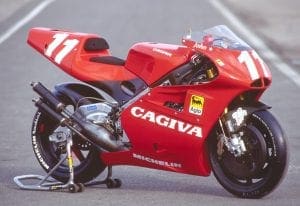 So, will GC ever get around to building a slew of these once again? Who knows, with MV's current and precarious finanical position it would appear unlikely. However, they'll also be aware that if they do, every single one will probably sell out in minutes. When it comes to this kind of exotica the rules are simple – build it, and they will come…
Right now it's a fantasy, but you never know, the world's most beautiful race bike just may be appearing at track days at some point in the future. Best anybody out there with money start calling MV and asking for them to get the ball rolling!
FB
Pics: MV Agusta

Enjoy more Fast Bikes reading in the monthly magazine.
Click here
to subscribe.