Last weekend, we thought that MotoGP threw up quite the curveball with its pretty peculiar weekend, and the antics that went on over those hot three days. Not to be be outdone, WSB at Misano chucked up its own, bonkers weekend in Rimini – and it's not even over yet…
While Friday's practice sessions went pretty much as expected, Saturday began with a curious note, as Ducati revealed an idea test rider Pirro had once tried on their MotoGP machine, this time on Chaz Davies' Panigale R. Basically, it's a wheel cover like an inverted Sky dish made from carbon-fibre, that allegedly aids in the aero department. Chaz used it for his second run in Q2, securing a fourth placing, but whether or not it actually works remains to be seen. Meanwhile, Tom Sykes took his 324,567th pole at Misano – the man's a Superpole legend!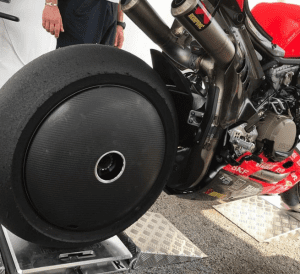 Then, prior to the race, now retired 2009 WSB champ' Ben Spies (coming to say hi, y'all…) was interviewed by Eurosport's most relentless interviewer, Charlie Hiscott. Charlie will always ask the questions others won't, bluntly if necessary, and once bitten won't let go until he gets an answer – we love that! With Spies he didn't need to be let off the leash, the former champ' and MotoGP race winner was in a great mood, and when asked if he fancied a return to racing, didn't rule it out! He said his shoulder was better (though still not 100%) and he had the itch once again, and it had crossed his mind. Er, come again?!
Without getting too giddy over something which hasn't (and may not) happened yet, a return to racing for Spies would be terrific, and if WSB is that port of call then so much the better. With the untimely and near unbearably sad loss of Nicky Hayden still a bitter taste, something like this could be just the tonic for 2018. It would also mean having an American in Superbikes again, too, if Spies can actually come back, that is. For the moment, let's file this in the 'would be nice' cabinet…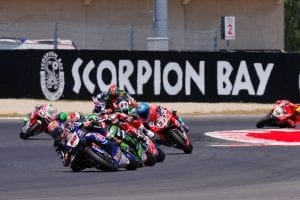 Then we had the race and, wow, nobody saw Michael van der Mark coming! The Dutchman barged his way into the lead like he'd just been threatened with the sack. Surely it was only a matter of time before the chasing pack of Davies, Jonny Rea and Marco Melandri caught him? Fifteen laps later, nobody had, so Rea took matters into his own hands to hunt MVDM down. He almost had, when he witnessed something very similar to what he'd endured at Donington – an apparent tyre failure. That it happened on the third (of four) slowest corner after the back straight was a miracle, had it been either of the two before he may not have gotten up as quickly…
It looks as though the tyre came off the rim, but unlike Rea's tyre early reports say the damage believed to have caused the issue was quite different in Misano. This one will run and run, and we feel sorry for Michael as he deserved at least a podium – sad face…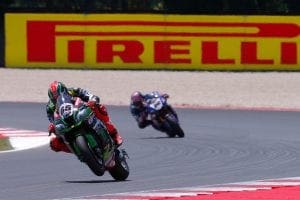 This left the chasing trio to squabble it out come the last lap. Melandri fell off all by himself through T4, and Rea managed to reel in Davies bit by bit until he was right behind him going through the last hairpin. Davies dropped it, Rea ran right over the top of him in a truly horrible accident which, viewed from the rear, brought awful memories of Sepang a few years ago, sharply back into focus. Davies got up (phew!), but quickly retreated to the sidelines for treatment. Rea remounted to finish third and on the slow down lap went to check on his fierce rival. Davies was eventually taken to hospital, a fractured vertebrae (among other things) was discovered (a theme of the weekend it seems given Leon Haslam's smash at Knockhill…) and now he'll be fighting to be fit for Laguna Seca in three weeks time. Chaz is the longest serving columnist Fast Bikes has ever had, so this one's a bit personal – get well soon mate!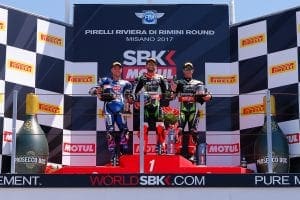 Anyway, Tom Sykes won the race, which was amazing because he was so far off the pace, and the action at the front so relentless, we'd forgotten he was even in it – sorry, Tom! Alex Lowes scored a second place, his second podium in two races, and when you add that to MVDM's form, perhaps this will help prevent the powers that be ruining the last racing series where manufacturers have some kind of freedom – electronics – the exact same freedom that makes our modern road bikes so damn incredible, because it's mostly all come from WSB, folks, never forget… Extra engines and extra testing for the rest, say we, that's more than fair. Otherwise, the race as a whole was utterly brilliant, one to truly knock the WSB naysayers back in their collective boxes – and don't come back out until you're prepared to play nice, y'hear?!
Sunday's action will take place sans Davies, obviously, but it'd be great to see MVDM up there again wouldn't it, nay?
FB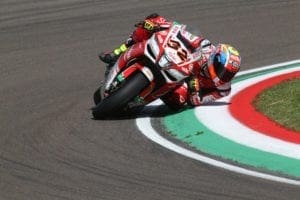 Enjoy more Fast Bikes reading in the monthly magazine.
Click here
to subscribe.