Race 1 at Misano was a sight to behold, amazing (and gutting) on many levels, but surely a wonderful spectacle nonetheless. So how could Race 2 compare? Well it turns out, pretty good, and a crazy war of attrition, too…
With poor old Chaz Davies out following a Kawasaki trying to insert itself inside of him (against its will mind you…) on Saturday, who was going to take the fight to Jonny Rea or Tom Sykes? Well, for the first time this year the reverse grid format seemed to work as both Xavi Fores and BMW mounted Jordi Torres blasted into the lead, and held it. Rea and Sykes looked to basically be hanging on to the pair, though Marco Melandri stole past that Green Duo and began a bit of a waiting game, seeing what would transpire before making a move.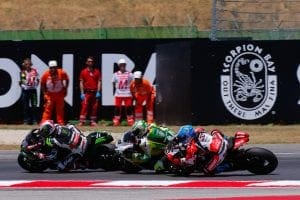 Neither Fores nor Torres was giving in, until Xavi's bike broke, that is. This left 'Spanish Elvis' in the lead with Melandri in close proximity. The laps were ticking off and Torres appeared capable of holding the howling pack at bay until, disaster, his BMW also cried enough. He wasn't alone in this, nor was Fores, as between breakdowns and crashes we only saw 12-riders finish the race!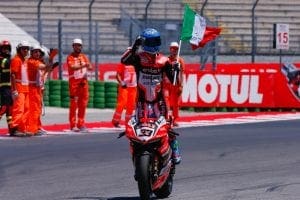 Once Torres was out, Melandri just needed to stave off a surge from Rea, which he did, and took his first win for years, and the 100th Italian WSB victory. Would this have happened if Davies was there? Maybe not, but then Marco has looked the best he has all year at Misano. Rea and Sykes made up the rest of the podium.
What was terrific, was seeing a Yamaha, BMW and a privateer Ducati up at the pointy end over the two days. Hopefully this signifies the end (or delay) of any control ECU nonsense. The others can do it, it's been proved, if they can then so can the rest, too. And please (everyone) let's stop saying WSB should adopt BSB rules – no, they shouldn't. There needs to be a marked step-up in both class and machinery for the world level series, plus a huge step-up in power, too. If WSB goes down the 'no electronics' path, then they'll have to knock massive lumps of power off the bikes.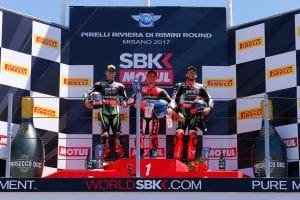 In cases like the Kawasakis, you're talking 30bhp and more being removed. Most BSB bikes, according to BSB's Stuart Higgs, make around 200-210bhp at the wheel. And they must because if they made more the tyres wouldn't last race distance. Ask yourself this – do you see loads of sideways action in BSB? A bit, yes, but not to the levels you'd expect given the no traction-control rule, it's far more subtle and the reason is, once again, that without TC if they did broad-slide everywhere then the tyres would be shot and that would potentially ruin their race result.
"They need to do something in WSB, to stop the Ducati and Kawasaki domination" said a Kawasaki riding BSB racer over the weekend. Is that so? Well, of the eight races in BSB thus far, they've all been won by either Kawasaki or Ducati (including an awesome debut double win for Kawasaki mounted Jake Dixon this weekend at Knockhill – well done dude!). And, just remind us, which two manufacturers won nearly all the races in BSB last year? We won't give you many guesses…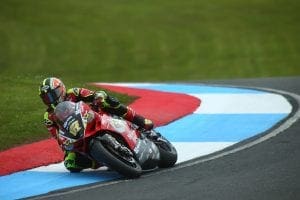 And if you think there's no electronics at all in BSB, think again, from down-shifting to engine-braking strategies, to engine-mapping strategies, to many other aspects of BSB's control ECU, there's plenty of electronic control going on, just not any dedicated traction or wheelie-controls essentially, and the teams with the most money to pay the best lecky'-engineers will always do better – sound familiar?  But that's great, we love it as it gives BSB its own unique identity, leave it be! And leave WSB be, too, give other concessions to 'struggling' teams like we mentioned yesterday, extra engines and testing, and they'll soon be right up there on a regular basis – rant over!
Anyway, WSB kicks off again next at Laguna Seca, and we hope Chaz Davies will be fit by then to take part – get better soon, boyo! And those Ben Spies rumours won't go away, either, so keep a close eye on that!
FB
Pics: WSBK & Double Red

Enjoy more Fast Bikes reading in the monthly magazine.
Click here
to subscribe.