If any of you guys made the trek down to Brands at the weekend, you'd know it was bloody worth sitting through that atrocious weather for some absolutely awesome racing. Do we even expect less from these guys anymore?!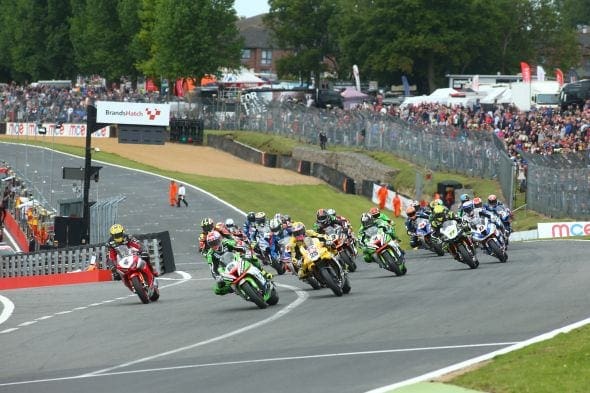 Race one:
In typical British fashion the weather was an absolute pain in the ass for those racing, with changing conditions throughout; meaning the race was bought to a premature finish after the track conditions were deemed unsafe on slicks – and it looked like it from trackside. It was great to see Dan Linfoot fighting back at the front again, making the Honda Racing Fireblade work under him for the first time this year. After a quick safety car period it was a straight out war for the top spots, with Mossey, Hickman, Haslam, Brookes and Iddon all absolutely gunning for it.
With multiple changes of the lead it was Shane Byrne who came up trumps in the end, taking control with two laps to go as the red flag made an appearance and consequently took the championship lead.
Shane Byrne (Be Wiser Ducati)
Dan Linfoot (Honda Racing) +0.365s
Leon Haslam (JG Speedfit Kawasaki) +0.737s
Peter Hickman (Smiths Racing BMW) +0.795s
Josh Brookes (Anvil Hire TAG Yamaha) +1.535s
James Ellison (McAMS Yamaha) +1.717s
Jason O'Halloran (Honda Racing) +2.102s
Christian Iddon (Tyco BMW) +3.631s
John Hopkins (Moto Rapido Ducati) +3.708s
Bradley Ray (Buildbase Suzuki) +3.792s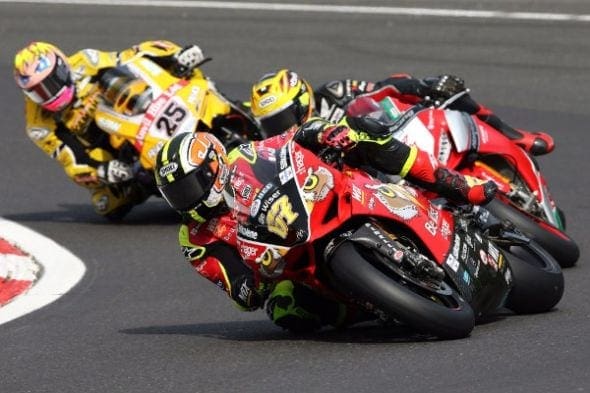 Race two:
Shaping up to be another epic, it was Brookes taking the fight to Shakey this time out as a dogfight ensued behind between Ellison, Iddon, Haslam and Hickman all gunning for a step on the box, while Aussie Josh Brookes crashed out on lap nine. With Shakey making a break at the front it was Ellison who was next over the line, followed by Christian Iddon who had no idea he'd even made the podium. What a guy.
Shane Byrne (Be Wiser Ducati)
James Ellison (McAMS Yamaha) +5.787s
Christian Iddon (Tyco BMW) +6.167s
Peter Hickman (Smiths Racing BMW) +8.039s
Leon Haslam (JG Speedfit Kawasaki) +10.079s
Luke Mossey (JG Speedfit Kawasaki) +10.530s
Jason O'Halloran (Honda Racing) +10.866s
Bradley Ray (Buildbase Suzuki) +13.246s
Michael Laverty (McAMS Yamaha) +14.002s
Jake Dixon (RAF Reserves Kawasaki) +14.983s
FB
Comments
comments