Were you there at Silverstone last weekend, for the World GP Bike Legends (WGPBL) meeting running in the Silverstone Classic? By all accounts it was a right hoot!
Not only did fans get to see legendary riders such as Wayne Gardner, Phil Read, Freddie Spencer and, er, Maria Costello whizzing around the track on a plethora of classic and new machinery, but some of the bikers even took part in a classic car race to show the four-wheeled brigade how it's done. Well, some of them did at any rate!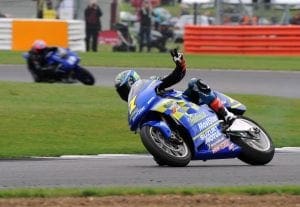 Even FB's own Steve Parrish was doing pretty well until he spun his car on the last lap of the celebrity challenge driving Austin A30s and A35s – AC/DC's Brian Johnson even rolled his!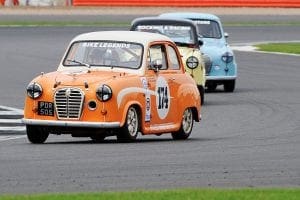 But the bikers were mostly there for the bikes, and not only were classic 500cc GP two-strokes zinging along, but they also had new Yamaha R1s togged up in classic livery for the legends to prat about on – and prat they did! Parrish, narked that he got an old Suzuki RG500 while the rest managed to nab an R1, managed to blag last year's Suzuki BSB GSX-R1000 for a thrash, too.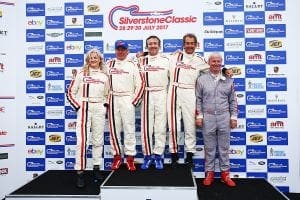 "It was an awesome weekend on all fronts,"  said WGPBL ambassador Wayne Gardner, "The Silverstone Classic is now one of the world's greatest festivals and the presence of World GP Bike Legends certainly adds to the extraordinary show. With so many enthusiasts, it was the perfect event for us to debut our exciting new initiative with Yamaha", he said after nailing the granny out of a poor R1!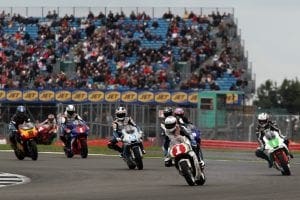 The R1s that were ridden have now been signed by their respective bike legends, and are up for sale so if you fancy a Niall Mackenzie, Freddie Spencer, Phil Read or Barry Sheene (signed by son Freddie) replica R1, head right HERE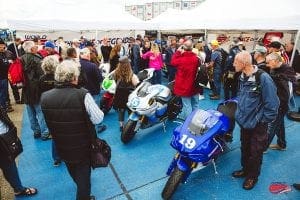 If you haven't been to one of these meetings, try and make sure you do next year.
You can find info on WGPBL meetings, and much more, right HERE
FB

Enjoy more Fast Bikes reading in the monthly magazine.
Click here
to subscribe.