Our good friend from Bridgestone tyres, Mr Gary Hartshorne, decided that when he was due to visit some of their dealers in Ireland, he'd do the right thing and travel by bike. We asked him to blog his travels across the 'Emerald Isle' as we've had some brilliant times there, and he agreed, so here he is with Part 2 – over to Gary…
As usual I was running late so had to quickly dash to the ferry in Liverpool. This meant a boring 2-hour ride up the motorway and I hate riding motorcycles on motorways, but of course, it gave me the chance to see how the old girl would mile munch. As every mile passed by I began to actually enjoy the motorway riding. The large screen kept buffeting to a minimum and made for a pleasant ride. Cruise-control on a bike is a must for me and on the KTM, with the large buttons, its really easy to use. There's no fumbling around and taking your eyes off the road and to cancel one simply turns the throttle clockwise and it cancels. However, it does cancel very suddenly, it's like you've slightly hit the brakes and the bike feels like it slows down rapidly and jerks you forward so you have to make sure you're ready for it.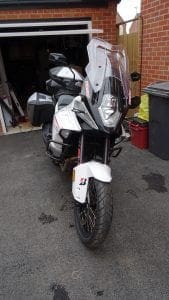 Whilst sat there bored on the M6 I thought I'd flick through the dash. You need a degree in rocket science on some bikes to find your way through all the menus but the KTM was pretty simple. It must have been if I could do it. It is literally scroll up or down, press 'ok' and you're there, simples. The particular bike I had had pretty much everything on it: cruise-c, heated grips, comfort seat which, by the way, was excellent. I believe this is an optional extra but if you cover big miles I'd certainly recommend upgrading. Not once did I feel the need to stop to rest my bulbous rump.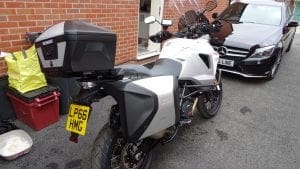 The tank range on the bike was really impressive, too. I was getting a good 300-miles per tank. This type of range makes a massive difference when you need to put the miles in but of course, if you're riding in a group, the bike is only as economical as the worst bike – as you'll have to stop for them anyway. But riding on your own like me however…
The big KTM was fitted with all the luggage. The only real issue I had with it was the right pannier. It sits over the exhaust and it loses so much capacity to accommodate this, it's a waste of time to be honest. I could only fit my waterproof suit and chain in it and because of the shape all the contents would slide off the top lodge and fall out – you effectively only have the 2 panniers. All panniers should be top loading anyway, these side opening options are a bit of a pain. I have top loaders on my GS and they're so much more user friendly so if you do invest in luggage, invest in the top loading variant. The levers to open the cases were a bit fiddly and I was finding I needed to use 2 hands to open them up, but they were extremely easy to take off and put back on, probably the best I've used so far.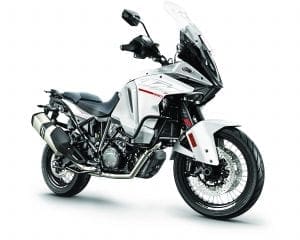 It's also a very tall bike, fortunately I'm over 6ft and long in the leg so for me was no problem, but for those who are vertically challenged… I'm sure there is a lowering kit and there needs to be because this, so far, is a very very good motorcycle, and shouldn't in any way be limited to tall people.
There's also a very handy phone holder with a USB port along with a 12V socket situated below the dash and with us all now having phones and other electrical devices its extremely convenient to be able to keep devices charging whilst we're on the move. I always carry a small compressor and some tyre weld with me as you never know when a puncture will strike but of course, without a 12V socket, it's a waste of time, so a very welcome addition.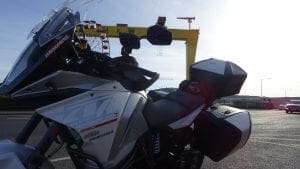 This bike is extremely well kitted & thought out for the long distance rider but it's also very capable through the twisties, which I was about to find out when I turned the sat nav back to 'avoid motorways and tolls' when I got off the boat in Belfast. Ill get more on to that next time, but for now, full gas!
FB

Enjoy more Fast Bikes reading in the monthly magazine.
Click here
to subscribe.