Doesn't matter how much of a 'legend' you are, or how skilled you are, training on bikes in between races, for racers, is always a risky dog. One which bit Valentino Rossi yesterday, snapping his leg in the process…
This means any hope of a 10th World title (in 2017) just went up the swanny (bar some proper odd things happening), and we can't imagine it's going to get any easier for the old boy next year, or the year after – but then again with this lad, who knows? He is old enough, though, to know better than to rush back for a lost cause, so will likely take his time to recover – at least we hope he will, and won't risk another smash, best be sensible about it we reckon!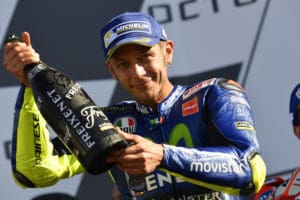 He was operated on successfully however, press release from Yamaha on the subject can be found below:
Last night Movistar Yamaha MotoGP's Valentino Rossi had a successful operation on the displaced fractures of the tibia and fibula of his right leg.
The MotoGP-star was hospitalised after an enduro accident yesterday evening.
Following a medical examination at the 'Ospedale Civile di Urbino', where he was initially diagnosed, the Italian was transported to the 'Azienda Ospedaliero-Universitaria Ospedali Riuniti' in Ancona.
Upon arrival, he received surgery between 2am – 3am by Dr. Raffaele Pascarella, Director of the Orthopedics and Traumatology Division. During the surgery the fractures were fixated using a metal pin – a locked intramedullary nail – without any complications.
Further medical updates will follow in due course.
Yamaha would like to thank the entire staff of the 'Ospedale Civile di Urbino' and 'Ospedali Riuniti di Ancona' for their dedication and professional care.
We'll post more news when we get it, in the meantime, get well soon, Vale!
FB

Enjoy more Fast Bikes reading in the monthly magazine.
Click here
to subscribe.