Fresh from Misano's MotoGP event comes this, the reveal of the 210bhp Desmosedici Stradale V4 engine! Yes, yes, oh yes please!
The main spec points are:
– 1,103cc
– Claimed 210bhp+ at 13,000rpm
– Claimed 120Nm+ of torque between 8,750rpm – 12,250rpm
– 81 x 53.5 – bore x stroke
– Counter-rotating crank
– 70-degree crank-pin offset / 'Twin-Pulse' firing order
– 52mm throttle bodies with varible-height intake 'horns
– Up/down DQS quick-shifter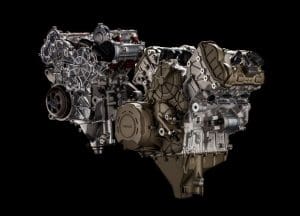 We guess the R version will be sub 1,000cc, likely to be seen in 2018 at some point, which means the main Proddy versions won't be eligible for most classes – and Ducati have already said they won't race the V4 in WSB until 2019.
Here's some blurb from the official press release:
Out of the experience gained in MotoGP comes the new 90° V4 engine, designed to power future top of the range Ducati sport models. Called the Desmosedici Stradale, this new power unit is a milestone for the Bologna based motorcycle manufacturer.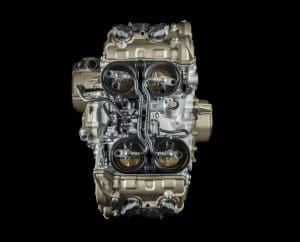 Once again, Ducati has looked to the future by developing a fresh, distinctive project, opening up an entirely new chapter. The starting point for the Desmosedici Stradale design was the heart of the V4 MotoGP engine – its cylinder heads. With the same dimensions and geometry as the Desmosedici GP, the Desmosedici Stradale offers the same outstanding fluid dynamics. It also has the same engine configuration: 90° V4, rotated rearward by 42°. This solution makes the new Ducati engine extremely compact, allowing centralisation of mass and perfect integration with the vehicle.
As on Ducati competition bikes, the crankshaft is the counter-rotating type. This reduces the gyroscopic effect exerted by the wheels and makes the bike faster and more agile when changing direction. It also reduces the wheelie effect when accelerating and rear wheel lift when braking. The crank pins have a 70° offset, giving rise to a "Twin Pulse" firing sequence that, in addition to producing a unique signature sound, delivers easy to handle power and excellent out-of-the-corner traction.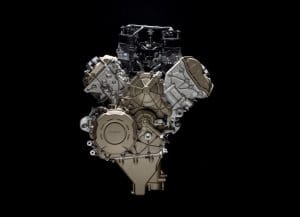 While the Desmosedici Stradale engine is undoubtedly suited to the track, it has also been designed to respond to the needs of the road rider. For example, to maximise mid-range torque – essential for a satisfying road experience – and ensure punchy torque and power at lower revs, the engine has a slightly larger displacement than its MotoGP counterpart (1103 cm³, to be precise).
Power output from the Euro 4 compliant engine configuration exceeds 155 kW (210 hp) at 13,000 rpm while maximum torque exceeds 120 Nm (12.2kgm) from 8,750 to 12,250 rpm.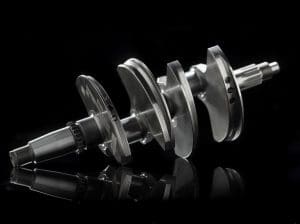 The Desmosedici Stradale is designed around the Desmodromic system that controls the four valves in each cylinder and plays a key role in making Ducati prototypes the fastest in MotoGP. On this high-revving engine the "Desmo" system achieves a degree of sophistication, lightness and compactness never before seen on a Ducati.
As in MotoGP, the engine was designed with an 81 mm cylinder bore. This measurement reflects the maximum limit allowed by MotoGP rules; it's also the highest in the 4-cylinder supersport segment. Using the same bore as the Desmosedici GP engine means both power units share nearly identical in-engine fluid dynamics (i.e. on valves, intake ducts and throttle bodies, right where the power is produced). Throttle bodies have variable-height air intake horns that optimise cylinder intake across the rev range giving significant advantages in terms of power delivery and handling. Completing the fuelling system are the oval throttle bodies, each equipped with two injectors: one above the butterfly and one below it.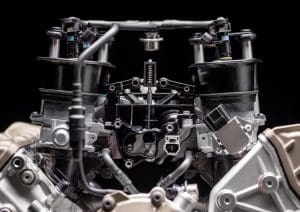 This technical solutions package – born in MotoGP and developed to maximise everyday reliability – once again demonstrates the uniqueness of Ducati, capable of creating a V4 engine that offers a configuration and a solutions set like no other in the motorcycle world.
Main technical data:
– 1,103cm³ 4-cylinder 90-degree V engine
– Bore x stroke 81 x 53.5 mm
– Compression ratio 14:1
– Maximum power exceeds 155 kW (210hp) at 13,000 rpm
– Maximum torque exceeds 120Nm (12.2kgm) from 8,750 to 12,250rpm
– Euro 4 emissions
– Desmodromic part chain, part gear timingwith dual overhead camshaft, 4 valves per cylinder
– Counter-rotating crankshaft with crank pins offset at 70°
– Wet multiplate anti-patter servo clutch
– Semi-dry sump lubrication with four oil pumps: 1 delivery and 3 return
– Fuelling with four oval throttle bodies (52 mm diameter equivalent) and variable-height intake horns
– 6-speed gearbox with DQS up/down system
– 24,000 km "Desmo Service" maintenance interval (15,000 miles)
Can't wait to see the whole bike, but more than that, we can't wait to ride it!
FB

Enjoy more Fast Bikes reading in the monthly magazine.
Click here
to subscribe.