Reviewing riding kit is a tricky thing, because it's easy to say how comfortable or useable an item is. But, without throwing yourself on purpose off a bike, the only way of properly testing riding kit and how hardy it is, sadly, is by having a big crash yourself, like our man PT did…
Paul Traylen does a lot for us here at FB, be that driving our truck for SBOTY, being an ace mechanic or a spare rider. He also does a lot of racing in Spints and Hillclimbs, and has been racing for the last year or so in Oxford's £299.99 RP-3 leathers and HJC's £459.99 RPHA11 Lowin Carbon. And, prior to what we're about to discuss, had been enjoying using them.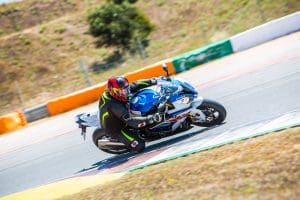 "The HJC was perfect, excellent venting, light, comfy, lovely and quiet, and I was extremely happy with it", said PT, "And the leathers were also superbly comfortable and felt great despite them being not the top-spec' Oxford RP leathers, I felt comfortable pushing hard while wearing them, they inspired confidence in my riding and, erm, perhaps a bit too much!"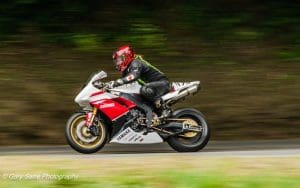 Indeed, because PT, while racing in Alderney's (really quite fast) Hillclimb event, had a bit of a boo-boo…
"I lost the rear end, maybe on a damp patch, on my race R1. The rear snapped back and put me into a weave, and I reached the next corner before I could get a hold of it, and went straight through it! Apparently the course commentator's words were – he's lost it, he's lost it, no he's got it back… Rescue!"
"While I was walking, crawling, fighting my way out of the gorse bushes, the first thing I thought about was wanting another of these HJC lids. My head hit the main trunk of the gorse bush at around 60mph, and as the bush has probably been there a hundred years the trunk was like iron".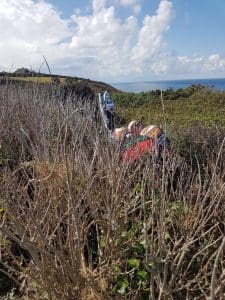 "It was a glancing blow, and I felt it alright, it was probably what started my somersault! The HJC has clearly been bashed hard, but it's done its job and I didn't even have a headache. Now this has happened I'll always trust this lid, which is why I want another!"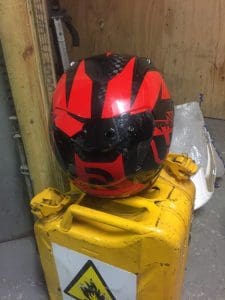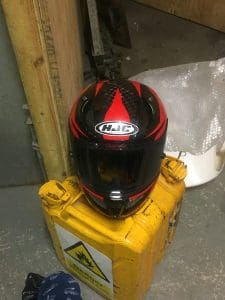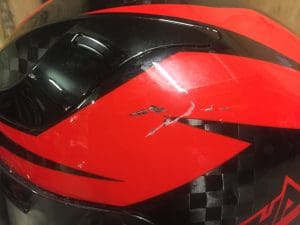 "The Oxford leathers also did really well, even though the gorse tried to tear them to shreds they fared well, plus I hit a bunch of rocks hidden away too, and the armour did its job. I did get pricked to buggary though! There's only a couple of little tears and I have since raced with them after getting a few bits stitched, but they do look a bit second-hand now and I'm concerned at just how many small holes there are, caused by the gorse. But at less than £300 I've no problem buying another set, the quality is ridiculous at that price and I'd say I'm walking (hobbling, surely? – FB) proof this kit does its job!"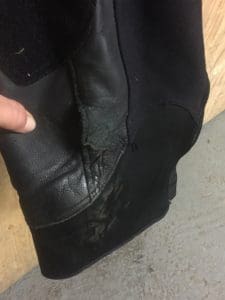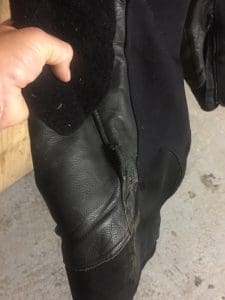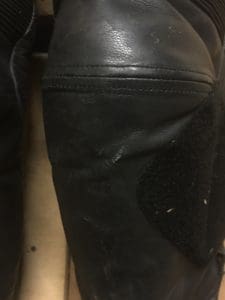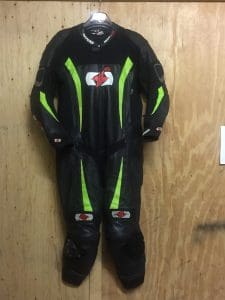 Paul would also like to thank Sarre Rescue and St John's Ambulance for the great care for both him, and cutting his bike out of the bushes, that they provided.
Well, there's nothing quite like walking away from a massive crash to inspire confidence in riding kit, and we'd say this is one of those examples – although slightly happy it wasn't one of us that it happened to!
HJC Lowin Carbon – to BUY NOW head right here HJC RPHA 11 Lowin Carbon
The RP3 Leathers are no longer in production (new ones on the way apparently!), but you can still find some for sale right HERE
FB

Enjoy more Fast Bikes reading in the monthly magazine.
Click here
to subscribe.