Find here a down and dirty, completely unprofessional unboxing and assembly video of this here Armadillo motorcycle shelter – we just hope we got most of it right!
If you don't have a garage, but a bit of parking space, something like this is a bit of a no-brainer really. Yes, ground anchors and bike covers are available, and many are excellent, but having something else to keep your pride and joy safe from the UK's gnarliest weather is nothing but a great idea, we'd venture.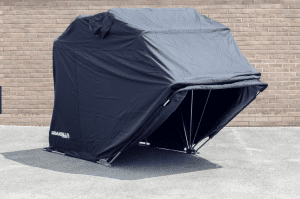 The Armadillo comes in three sizes, small (£159.99 – 270cm x 105cm x 155cm), medium (£173.87 – 283cm x 105cm x 155cm) and large (£193.31 – 345cm x 137cm x 190cm), and has all the fixtures and fittings needed for assembly and securing to the deck. The 'Small' version is fine for just about any sportsbike we reckon, was plenty of room with a 2017 Gixer underneath.
It has a 600D waterproof cover, uses a unique folding design and can, as shown, be put together by a minimum of two idiots, or one normal person. The metal frame is sturdy, it's relatively easy to assemble (unless you're us…) and can be permanently fixed to concrete surfaces. Plus, if you really want to, you could also install another ground anchor for added Leave-my-bike-alone-you-thieving-jippo'ness…
** FYI, those rings (which we didn't know what they were) are security collars, so you can't just lift the cover up, and they go over the small metal plates with holes we (first) thought went under the main hinge plate**
You can find some ground anchor links below the video.
To BUY NOW head here Armadillo Small
To BUY NOW head here Armadillo Medium
To BUY NOW head here Armadillo Large
To BUY NOW head here Mammoth Ground Anchor £38.29
To BUY NOW head here Mammoth Chain, Lock & Ground Anchor £79.98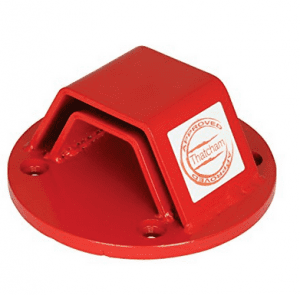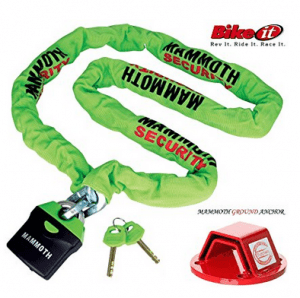 FB

Enjoy more Fast Bikes reading in the monthly magazine.
Click here
to subscribe.