How would you like your Aprilia RSV4 RF (or RR) to make 215bhp, have lots more torque, weigh 10kg less and also get sweet aerodynamic fairings like they have in MotoGP? Well, look no further!
Yes indeed, a new option for 2017/18 RSV4s is the 'Factory Works Programme', which sounds bloody awesome, if you can afford it! No word on prices for it yet, nor which dealers in the UK will be able to do these modifications, but we love the sound of it regardless!
Here's a bit copied from the official press release, that covers some of the possible changes you can make:
Aprilia Racing Factory Works is therefore a unique programme that now expands thanks to the introduction of a special kit available for the Aprilia RSV4 – in the RR and RF MY17 and MY18 versions – capable of maximising engine performance, reducing overall weight and improving aerodynamics.
As for the engine, the kit includes a set of four single-groove pistons with a surface treatment to guarantee smoother action. These components alone ensure about a 4 HP increase in maximum power. In order to further increase performance, a cylinder heads kit is also available which replaces the original heads with new ones that boast numerically controlled machined intake and exhaust ducts in order to improve fluid dynamics; the springs, valves and related caps have also been optimised to fine-tune performance, while the camshafts have a surface treatment that further reduces friction. Overall, along with a new ECU that has a specific map for the Akrapovic exhaust, the complete kit lets you reach a maximum power of 215 shaft HP.
Aprilia Racing's experience can also be measured through targeted lightening operations, primarily to the advantage of handling, which is already outstanding on the standard RSV4 model. These operations consist in the installation of a lithium battery and a new fuel tank with the same shape and material as the original, but made using a refined production method that reduces the weight by about 1.5 Kg. The complete Akrapovic exhaust system, the various carbon fibre details and the billet upper steering plate reduce the overall weight of the RSV4 by about 10 Kg.
The new Factory Works kit can be further enriched by a set of side fairings with winglets, the aerodynamic appendages that contribute to producing benefits in terms of bike stability. This is technology that Aprilia Racing developed on the RS-GP prototype used in the MotoGP World Championship and which, for the first time ever, is now also available to Factory Works customers.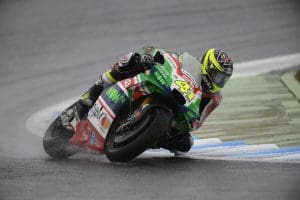 Sounds pretty damn good if you're a new RSV4 owner, right?
FB

Enjoy more Fast Bikes reading in the monthly magazine.
Click here
to subscribe.