Motorcycle Live returns to the NEC, that good old annual biking metronome, in Birmingham from 18-26 November and alongside all the new models fresh off the back of their EICMA debuts, there are no less than 17 FREE live features and events to keep bike fans of all ages entertained. With so much to cram in, especially for the uninitiated, here are are a few of our hacks to make sure you get the most out of Motorcycle Live (and save yourself some money in the process…). For those who are already seasoned show-goers, open wide, here's an egg…

Travel on your bike
Bit of a no-brainer and, yes, unless you're coming down from Scotland, or we hit a deep freeze, man up, it's still (just) warm enough to do so. Parking fees are on of the biggest gripes for Motorcycle Live goers. This might seem like an obvious one, but the best way to avoid parking fees at The NEC is to travel to the show on your bike. The show organisers provide FREE secure, indoor motorcycle parking, situated in the halls and a much shorter walk to the show than the car parks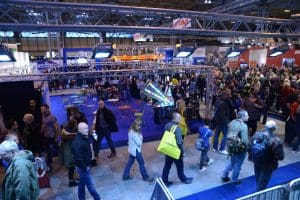 Trains, planes and automobiles
If the bike is not an option, there are still ways to avoid the £10 parking charge. Birmingham International Railway Station is a 10-minute skywalk away from the show and if you pre-book parking there, you can pay as little as a fiver. Virgin Trains offer a 25% discount for all ticket holders (check out The Ticket Factory website for details of this offer). If you do decide to bite the bullet and pay for NEC parking, you'll get a voucher for half-price admission to the National Motorcycle Museum. Or, there's always the walking distance shopping centre parking, too.
Get there early
There are ten FREE riding features at Motorcycle Live (which you can find out about on their website), but they are very popular and get booked up quickly, so hop to it. Our advice if you want to guarantee a spot is to arrive early, get in the queue at the door closest to the feature (you can find a floor plan in the show website too) and head straight there – then it's every man for themselves, but politely, er, obviously.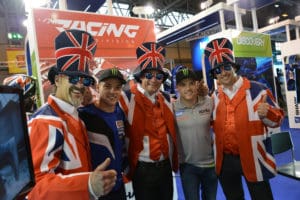 Plan your route
Speaking of the floor plan, you can download and print off a PDF from the show's website. If you have specific manufacturers, exhibitors or retail stands you know you want to visit, make the most of your time by planning your route in advance, get all that done and then you can look at the remainder. If you're not that organised, like us, start at hall 2 and work your way round to hall 4 – you'll come across every manufacturer that way! But, obviously, you'll be visiting Fast Bikes' stand first though, won't you?
Pack it up
Avoid the food prices by bringing your own, a no-brainer for anyone with even the slightest bit of proper preparation about them. The food there is actually not bad, but not on the cheap side either so, if you've never been before, you've been warned! The show organisers provide various seating areas where you can sit down and eat your own food without fear of being evicted by Moose & Rocko from security. The best spot is the front of the Blackhorse Stage in the Eurosport Entertainment Zone, where one can see interviews with top racers while you stuff your faces.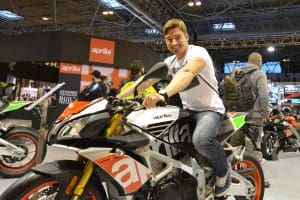 Download the FREE app
If you want to keep up with everything going on at Motorcycle Live as it happens, download the FREE app. You can sign up to receive push notifications based on your location within the halls, meaning you won't miss out on rider signings, exclusive retail offers, catering discounts and traffic updates. Search 'Motorcycle Live 2017' on the Apple Store or Google Play.
Priority Mission – Visit Fast Bikes' Stand!
Yep, we'll be there, and if if we're not on the stand when you visit we'll deffo be about somewhere! So make sure you get over to us, take out whatever spiffing subscription deal we'll have on offer, chew the fat and set the biking world to rights!
Motorcycle Live takes place at The NEC, Birmingham from 18-26 November. For information on all the features and event and how to buy tickets, visit www.motorcyclelive.co.uk 
FB

Enjoy more Fast Bikes reading in the monthly magazine.
Click here
to subscribe.