Yep, it's all over, and now the long wait for MotoGP race action kicks in, a wait which no amount of televised testing can sate, especially after the pressure-cooker of a finale in Valencia…
It was always a tall order (read nigh on impossible) that Andrea Dovisiozo was going to win there, and Marc Marquez was either going to crash or finish with few enough points for the title to go Dovi's way. Never mind the fact that Valencia is a specialist track for Marquez, Ducati's record there (bar the Stoner years) is pretty pony. So let's focus first on what appeared to be the controversial issue, those Ducati team orders…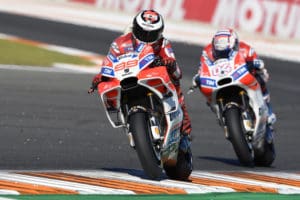 In fact, Dovi struggled all weekend especially with his race pace, a fact evident by the race on Sunday. Many, including commentators who should really know better, immediately jumped on the anti-Jorge Lorenzo bandwagon when it appeared that he was ignoring team orders to let Dovi through. To us it seemed a little less clear cut after a few laps of this though, especially given the Valencia circuit and how hard it is to overtake there when on the limit. Our suspicions were confirmed after the race, when Dovi admitted that without Jorge in front of him he would have lost touch with the leading group as he could stay right with him for the first half of the lap, but not for much of the second half – point being, had Jorge let him through when asked, they would have dropped back further still.
Jorge knew Dovi had been struggling, and reckons he was better served by towing the Italian than letting him past, a reckoning also confirmed by Dovi himself (see above), and also by what actually transpired. After Marquez's ludicrous save (which we'll get to), letting the Ducatis past him, Jorge put the hammer down to try and catch Zarco and Pedrosa, which he did. Yet, within two laps he'd pulled the best part of a second on Dovi (an eternity at Valencia), proving Dovi's claim that he didn't have the pace. However, Jorge and Dovi were nigh on the limit of what the Ducati was capable of there already, and pushing that tiny bit harder saw Lorenzo fall.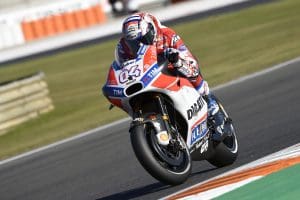 Dovi over the next lap, lost a further half a second to those in front, cementing their claims that Jorge was actually helping him keep pace for the first half of the race. And then, without his team-mate marker, he pushed over the bike's limit and also fell. We won't say that handed the title to Marquez, though, because Dovi had to win the race regardless, and that was never going to happen given their struggles.
Now, as the race was happening and Lorenzo appeared to be ignoring multiple orders to let Dovi past, it was quite easy for many to start bashing the Spaniard. On the face of things, as they seemed to be, even we started to get a little narked with him – at the start. But we did notice after a few laps how Dovi failed to stay in touch especially through the last split where he visibly lost yards despite being right behind for the first half of the lap, and when Jorge pulled the pin, Dovi was nowhere.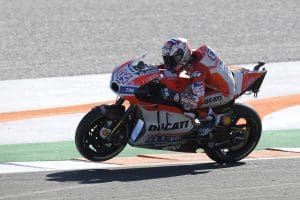 So, was it wrong of Jorge to ignore team orders? Probably, yes, we all know how narked a boss can get whenever anyone does that! However, for a bit of balance given both Dovi and Jorge's statements after the race, is it possible that these guys know what they're doing being seasoned racers, and ignoring those orders was actually in Dovi's interests (which his lack of pace proved)? It's entirely plausible that ignoring them was the in fact right thing to do given the circumstances, no matter how things appeared on television. There will always be those who take any chance to bash Lorenzo, no matter what he does or doesn't do, and also those in press rooms or commentary booths who know (from painful previous experience) how submitting to the popular zeitgeist saves them from being hounded mercilessly on social media, so pander as such to it. It's also bloody easy to be an armchair racer, we've done it enough times ourselves!
But as final note on this, if anyone out there has any right to be pissed off with Lorenzo, it would have been Dovi. He is a gentleman, but also a pure racer and if Lorenzo had actually been holding him up on purpose with a world title genuinely on the line, you better believe that while he may not have said as much directly, indirectly he would have referenced it or at the very least alluded to it. But he didn't, and in fact thanked Jorge for being the reason he was able to stay anywhere near the front. We're sure many will just perceive this as PR speak, but that will mostly be because it serves individual agendas to who you may or may not like but, believe us, had Dovi been pissed about it, we would all know it. But he wasn't, so do at least consider the actual facts before heaping more social media misery on Lorenzo, no matter how easy or fun it may be for you!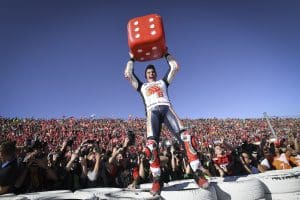 Now then, Marc Marquez – wow, is there anything that kid can't do? His save at turn one, at around 110mph is something that nobody else, not even likely Rossi, Rainey, Doohan or Ago could have ever done themselves. His fourth MotoGP title was a stunner given how poor the Honda was for the first half of the year, and given he won (for him) so few races all season. It bodes very badly for the rest, for the next few years, that he can win on a machine in need of some serious work.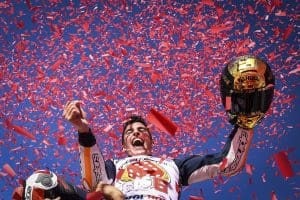 The big question is – how long before he overtakes Rossi (or Agostini, depending on your point of view) as the GOAT? He can already do things on bikes Rossi himself has admitted he never could, is smashing all of his and many other Grand Prix legend's records on a race by race basis and is now just three world titles away from Rossi's tally, but at the age of just 24-years-old.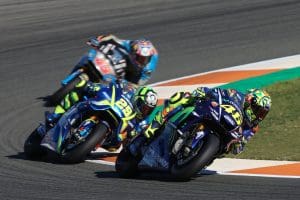 Greats come and go, it's the way of things after all, but rarely does one great cross over another and if  that has happened in the past, only usually for a season or two at most as one star wanes while another brightens. Most folk love Rossi, the majority we'd say, yet even those that don't will admit to admiring what he's achieved, including still going strong at a ripe old age, in racing terms. But being in Marquez's shadow, being in it 'live' so to speak, can only in some way be damaging to his twilight racing years.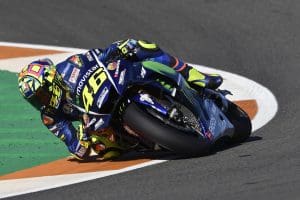 We don't want to remember him as someone who retired after years of trying in vain to hang on to a kid's coat-tails, as the glory years slowly blur into memory, and in a year's time it'll be an entire decade since he last won a title. At the very least, he is still competitive, can still take the odd win (thereby keeping his legion of fans happy) and also still, when things are right, fight at or near the front. In many ways we'd love to see him take one more title so he can retire from MotoGP as champion, even if the odds of that actually happening are slim to none given all these feisty kids on equal, near equal or better machinery. Here's hoping anyway, eh, Rossi'ites?!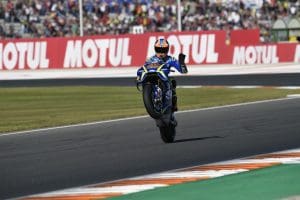 And lastly, Alex Rins – bloody good show finishing 4th and out-doing your team-mate – well done!
MotoGP 2018 Testing starts tomorrow, Tuesday…
FB
Pics: Yamaha, Ducati, Suzuki, Honda

Enjoy more Fast Bikes reading in the monthly magazine.
Click here
to subscribe.