To be quite honest, it took us by surprise to learn that Silver Dream Racer was getting the Blu-ray treatment with a brand new transfer. Why? Because, well, it wasn't particularly well received when it came out in the first place, way back during 1980…
I remember watching this when I was a kid, towards the end of the 1980s when it was already a decade old or so. It struck me as a bit naff, and even though I probably watched it four or five times in total it was always a case of, yeah, nice to have a biking movie, but could have tried harder…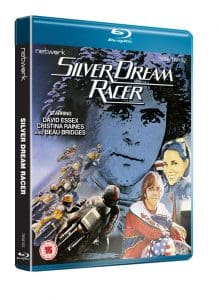 And now in 2017, we find they've gone to admirable lengths of sprucing it up for a re-release on Blu-ray, which means going through a painstaking restoration process to get the image up to spec so it looks good at 1080p. Of course, now we're deep into the 4K TV world (2160p), too, so it would also need to look good when upscaled.
Reviewed on LG 65EG960V –  if anyone's interested – BUY NOW – LG 65EG960V
Played on – mid-range 2013 LG Blu-ray Player
To BUY NOW head right here Silver Dream Racer Blu-ray £8.99
To BUY NOW head right here Silver Dream Racer DVD £7.99
Before we dive into the movie, let's start with said transfer – wow, it does look really good! It retains just the right amount of film grain, but is otherwise crisp and, basically, looks nearly brand new. The 4K TV this was reviewed on (and the older LG Blu-ray player) upscaled it very well indeed, only during the race towards the end with helicopter shots following the bikes, which were tiny on screen, was there a little flickering of the bikes. Given this was a 1080p source, it means the transfer work was excellent and on a 1080p TV it'll look mint.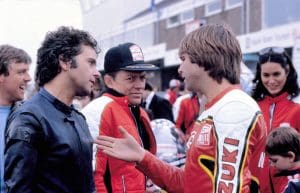 As for the film, those unaware or who have never seen it would be surprised no doubt that a proper biking movie was ever made at all. However this was in the Barry Sheene era, and it was hoped that riding on his popularity would make it a success. It didn't, quite…
It follows Nick Freeman (played by David Essex) as an aspiring but down on his luck privateer motorcycle racer, although the actual movie starts with some old-school off road antics and, given this is a 1970s movie, a tragedy, of course. Then we get a kind of second opening scene, which finds Nick racing at Donington Park on his 'hunk of junk' against the movie's big bad, Bruce McBride, played by a young'ish Beau Bridges.
McBride, a self-confessed 'friendly neighbourhood asshole' is himself close to being world 500cc motorcycle champion – he has all the money, factory support (and hot missus played by Cristina Raines) that Nick would love to enjoy, rather than having to scrape bits and pieces together for his own ambitions, along with his American mechanic 'Cider' (called as such because he doesn't drink it, er, we think…). The pair work together in a garage during the week, and do what they can to keep his ropey Suzuki TS500 running at weekends.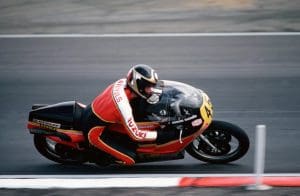 So, your typical setup, although a story many privateer racers in any class or series will be familiar with, no doubt. However, tragedy has an upside, as said tragic event was actually Nick's brother kicking the bucket – the same brother who just so happened to have built in his garage, a seriously futuristic (for the time) racing bike with specs far in advance of anything Suzuki or anyone else could ever create. Unlikely as it seems, there have been those such as John Britten (RIP) who have done similar, kind of, so it's not completely beyond the realms of possibility given the era it's set in, er, maybe…
Anyway, the rest of the movie deals with Nick et al trying to gather the funds to race the bike at Silverstone in the 500cc world championship meeting there, where whomever wins, somehow becomes world champion. From one race. Okay then… Along the way there's an explanation of why Freeman seems to hate McBride so much, punch ups, girlfriend breaking up and stealing, boobs, and other such bits and bobs, the usual, essentially. Oh, and expect a bit of typical 1970's sexism too – it is a product of its time, after all.
Here's the thing though – I enjoyed watching this far more now, than I ever have done before. No, really! The fact is that it's not so much gotten better with age, but the new transfer brings that racing period to life in a way I've never seen before. Usually when you watch old racing clips, it's old school TV format (and therefore, utter shite), whereas here it was mostly filmed with decent cameras, and it looks great! Watching those old (now) machines in as crystal clear clarity as it can get adds a new dimension to it – it's brilliant!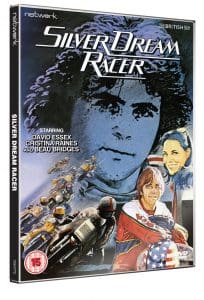 So much here makes you smile, from all the old bikes, cars and vans, to (mostly) the music, London of the time and most of all, the circuits. Wow, how they have all changed in the last (nearly) four decades! And there are other little treats, like several British stars of yesteryear's TV and silver-screen making brief appearances, such as Harry H Corbett (Steptoe & Son) playing Nick's foreman in the garage he works in, among many others.
No spoilers for those who haven't seen it yet, but this was a 1970s movie, the era of shock/depressing and abrupt endings. Let's put it this way, there's an extra on the disc which shows the alternate ending to keep our American friends happier, and we'll leave that right there…
The scenes filmed at the infamous 1979 British 500cc GP at Silverstone are fantastic, as are seeing glimpses of racers such as Barry Sheene, Steve Parrish, Wil Hartog, Roger Marshall and others during the racing clips. It's also interesting to see how McBride, his team and his two team-mates are so closely based on the Suzuki squad from back then, too, which obviously made things easier when it came to using racing clips. In fact, McBride's team-mates wear lids painted very close to that of Sheene and Parrish!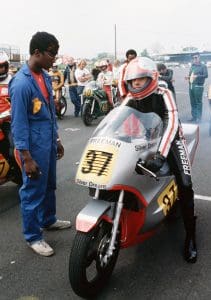 Yes, some of the acting is ropey, the set-up questionable and the slow-motion scene of David Essex running (and smiling) while training for Silverstone is about as contrived, awful and cringe-worthy as it gets. But, genuinely and especially for those of a certain age, revisiting this now with its new sharp transfer and with a few decades in between your last watch and, maybe, this one, wasn't anywhere near as painful as I expected it to be. At 111-minutes it trips along quite well and was a terrific nostalgia'fest. I did, in fact, even load it up again to re-watch some of the racing scenes days after I'd sat through it.
It's a little light extras-wise, with the aforementioned alternate ending, gallery, a trailer and that's yer lot. Some fresh interviews with cast and crew etc would have been nice, but hey ho.
So, it's the same as it ever was – not brilliant yet fun, but makes far better viewing through modern eyes and on modern technology. It would make a great stocking filler for Xmas too at just £8.99 (£7.99 for the DVD), for those who may enjoy it, or even for those that wouldn't, because part of the fun is just how bad it can be in places, equally as much as how great it is to see racing history in such clarity.
Rating – 8/10
Rated highly for the transfer work and the nice trip down nostalgia lane, though not necessarily for the movie itself…
To BUY NOW head right here Silver Dream Racer Blu-ray
To BUY NOW head right here Silver Dream Racer DVD
BJ

Enjoy more Fast Bikes reading in the monthly magazine.
Click here
to subscribe.