When is a brand new bike, not a brand new bike? When it's yellow of course, er, obviously…
You've got to hand it to Ducati – holding a launch for a bike which has, in essence, barely changed over the previous model is a bold move. The bike in question is the above titled Monster 821, pretty much the middle-monster of 'la famiglia dei mostri', even though it's just a scant few cc larger than the baby of the bunch, the 797 or 797+.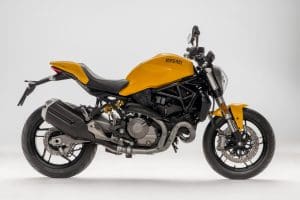 It's not a bike that's actually very old in itself, either, which is partly why confusing frowns were drawn when the invitation for the launch dropped in our virtual mailbox. With this being the 25th anniversary of the first ever Monster (with over 320,000 Monsters being produced and bought since inception), though, and with the rest of the Monster range snuggly settled in their lairs after being recently updated, they needed to do something to celebrate it, and this is it.
While the bare bones and power-unit of the bike are identical to the 2016 version, one could argue that the biggest visual change is the reintroduction of yellow in the colour options and, in fact, Ducati themselves use the phrases 'more balanced, more yellow…" in their press blurb. However it's also available in black and red, plus there are a few other bits and bobs, additions and tweaks worthy of note, which is a good thing, else I'd have to spend the next few hundred words describing 'yellow', and I've already run out of things to say about that!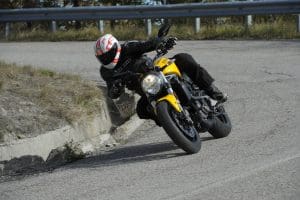 First and foremost, bar the yellow (dammit!), the new Euro4 friendly exhaust is the next most eye-catching deviation. Well, I'm not sure exactly if 'eye-catching' is the right phrase, it is different now being an all angular twin stack rather than the twin rounded exits previously used. It is also considerably larger and not quite as neat in visual execution, although its inclusion does allow for another more worthy change – the separation of the rider and passenger footpegs.
On the last iteration, both were connected and fitted via a large cast piece in one unit. Nothing wrong with that, you may say, aside from the fact that if the bike was dropped or in an accident, and that piece breaks, you lose both sets of pegs on that side and also, pay considerably more to replace it. If you're thinking that's an unlikely scenario I am, sadly, talking here from direct experience! The pegs themselves are also as new, incidentally, as their fitting arrangement and the updated general ergonomic attributes.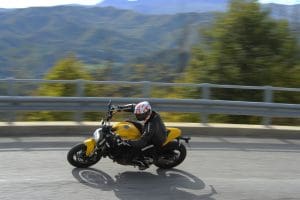 The fuel tank has been redesigned for a more svelte appearance, with a posterity-fashionable tank-clasp at the fore, although this twiddling with styling has led to the first disappointing issue, which is that it loses an entire litre of fuel capacity in the process. Ducati say that with the latest fuelling maps some of the loss in mileage is recovered, and though we believe them, who doesn't get irked having to fill up that little bit earlier?
Other new items are the headlight, which now has LED position lights, and the tail light is likewise now of the LED mould, too. The most prominent difference from a rider's perspective is the full-colour TFT dash, more of a Gucci upgrade than an essential one, although with colour dashes now appearing everywhere, possibly a necessary one in marketing terms. Via the dash (and handlebar accoutrements) you're able to access the electronics suite and rider modes, see what gear you're in and watch just how quickly a litre less fuel capacity vanishes through the new fuel gauge. It is also 'multimedia' ready, which I'm guessing means it can be connected to your phone, but seeing as the very last thing I ever want is to be either contactable or be reminded to bring some milk home while I'm riding, I didn't try it out…
There is also a huge, massive range of accessories for the bike, from blinged up mirrors by Rizoma, to beautifully crafted Termignoni open cans, should you wish to spend even more money on your £10k initial outlay. Otherwise, the bike remains as is, the same 43mm Showa fork and Sachs shock, the same 821cc L-twin Desmodromic Testastretta engine, and the same badge on the tank.
One little thing worth mentioning, is that the observant may notice the bike appears to have lost a horsey or two from the claimed power figure. The number may be smaller, but this isn't a result of Euro4 meddling, rather Ducati now using a different measurement factor – basically, it makes the same power and torque as before, even if it's now claimed as 109bhp @ 9,250rpm, rather than 112bhp. Mildly confusing, yes, but hey ho!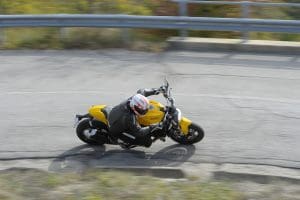 The launch took place on the coast of Rimini and in the surrounding hills on, quite frankly, mostly appallingly surfaced roads. "They redo the road, then in the winter the cold breaks it again", said our Italian lead rider at a coffee stop after the first fifty-kilometre stretch, snaking our way from the mostly flat coast up into the sinuous mountain lanes. However, said lumps, bumps and cracks in the asphalt did give the bike a decent workout in suspension terms – if it works here, and works well, even the worst the UK could throw at it road condition-wise would barely phase it.
To its credit, it didn't, and this on top of a positive introduction upon leaving the hotel grounds. The 810mm seat height (adjustable from 785 – 810mm) poses zero issue to my six-foot-two frame and lanky pins, yet despite the low'ish seat (for my height) there's plenty of room to bend my knees and comfortably make feet meet pegs. Likewise the handlebars were in close enough reach to my long arms, enough so that I've no doubt will be in comfortable reach for pilots of any stature.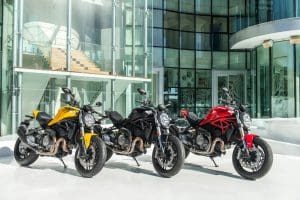 A few years ago Ducati decided to make the Monster line more road-worthy by essentially binning most of the sporting pretence, so also dropped the rear of the bike considerably and put a lot of work into please-all ergonomics. I can honestly say that at no point throughout the entire day did my body protest, and this despite me often making it look like I was riding a slightly swollen Grom! While I've no doubt the 821 will be a Sunday ride for many, given its high comfort values, painless accessibility of 'bar controls and subsequently discovered general ease of use, this could also do the daily commute lark like a pro.
The day to day general riding experience is also laudable, the clutch easy to use and the balance of bike (despite the low stance) excellently executed enough to avoid any awkward walking pace traffic paddling. First gear is fine for dawdling, but as soon as the road opens it zings through it in a heartbeat. Twist the throttle further, change up through a smooth-enough transition and second gear also provides some nice, exciting thrust. After that though, the bike does seem to be a little over-geared at times. Progress never halts, but every now and then you may just like a bit more back put into it. I'm probably making it sound worse than it actually is, but when a bike is as complete an experience as this 821 is from front to back, splitting hairs is all we're left with!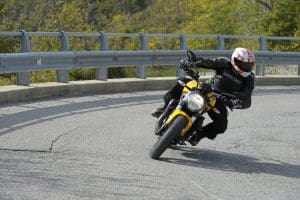 I chose to ride the bike in the most powerful of the three riding modes, Sport, with the traction-control (TC) reduced to '1' (out of 8) and the ABS also set to the lowest option of intervention. A claimed 109bhp, even sans TC, will rarely trouble the Monster's mechanical grip nor the superb rubbery purchase from the excellent Pirelli Rosso III tyres. However it serves well as a safety net, and level-1 suited it best as I never once felt it intrude. Turning up the TC, while safer, would only curb what power the bike has and can, in actuality, be more frustrating in the long run. Were I to use the 'Touring' mode, the peak power figure remains as is but is delivered without any edge. Then in 'Urban' the bike is reduced to 75bhp, which is essentially a rain-mode, but I would honestly urge all but the least confident of riders to avoid using it.
Because, allied to the aforementioned excellent control the chassis and tyres demonstrate, the throttle response and fuelling is another example of exemplary work from Ducati. Throw in the long gearing and only the most extreme of circumstances would ever require anything other than Sport mode and TC level-1 – It hasn't got stacks of power, but it's accessible and above all, usable, so why not enjoy it?
Speaking of usability, the Brembo M4-32 front calipers are an utter joy to experience. Literally as much or as little as you ever require from a set of brakes: wonderfully progressive, effortlessly powerful when you need them to be and beautifully set up specifically for the 821, you couldn't want for anything more. They were that good, that I was toying with using different single fingers braking into tight hairpin bends (with dizzying drop offs of hundreds of feet on their periphery…), even at one point using just my little finger but still receiving the same superlative stopping performance in return for barely any effort at all.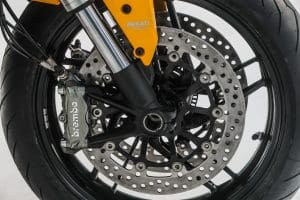 The only bug bear for me was that the lever adjustment could have had one extra setting. My fingers aren't short, but they're not long either and even on the closest (to bar) setting just the tips of my fingers sit on the lever. But, then, what did I say about splitting hairs?
More hair-splitting issues could be directed at the front Showa fork too, because it's unadjustable. It would be an easy criticism to make toward Ducati, given the bike's price and cheaper rivals who sport multi-adjustability front and back. But as I mentioned earlier, both the fork and shock excelled over the severely bumpy stretches. The fork actually offered admirable damping qualities no matter how much force was being out through the brakes, nor how much the rippled surface tried to unfazed it. With my duties being split on this launch between MSL and another, more sports orientated organ, I did at one point ride it like I stole it, and at no point did I even consider that I'd like to adjust anything. This just means that all of Ducati's pre-production testing has nailed an excellent base setting for both bumpy and smooth roads. So, even though the lack of twiddling options is, for want of a better expression, bad, what's on offer is pliant, useful and I cannot think of a single complaint to aim at it.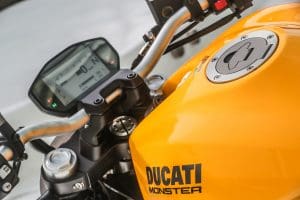 In fact, the riding experience in the handling department is mildly unusual as even with my height, there's not a huge amount of weight through the front. Initially, this manifests itself in a tiny bit of under-steer, however you quickly twig that with the low rear end this is a bike that's almost steered by your hips most of the time. Once acknowledged, you ride it thusly, almost letting the front do its own thing and the under-steer irk vanishes immediately. Now, the Monster can boogie if asked, but unlike its sportier middle-weight naked brethren it has to be made to do it, rather than it coming naturally as it does on, say, a Triumph Street Triple or similar. This counts for stunting such as wheelies, too. It'll do it, but you've got to grab it by the scruff and make it happen.
Is this a bad thing? Not really, the Ducati is as much about looks, style and attitude as it is about just enjoying the ride, and as it is about being usable for any rider. Ducati are not aiming this at riders of the sportier ilk, the riding position, chassis setup and long gearing alone point to this. Although, the Euro4 exhaust does mean some of the attitude is lost. Watching one pass by, there's a satisfying enough L-twin thump, but aboard what engine/induction noise there is, is quickly lost in wind blast, leaving just some ticking sounds reaching your lugs. For a bit more presence, it's crying out for a set of those official Termignoni cans. Another disappointment was the fact that despite there being an up/down quick-shifter available as an accessory, none of the bikes we rode were fitted with one. That alone would have given the bike a little more pep, a sliver more character returned and, no doubt, we'd all be urging you lot to add one!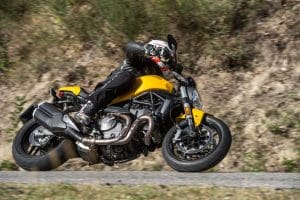 The TFT dash is superb though, very similar to the rest of Ducati's range, easy to use and navigate and even the sharp Autumn sun shining nearly directly on it didn't obscure my vision. It's a would-be-nice addition, another boon, but a welcome one over the previous monochrome version.
A quick word on fuel consumption, too, before I forget. Which, incidentally, for the first half of the day I did entirely forget to observe! However, in the afternoon I left the main group for filming duties, and for three hours solid the bike spent the entire time with the throttle to the stop in the first three gears. Even under this harsh throttle duress, it was still doing 39mpg, which is very impressive and backs up somewhat that the fuelling strategies would indeed pull back some of the lost mileage, from that lost litre of go-go juice. So, apologies I didn't check what it was at a more leisurely pace, but I think it'll do rather well, and at least be in the competitive ballpark within this sector.
So, was it an update worthy of an entire launch? Just about, and not just to check out the new dash, but to remind us just how accomplished a machine the Monster 821 is. I said right at the start it was a bold move holding a launch, because it would be easy to complain about the scant differences, but it simply highlighted the bike's overall excellence and proprietary usefulness to a greater range of riders. The days of Ducatis being slightly awkward and difficult to live with are long over, hell, even the service intervals put many Japanese bikes to shame and with the introduction of uber-popular PCP schemes, now Italian chic is in reach of most, if not all…
Specs:
Price: From £10,095
Engine: 821cc, liquid-cooled, Desmodromic L-twin
Power: 109bhp @ 9,250rpm (claimed)
Torque: 63-ld-ft (86Nm) @ 7,750rpm (claimed)
Electronics: Traction-control, ABS, up/down shifter (Accessory)
Transmission: 6-speed, chain final drive
Frame: Tubular steel trellis
Brakes: (F) Brembo M4.32 monobloc radial calipers with four 32mm pistons and 320mm semi-floating discs (R) Two-piston Brembo caliper, single 245mm disc
Suspension: (F) Non-adjustable 43mm Showa USD fork, (R) Adjustable Sachs monoshock
Tyres: Pirelli Rosso III
Wheelbase: 1,480mm
Seat height: 785 – 810mm
Fuel Capacity: 16.5L
Kerb Weight: 206kg
Contact: www.ducatiuk.com
Accessorize This!
The range of official accessories is large, one could easily get lost ticking many boxes when you buy an 821! But here's three choice additions to give the 821 a little more pep, and comfort.
DQS – Ducati Quick-Shift – £192.16
Riding without a shifter, if you've already gotten used to one, is peculiar and you do miss it greatly. This addition also includes a down-shift clutchless blipper, and if you haven't tried one of these, you really must! At this unbelievably cheap price, it's a no-brainer of an addition.
Comfort Seat – £201.78
Even though on the launch there were no worries regarding bum-cosseting after an entire day in the standard saddle, it never hurts to increase comfort levels especially if the 821 is being used for either commuting or touring duties.
Termignoni Silencers – £1,067.62
File this pricey one under the 'would be nice' category, but they really are stunning and will not only add power and torque, but also give the Monster it's aural mojo back. Yes, other far cheaper cans are available too, but they won't be Termis, and Ducati and Termignoni go together like tomato and mozzarella, after all.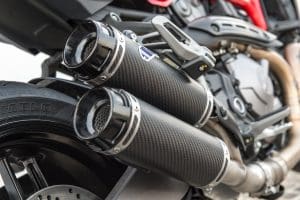 Bits & Pieces
Engine: The engine remains exactly as 2016 iteration's, with just adaptations to ECU software and fuelling to try and accommodate both the Euro4 exhaust and also offset the reduction in fuel capacity. Its 821cc L-Twin is of the Testastretta variety, a structural chassis item in itself, and features an anti-hop clutch. Testament to Ducati's increased reliability and quality, service intervals are relatively high-mileage, with the big valve-clearance service not needed until just shy of 19,000-miles, which is impressive.
Front Suspension: The Showa 43mm inverted fork is unadjustable, in itself a big miss given the bike's price. However, the base setup is excellent and showed no weaknesses on the launch over a huge number of varied road surfaces, from ultra smooth to WWI No Man's Land cratered style mountain passes.
Electronics: The 821 features 8-stage traction-control (TC), although levels 1 & 2 should be sufficient for most riders. Three rider modes – Sport, Touring & Urban, do as they say on the tin, although Urban lops off 30% power so is essentially a rain mode. How quickly the engine responds can also be adjusted. No dedicated anti-wheelie is evident, but TC on any level over 2 has the same effect.
Brakes: The delightful Brembo M4.32 calipers (biting on whopping 320mm discs) are top notch, and perfectly set up to suit the Monster, with a gentle first pull but as much power as you like when asked for, be that progressive or immediate. The Bosch 9.1MP ABS is also adjustable, but the best setting is level-1 as it will only intrude when really needed, which is exactly what you're after.
TFT Dash: The new full colour dash adjusts its appearance depending on what mode you're using, giving more space across its face to pertinent information per mode. Via the easy to use handlebar controls, the menus are easily accessible, and very simple to pick up meaning you're au fait with them in minutes.
Exhaust, Footpegs, Seat & Tank
All new for 2018, the exhaust is understandably larger to accommodate Euro4. The seat has been restyled to fall in line with the rest of the Monster range, as has the tank, but with the unwanted loss of a litre of fuel capacity in the process. Rider and pillion pegs are now fitted separately, rather than secured to one large cast piece.
FB

Enjoy more Fast Bikes reading in the monthly magazine.
Click here
to subscribe.