We indeed do remember a time, rather a long time ago, when there really wasn't a great deal of armour in almost all motorcycle kit. One-piece leathers may have some cursory nods to protection, and some jackets and trousers had attempts too, although most people wore jeans and trainers that we knew. Hell, people even wore skiing jackets sometimes!
For a selection of the best motorcycle race gloves head HERE
For a selection of the best one-piece leathers head HERE
For a selection of the best motorcycle helmets head HERE
It's incredible these days to us, that this used to be the case. We also remember a time of the rise in armour, where manufacturers slowly got their shizzle together and items such as back-protectors rose in prominence. It was the attitude against this kind of thing which took the longest time to overcome, some people just thought a back-protector or too much armour was bit lame. Man up, many would say and to be honest if that's your thing then fair enough, wear a man'kini and flip-flops for all we care – we'll always advise, but never preach.
The reality of things were brought home to one such chap at Mallory Park, an old friend of the magazine. He would give us some amount of grief for having back or chest-protectors and always went on track without either under his leathers. We remember sitting beside him at the hairpin following a small highside. He couldn't move, his back had taken a whack and at that moment he looked up at us and apologised for all the grief held ever slung our way, and even now ten years later still has back issues…
Amouring yourself up is a matter of choice, do as you will, but if you do want to allow yourself a fighting chance then there is a lot out these days which you can add to your kit, armour is leaping forwards in big bounds. The inbuilt protection in most kit is already excellent and many are coming up with new ideas to achieve the same protective goals. He's a whole heap of stuff we love in this regard.
Knox Defender Elite Jacket
*£249.99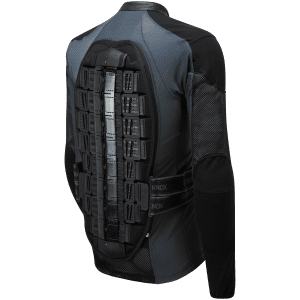 Knox seem forever at the forefront of armour technology, and this Defender jacket in no exception. Its CE approved armour sits in the shoulders and elbows, while a full Aegis, honeycomb plate design back-protector takes care of your spine. It has flex channels to articulate around the spine and an extra foam pad, plus removable kidney protectors. It uses an Italian Carvico bi-elastic micro mesh on the sleeves. The shirt zips right off the Aegis for washing purposes and it's available in sizes small to 3XL.
Buy Now Knox Defender Elite
Alpinestars Nucleon KR-2
*£139.99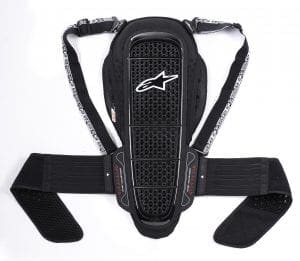 This level 2 CE certified back-protector is one of Alpinestars' finest individual units, and features a hard-shell vertebrae protector using energy absorbing viscoelastic memory foam. It will fit perfectly under any A'stars gear, as you'd expect, but isn't obtrusive if you're using it with different branded clothing either. The breathable and lightweight unit is specifically designed for sports riding, be that on road or track, and comes in sizes XS-XL.
Buy Now Alpinestars Nucleon
Alpinestars Track Vest
*£169.99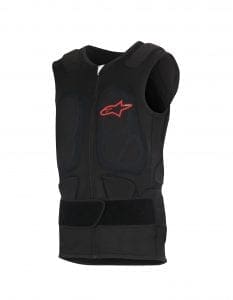 Offering more protection than just their back-protector is Alpinestars' Track Vest. It has a CE level 2 back-protector included (which can be upgraded to the Nucleon KR-1), a chest compartment with removable PE foam and extra foam padding throughout for extra comfort. It has a removable and adjustable kidney belt and is all held together by technical stretch net.
Buy Now Alpinestars Track Vest
Furygan XP1
*£64.99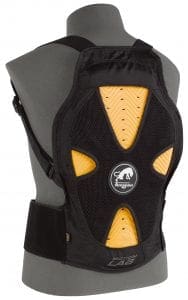 The XP1 uses D30 impact protection as its main protective layer. It creates a flexible, shock absorbing 18mm thick cushion which features molecules that lock together under impact. It's lightweight, very flexible, CE level 2 approved and rather breathable, too. It's available in sizes 8-9 according to Furygan.
Buy Now Furygan XP1
Dainese Pro-Armor Back
*£99.95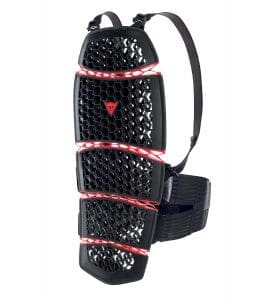 As you can see here, this is one breathable fella alright! It's weighs a feather like 580 grams, features four bearings with 5-degrees of movement for lateral bending and is made from expanded nitrile rubber and carbon elastomer. It has a sweat and water repellent construction due to the elastomer, is ergonomically designed for spine curvature and comes in sizes XS – 2XL.
From Dainese-moto
Dainese D-Air Misano
*£1,499.95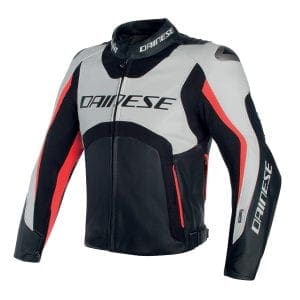 One of the new breed in armour protection featuring thin air! Yep, airbag type protection is here to stay and will compliment, rather than completely replace (for the foreseeable future) traditional armour. Which in the Misano means decent 'hard' armour on the pointy bits, and all the other benefits of a top-drawer jacket, but the big USP here is the D-Air technology. It runs using gyroscopes, accelerometers and a dedicated CPU to activate (or not) the airbag system in the shoulders. You can even download information from it and the GOS unit, too, should you so wish. This is indeed the future!
From Dainese-moto
Alpinestars Tech Air Race
*£999.99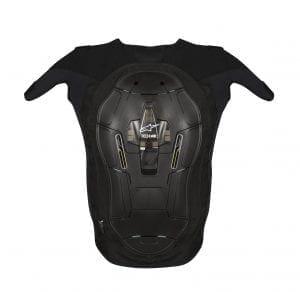 We think Alpinestars' idea with this vest is that someday it'll be designed to be worn under any garment, but for now it compliments the GP Pro leather suit (£1,099). If you already have one of those, perhaps this may interest you then! It's ergonomically designed not only for comfort, but so the airbag when deployed is used to its best abilities. The control unit sits in the back protector and is completely self contained while fed by an extensive suite of sensors, charged by a lithium battery with a 25-hour lifespan. Live out all your GP non-collarbone breaking crashes here! Or don't…
From Alpinestars.com
Forcefield Pro L2K EVO
*£134.44
We love an FF back-protector here at FB, and like Knox have used their kit a of over the years. The EVO is made from NitrexEvo shock absorbing material, and is soft yet flexible while delivering a high level of comfort, too. It's designed so that even multiple impacts doesn't lessen its protective capabilities. It has fully adjustable shoulder and waist straps, and comes in sizes S- L.
Buy Now Forcefield Pro L2K
Forcefield Limb Tubes
*£59.99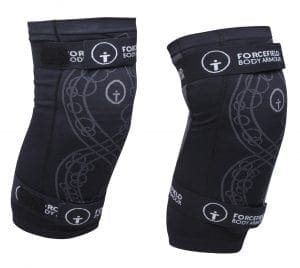 Doing essentially what they say on the tin, the Limb Tubes offer more protection on top of what you already have, to offer some where there's none at all, like under a pair of jeans. They're CE approved and feature repeat-performance-technology. They're available in sizes XS – L.
Buy Now Forcefield Limb Tubes
Forcefield Pro Shirt X-V
*£219.99
The X-V shirt has fully removable CE approved armour in the back, chest, shoulders and arms, all wrapped in a BeCool base layer. The back –protector moulds to the user's shape, it has Evo-Vent zones and is available without the armour fitted. Superb bit of kit, it coms in sizes XS – XXL.
Buy Now Forcefield Pro Shirt
Spidi Warrior Jacket
*£323.99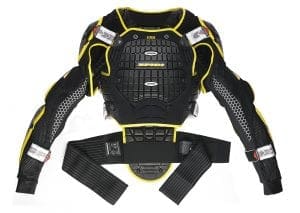 Dubbed 'the most advanced form of protection' by Spidi, in terms of traditional armour, it sure looks like that! It features biomechanical protection everywhere, including an integrated Warrior back and chest protector, removable sleeves, an integrated Ergo-Fit system and is all held together by punched and elasticized fabric and is available in sizes medium to large. What a bit of kit!
Buy Now Spidi Warrior Jacket
Spidi Defender B&C
*£214.99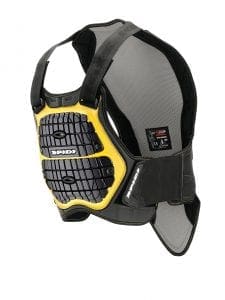 The B&C part refers, of course, to back and chest with the Defender. It's a level 2 CE approved affair weighing around 700 grams. It's made from carved composite shock absorbing materials providing ultimate protection through a very thin layer, itself very breathable to keep temperatures down. It uses a double fastening system and comes in sizes medium or large.
Buy Now Spidi Defender
FB
* All prices are S or RRPs, supplied by manufacturers, importers or retailers. Prices may vary either way depending on the individual retailer…

Enjoy more Fast Bikes reading in the monthly magazine.
Click here
to subscribe.