In the market for biking birthday presents, or similar? Find here t-shirts, mugs, signs, RC bikes and a whole host of other bits and bobs, from cheap and cheerful to not quite so cheap and cheerful! We do know stock of some of these is going fast, so chop chop!
Kid's BMW S 1000 RR Electric Ride-on!
£145.99
BUY NOW – BMW S 1000 RR Kid's Bike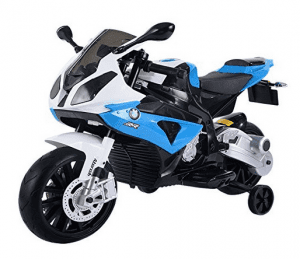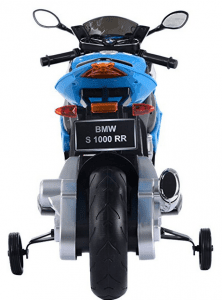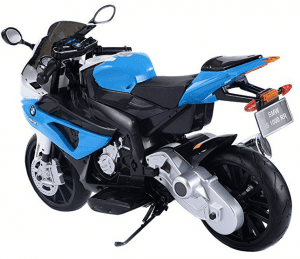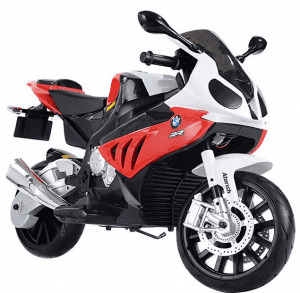 Boy would we have loved one of these! It comes with a charger, on/off power switch, lights, a horn and will do, drum roll… 5kph! Trust us, in the home hallway, that's enough! In fact, one of us here has one of these and the kids LOVED it!
KOOLART – KTM RC8 Men's T-Shirt
£8.99 – £9.99
BUY NOW – KOOLART RC8 Tee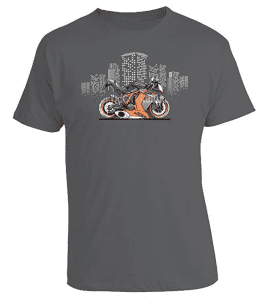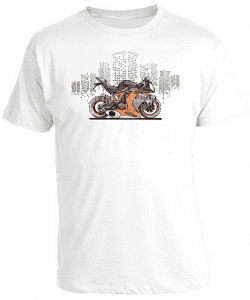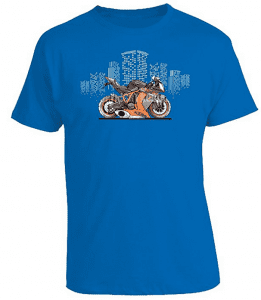 This is officially licensed, and comes in black, white, grey, dark and light blue, made from 100% cotton – but don't tumble dry it, ya hear?
Kiddimoto Marc Marquez Balance Bike
£156
BUY NOW – K'Moto Marc Marquez Balance Bike
BUY NOW – K'Moto Valentino Rossi Balance Bike
BUY NOW – K'Moto Barry Sheene Balance Bike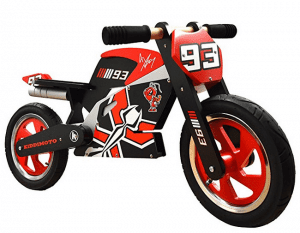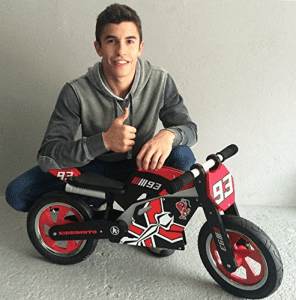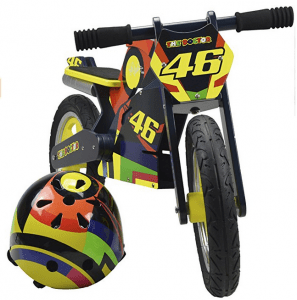 Don't know who Kiddimoto is? They're the guys who got blown off in the Dragon's Den, and then went off to make a success of their business – suck on that Dragons! Anyhoo, their bikes are brilliantly made and kids love them, including our own, who never got off the bloody things for months. Here are three, a Marquez one, a Barry Sheene one (£129.99) and a Valentino Rossi one (£145.08), too! They also have matching helmets available, too, that are sold separately – your kids will love you forever!
BUY NOW – K'Moto Rossi Kid's Helmet
BUY NOW – K'Moto Marquez Kid's Helmet
BUY NOW – K'Moto Sheene Kid's Helmet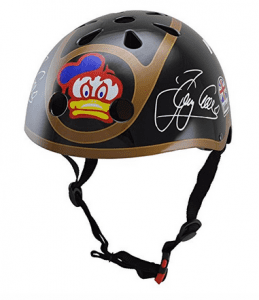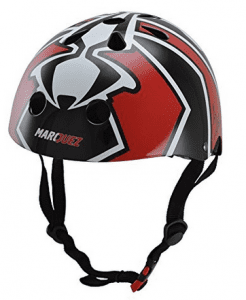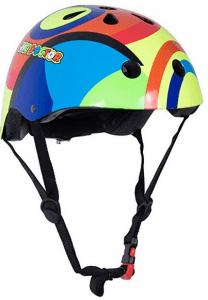 Motocross Kid's Hoodie
£21.44
BUY NOW MX Kid's Hoodie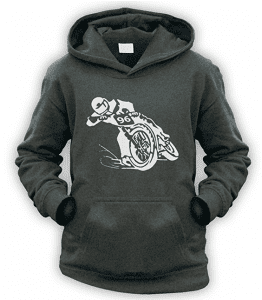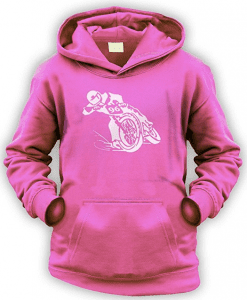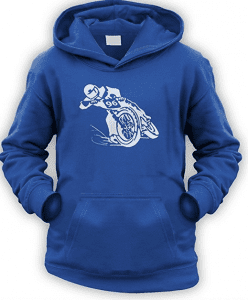 Made from 80% cotton and 20% polyester, these come in sizes XS – XXL for kids from 1-13 years old. They also come in black, pink, grey, yellow, green, dark blue, purple, read and light blue – plenty to choose from – cozy AND snuggly!
Top Race – Remote Control 'gyro' Bike
£24.99
BUY NOW – Top Race RC Motorcycle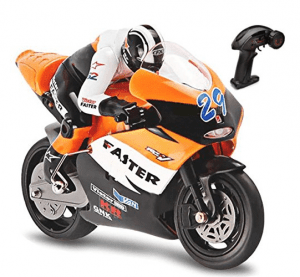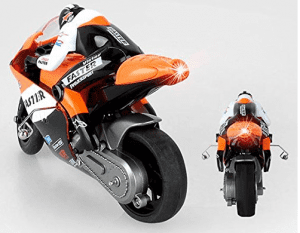 This has a built in gyro, has front and back LED lights and includes a 2.4ghz transmitter. It's also pretty cheap, which means it won't make you wince as hard when it inevitably gets smashed to smithereens within the first ten minutes of use. By Dad…
KTM Parking Sign
£6.99
BUY NOW – KTM Parking Sign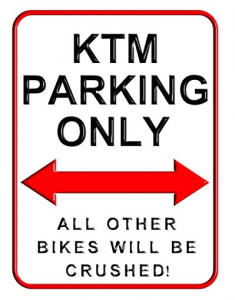 A jokey item, it's a lightweight flexible aluminium sign measuring 15 x 20cm which is rustproof and durable, with a high gloss finish.
KOOLART KTM RC8 Mug
£9.99
BUY NOW – KTM RC8 Mug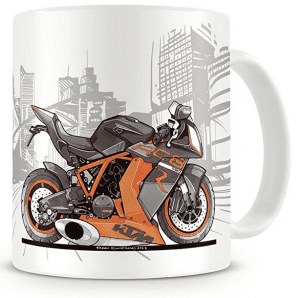 No need to deep explanations here wethinks – it holds liquid, hot or cold, and has a cool comic drawing of an RC8 on it – simples!
Motorcycle Evolution men's Tee
£8.99-£9.99
BUY NOW – MC Evolution Tee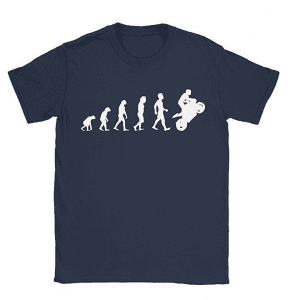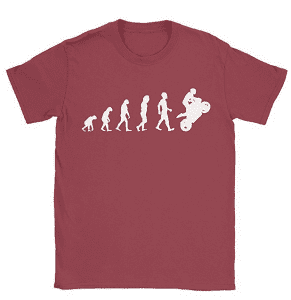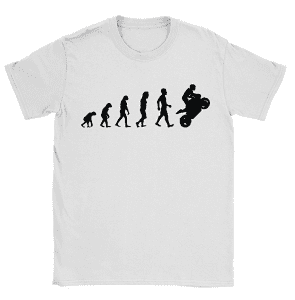 It's a 100% ringspun cotton t-shirt, in sizes S-XXL, with the evolution logo leading to, of course, a nice big wheelie! Comes in grey, black, light blue, dark blue, red and white.
Vectorbomb Hoodie – I Have Too Many Bikes – said no biker ever…
£25.99
BUY NOW – Too Many Bikes Hoodie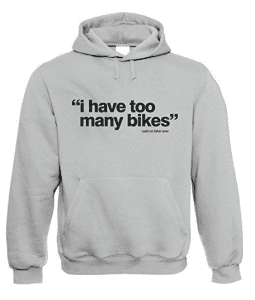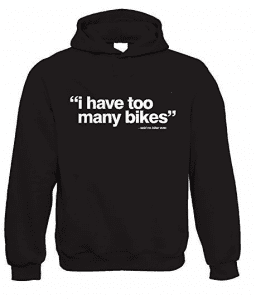 Ha ha, japes, but so true! Made from a mix of (more) cotton and (less) polyester, this comes in sizes S  -5XL, in either black or white(ish)…
1000 Piece Rossi Jigsaw!
£32.99
BUY NOW – Rossi Jigsaw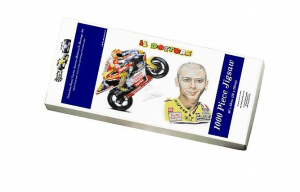 Hours and hours of fun, and likely a little frustration, putting together the world's most popular racer bit by bit – and extra points as he's on a two-stroke here!
Tamiya Marquez RC213V Model Kit!
£37.52
BUY NOW – Marquez Model Kit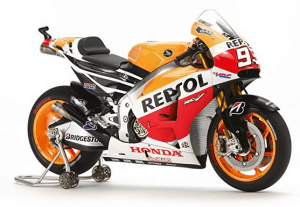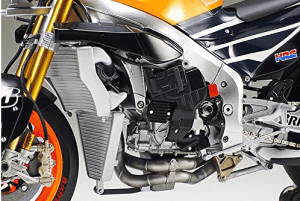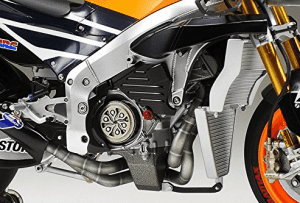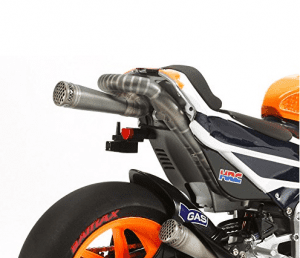 Hours of fun, and likely lots of swearing to be enjoyed, when you stick together this ultra detailed model of MM93's racer!
Barry Sheene Mugs
From 8.99
BUY NOW – Barry Sheene Mug
BUY NOW – Barry Sheene Mug & Keyring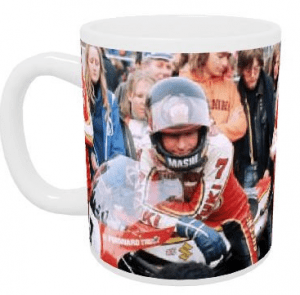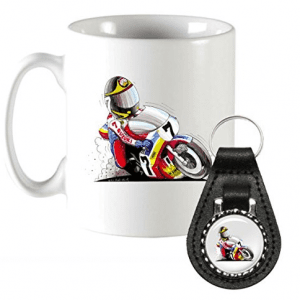 Gotta love Bazza! Now you can drink right out of him, too!
FB

Enjoy more Fast Bikes reading in the monthly magazine.
Click here
to subscribe.