The more modern types may want their books on iPads or Amazon thingies, and some of this fine collection here may be well available on those. However, to a huge part of the motorcycling audience, sitting on the throne reading on a digital device still feels plain wrong, and an iPad is a poor substitute for a coffee table book!

There's a whole bunch of different books to choose between, from coffee table loveliness, autobiographies and stories from way back when – but all are very interesting and great reads!
For a huge list of biking videos, click right here Best Motorcycling DVDs & Blu-rays
Valentino Rossi – Life Of A Legend
Pre-order – 11th Jan 2018 release – £20.28
BUY NOW – Rossi Life Of A Legend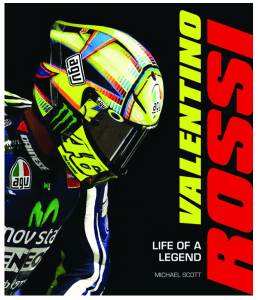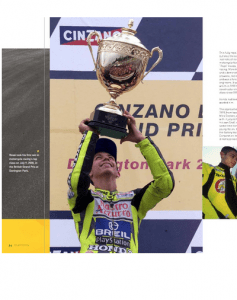 This is a must for Rossi fans. Written by Michael Scott, it covers the entire racing life of Vale up until 2017 with amazing photos and lots of insider info – get it!
Seeing Red 2017
£30
BUY NOW – Seeing Red 2017
Or Go Here – www.britishsuperbikebook.co.uk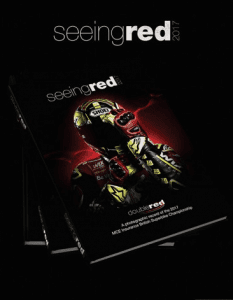 An utterly brilliant book covering BSB 2017, put together by BSB's more official snappers, Double Red. It really is a great read, or, just something amazing to flick through while the snow falls outside…
MotoGP Season Review 2017
£28
BUY NOW – MotoGP Season Review 2017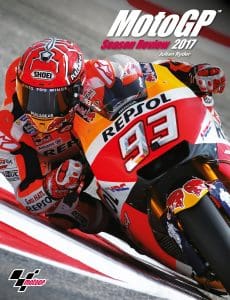 This is the official season review book from MotoGP, bunged together by Julian Ryder with incredible snaps from Andrew Northcott. It's 208 pages of MotoGP goodness and would look stunning on any coffee table, or by any typical man's perfect reading spot, the lavatory…
Motocourse 2017/18
£29.25
BUY NOW – Motocourse 2017/18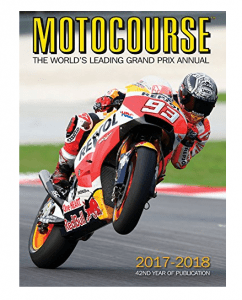 Now in its 42nd year, Motocourse is must for all fans of two-wheeled motorsport, covering MotoGP, World Superbikes and many more biking disciplines. It's the one stop paper shop for all the action from 2017, with incredible photography to boot!
MotoGP Technology 3rd Edition
£39.95
BUY NOW – MotoGP Technology 3rd Edition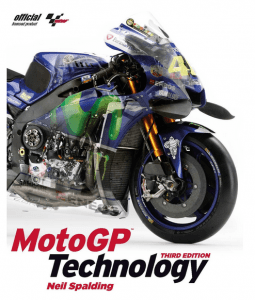 Put together by everyone's favourite biking brain box, Neil 'Spalders' Spalding, this excellent read delves into the tech' behind MotoGP. Enjoy the fruit of Neil spending an entire season hiding away in pit boxes to spy on factory teams, and badgering the mechanics and engineers senseless to bring you this tome of wonderfulness!
Superbikes – The Official Book 2017/18
£38
BUY NOW – Superbikes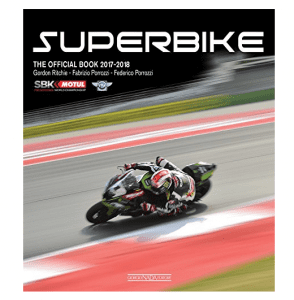 The official WSB book from 2017, covering Jonny Rea's astonishing, record-breaking year, with amazing photos and and lots of insider-info – every coffee table should have one!
MotoGP Calendar 2018
£9.99
MotoGP Calendar 2018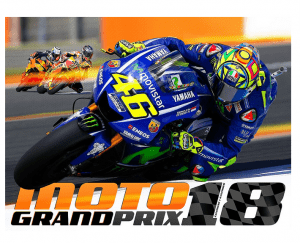 Know exactly what day is what in 2018, doodle down things to do on specific days, all while under a lovely photo from MotoGP – winner winner chicken dinner!
Stealing Speed
Hardcover – £16.99
BUY NOW – Stealing Speed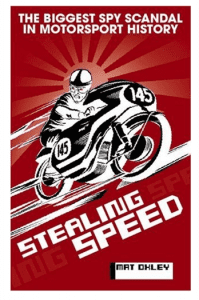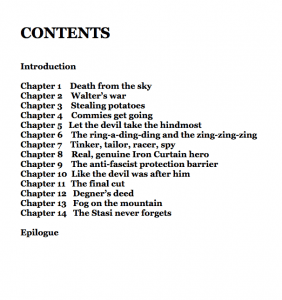 A captivating, brilliant read from Mat Oxley, about the infamous Isle Of Man TT incident with MZ and racer/defector Ernst Degner – if you love bikes, the IOM TT, and cold-war drama, this is a must read for you, trust us!
The Fast Stuff
Paperback – £9.98
BUY NOW – The Fast Stuff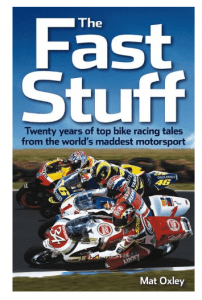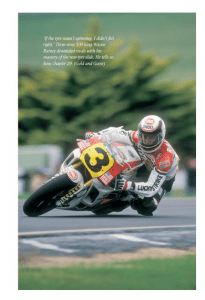 Another belter from Mat Oxley, with a brilliant read of motorcycle racing covering a twenty-year period, with lots of insight plus extraordinary tales, and some hilarity, featuring the longest list of racing luminaries you could ever imagine!
Wayne Rainey – His Own Story
£4.23
BUY NOW – Wayne Rainey His Own Story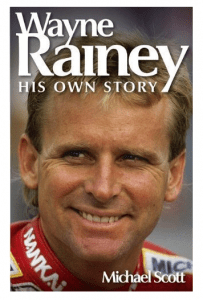 Possibly the very best racer biography ever written, with an truly chilling opening chapter, this second edition by long time GP journo, Michael Scott, is an amazing read. It covers Rainey's life from when he started biking, all the way through to winning three 500cc titles back to back, his heart-breaking accident and thereafter when he ran his own GP team. A must read for racing history aficionados.
Guy Martin – Worms To Catch
£6.29
BUY NOW – Guy Martin Worms To Catch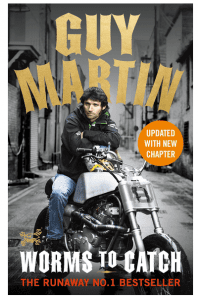 This covers Guy's foray into TV, doing all the speed records, tracing his family history and blatting turbo charges Transit vans through Nevada. Guy Martin fan? This is for you!
Guy Martin – My Autobiography
£6.29
BUY NOW – Guy Martin Autobiography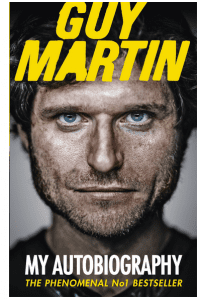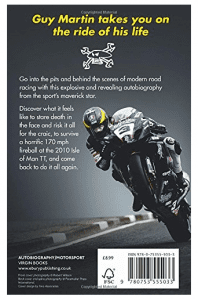 For the full SP on Mr Guy Martin, you should really read this, like, right now! And don't worry, someone helped write it for him, so there will actually punctuation, and therefore pauses, in his thought process! It really is a good book, especially where it covers his terrifying crash through Ballagarey at the TT a few years back. Another Guy fan's must read!
Guy Martin – Road Racer
£12.91
BUY NOW – Guy Martin Road Racer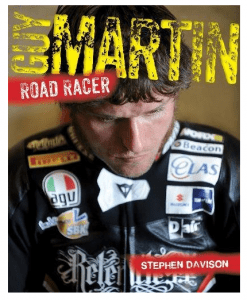 The last Guy Martin inclusion, we promise! This is a wonderful book full of gorgeous pictures of Guy racing taken by Stephen Davison, from his very first at Scarborough in 2003 up until recent times. Another cracking coffee table number!
Foggy
From £0.01 – yes really!
BUY NOW – Foggy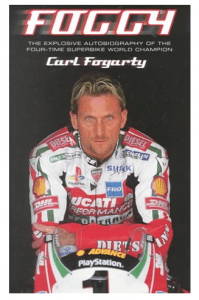 Written not long after his career ending crash, this is a good read that you can whip through as quick as Carl himself, with plenty of information you may have never known, inside stories, laugh out loud moments and crammed with Foggy goodness.
Mick Doohan – Thunder From Down Under
£6.99
BUY NOW – Mick Doohan Thunder From Down Under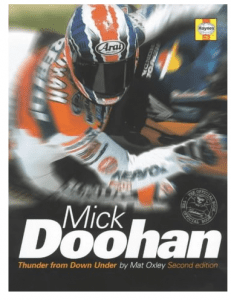 Another book by Mat Oxley, covering Mick Doohan, his entry into 500GP during the 'Golden Era' of two-stroke racing, all the way through his five world titles on the bounce through to retirement. And as it's Mick, you'll know he doesn't hold back on his opinions…
What If I Had Never Tried It?
£9.58
BUY NOW – Rossi What If I Had Never Tried It?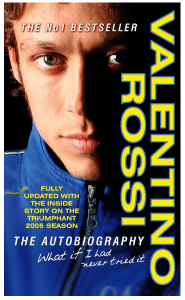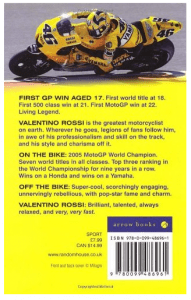 Over a decade old now, but still required reading for Rossi fans, and even for those who aren't!
FB

Enjoy more Fast Bikes reading in the monthly magazine.
Click here
to subscribe.