Finally we've had some mainstream racing to watch in 2018, with WSB's first round at Phillip Island kicking things off nicely under the new rule-set, although not quite to the standard we've been used to in recent years…
With the new technical rules now in play, everyone was curious as to how things would pan out, and after a decent (but hardly usual Phillip Island'alike fare) first race, it seemed that things remain as is in terms of podium sitters. It's bizarre to see a strung out race at PI though, for the last few seasons every race there has been a multi-wheeled affair, with dozens of overtakes (usually per lap) and all sorts of madness going on.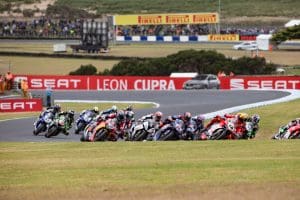 But with Tom Sykes commanding a healthy lead for most of the race, with team-mate Jonny Rea a couple of seconds back and Marco Melandri in reasonably close attendance, it certainly wasn't what we're used to when it comes to WSB racing Down Under. Weirder still, was watching riders slip-stream each other, pull out to pass, then basically stop. This is the new rev limits coming into play, whereas in years gone by every time they went down the straight the order would change lap after lap.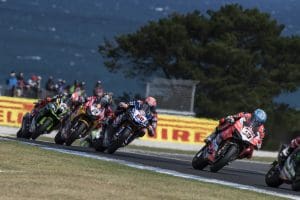 Given that Marco weighs about as much as a thong made from tissue paper, and despite his bike seemingly incapable of passing anyone without it shaking its head rather a lot, he was about the only one who could make regular passes down the straight. His team-mate Chaz Davies, couldn't even pass Ducati privateer Xavi Fores with the aid of a slip-stream, and it was bravery rather than power/speed that allowed him to the following day.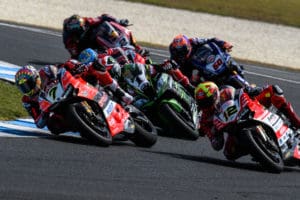 As anyone watching will know, Rea's rear Pirelli gave up the ghost with a few laps to go, Melandri got past and then hunted down Sykes, with Marco ending up winning the race 12-seconds faster than 2017, incidentally, with Davies and Fores also nipping past Rea on the final lap, too. With Pirelli noting concerns over tyre life, the following day's race would feature a mandatory pit-stop to change tyres, just like MotoGP had to do a while back. It's weird though, Pirelli have had the odd issue at PI in the Superbike class over the years, but nothing as bad as this, and in the Supersport class things were even worse.
Kenan Sofuoglu had a horrible crash on a failing tyre, beating himself up so badly that during the (already shortened, then shortened further after a red flag) race, when he felt a vibration from the rear he backed right off, and was lucky to score any points at all while his main rival (and current champion) Lucas Mahias took a great win.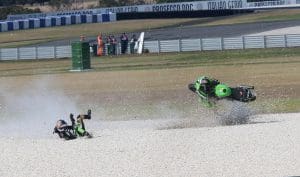 Anyhoo, WSB race 2 was a far better affair, typical Phillip Island scrapping and it was mad to watch how Jonny Rea had to let off his Kawasaki's brakes so stupidly early into turn 1, to stop less rev-limited bikes get past him – how he made it round lap after lap was astonishing. Chaz Davies was also faring well, hitting the front early on before the (as intriguing as it was when MotoGP did it) pit stops started. Davies did manage to get back out into the lead after stopping but lost the front end at the second hairpin, meaning his PI curse was still alive and, for him, still annoying.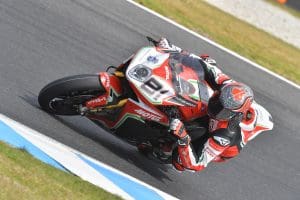 But Melandri eventually went on to win again, by a cat's whisker from Rea after slip-streaming him and passing just before the finish line, with (a rather pleased) Fores joining them on the podium. This means that the Ducati/Kawasaki hegemony, on this evidence and despite PI's particular nature, remains, and if they are winning or on the podium a lot during the next two rounds, they'll be penalized yet again in terms of revs. For Kawasaki, it could mean that their race bike could eventually be operating under the rev limit of the bike you go buy in the shops – and that's just plain bloody stupid.
You want WSB to be competitive again? Then go back to the old rules – in 2012, the last year before Dorna took over and started fiddling, five of the six participating manufacturers won races, and also races were won by privateer teams (in this case, by Chaz Davies and Sylvain Guintoli), and this is also mostly the case in the years leading up to 2012, too. Now chart the number of different winners, be that riders, teams or manufacturers since the Dorna take-over, and you'll see it's funneled down from multiple winners, to just a mere handful, and hardly even that. All their rule-twiddling has done thus far, is turn a bloody good fun, super-competitive (and well attended…) series, into what we have now. And then, suddenly wondering what to do about this fine mess they've gotten themselves into, they start mucking about even further. Brilliant… This is meant to be the pinnacle of production racing, but if at any point this year a race bike's rev limit drops below that of the donor road bike's, from a technical perspective, it'll just become a farce.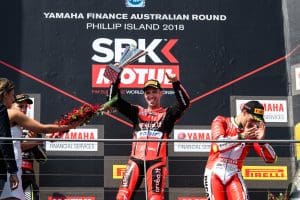 Now, Dorna have worked wonders in MotoGP, stumbling along the way, but finally hitting upon a decent formula for all – great work. But with WSB, make no mistake, this is all about dumbing it down further, to remove it further from MotoGP which is their big cash-cow. While they were fixing MotoGP's issues though, they already had a huge audience invested in the series and its stars, we and everyone else already know GP is the top dog, but they've managed to nearly completely break WSB in just five seasons by trying to 'fix' it. We do hope they are genuinely invested in bringing it back up to speed again, although all this talk of making it cheaper to make it more competitive is nonsense, the best funded teams will always win even with such strict rules – until of course they're handicapped so much their riders have no chance, and then they'll lose interest, the sponsors lose interest, fans lose even more interest, the manufacturers lose interest, and so on and so forth.
In an ideal world, WSB needs to belong to someone else, to be sold out from under the same umbrella group which owns Dorna, leaving them to concentrate on MotoGP and someone else to rebuild WSB. And then, finally, we may get back what we had before – two truly exciting top-level bike racing series everyone can enjoy. An unlikely scenario, but we can dream…
FB
Pics: Ducati, Yamaha, MV, Kel Edge

Enjoy more Fast Bikes reading in the monthly magazine.
Click here
to subscribe.