Kawasaki's latest ZX-10R, the SE version, was recently launched in Spain and we had both Mike and BJ there! You can read Mike's full launch report in issue 340 out soon, but for the moment, here's BJ with a few points on the lecky suspended machine…
It's A 'Hybrid' Bike – No, not that kind of hybrid, the SE is a mixture of the stock ZX-10R and the RR, in that it uses the engine from the stocker, the electronics (including shift blipper) from the RR, but has electronic Showa suspension.
The Showa System Is Nuts – The most advanced on the planet they say, using a direct-solenoid, its own ECU and more monitoring systems than anything else, it can read, decide what to do AND adjust the damping accordingly up to 1000 times per second! That's nearly 400-times quicker than the next best system currently being deployed by rivals…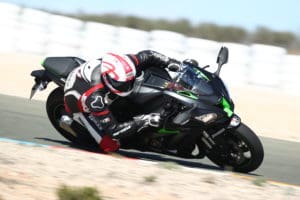 The Ride Is Impressive – On road settings it's very good indeed, in fact the best compliment it can be paid on both road (and track for that matter) is that it feels like traditional suspension with exceptional damping qualities – exactly what they were after – and it's also easy to tailor to personal preference via the 'manual' mode.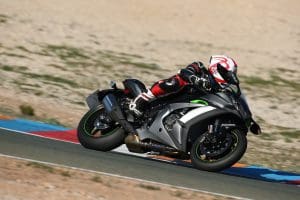 There's No Flash Dash – It's still a version of the Stocker and RR's LCD type affair, although changing it would have meant changing a lot of the front end of the bike to suit. That being said, it could be disappointing for some folk given…
It Costs £18,949! – That's Yamaha R1M, Aprilia RSV4 RF and stock Ducati Panigale V4 territory, and while the Showa suspension is, I think, absolutely brilliant, a test ride would be in order to make the final choice of whether or not you'd want one given it's still a ZX-10R (which means big, bulky, but fast with great electronics), unless of course you're pure Team Green, in which case this is as good as it currently gets, and you'll love it!
For more info head right here: Kawasaki ZX-10R SE
For single print/digital copies of Fast Bikes and subscriptions head right HERE
FB

Enjoy more Fast Bikes reading in the monthly magazine.
Click here
to subscribe.