It's been well over a decade since the last TT game hit our living rooms, but now it's back on Xbox, PS4 and PC, too, and our Martin has been giving it a crack, so over to him!
After nearly 10 years of riding I'll finally get my first lap of the TT, well, virtually anyway! The Isle of Man TT game faithfully recreates the 37.73 miles and 200-plus corners of the iconic course, that has captured collective road racing enthusiast hearts ever since its first race 1907, bringing the speed and thrill of road racing to your living room. (There's a YouTube link to check out at the bottom of this story with an onboard game lap!)

Price Average – £39.99
PS4 – BUY NOW head right here TT – Ride On The Edge – PS4
Xbox One – BUY NOW head right here TT – Ride On The Edge – Xbox One
PC – BUY NOW head right here TT – Ride On The Edge – PC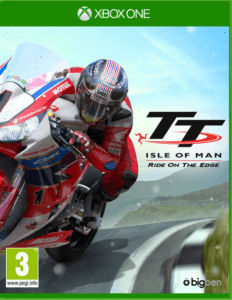 Graphically, the visuals are spot on and, due to the licensing agreement with the event, you'll find plenty of riders and their accompanying sponsors (that you'll already know of) which means you can use John McGuiness, Cummins or Anstey in free mode. Alternatively in the main career mode you play as yourself, an aspiring rookie, starting at the bottom and working your way up. Despite the game's name you won't just be racing around the Snaefell Mountain Course. To ease you into how the game's physics work you are put to the test training on around 10 smaller road circuits from around the UK. I found this the best way to get into the game after my first failed attempt on the mountain course took nearly 25 minutes due to numerous crashes and hedge dives!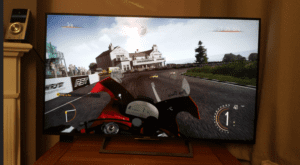 The early career mode will help build your handling skills, there'll be no running wide into a bush or riding over that curb to cut corners and I like the fact that you can't just slam on the power whilst being lent over around a bend. It really teaches you to be smooth with the power delivery, as well as entry and exit points – get any of these wrong and you'll be off and it doesn't matter if it's the 5th or 50th time, you'll still winch at the thought of doing it in real life and that to me speaks volumes for the entire experience of playing the new TT Isle of Man game. The feeling of realism is immense and I can't wait for the next race. Oh, and did I mention sidecar mode is coming soon?!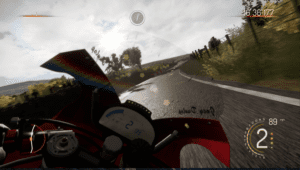 Verdict: 8/10
An incredible effort which looks beautiful and has the bikes, riders and the course spot on – but it's not for the faint hearted and takes time to learn, even completing one lap of the smaller beginner courses (without crashing) feels like a real achievement at first! Put the time in though, and you'll be rewarded!
Martin
Reviewed on :
Xbox One / Want an Xbox One? BUY NOW right here Xbox One S 500GB
Sony Bravia KD55XE8596 55 / Want to upgrade to a Sony Smart TV? BUY NOW right here Sony Bravia TVs

Enjoy more Fast Bikes reading in the monthly magazine.
Click here
to subscribe.