Yes oh yes, we'll be joining forces with MSVT and Bridgestone to bring you a whopper of a track day event at the oh so glorious Cadwell Park on the 10th of June!
If thrapping around Cadwell's legendary curves isn't good enough for you, there will also be prizes to be won on the day along with some presents. Doesn't get much better when you include flying over 'The Mountain' too, does it? Fast Bikes will be in attendance en masse and will drag along a celebrity racer or three. If you don't fancy riding your own machine there will also be the option to pre book hire bikes, plus circuit rider coaches, HMT tyre support, Bridgestone tyre advice, 100% suspension setup service… We've got you all covered there, right?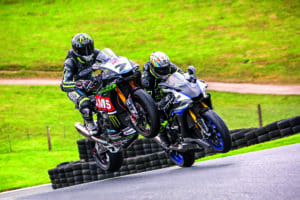 There will be the usual groups to sign up for, be that Novice, Intermediate, Advanced (All £149) or a 121 Track Academy (£448) – whatever's your poison. Track time is divided between these groups to typically give seven 20-minute sessions. A mid-summer weekend track day mean's places will book fast. So, don't delay, get booking and join us for a play!
Cadwell Park is a unique, challenging and exciting circuit in the Lincolnshire countryside. Imagine your favourite road with nothing coming the other way. Often referred to as mini-Nurburgring due to its woodland sections and fantastic elevation changes, everybody loves the place.
Riders are monitored on circuit to make sure everyone is looking after each other. Briefings are clear about what we expect and group numbers are always sensible.
All the info on the track day and, more importantly, the prizes to be won, can be found in the latest issue of the magazine – 339 May 2018 – you can find single print/digital copies, and subs details right HERE
For even more info and booking details head right here Fast Bikes Cadwell Track Day
Or call 0843 453 3000
See you all there!
FB

Enjoy more Fast Bikes reading in the monthly magazine.
Click here
to subscribe.