Have you ever lost a video camera? Annoying, isn't it? I've lost two in the past, both of the Go-Pro variety. One because I stupidly left it of the bonnet of a van while filming, forgot, and then proceeded to drive off a little later on, and never saw it again. The other I had loaned to one of our guys here at FB, and that one now resides somewhere around Cadwell Park's lush surroundings!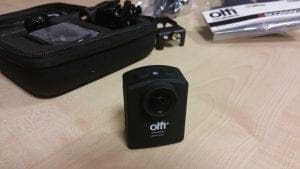 None of those were cameras I had gotten through work to test, they were both mine and I lost a grand total of around £700's worth of kit (as he also lost the suction mount at Cadwell too, the bell-end…) – and that hurt, a lot! But, would I cry as much if the camera I'd lost had cost a penny less than £150?
A tear would be shed no doubt, though at that price point mostly because of the inconvenience and lost video files, rather than the cost of the unit itself. With these kinds of things such as cameras it's always tempting to go with the market leaders, they tend to be the best after all – but the 'best' always costs more, much more…
Which is where the Olfi One.Five camera comes in, a brilliant little piece of tech' that won't break the bank, but can hold its head up high against the best as far as we're concerned. The founder of Olfi worked within this industry for a good while, and wondered why on earth the units he was dealing with cost so much, when he knew a decent camera could be put together – but without costing the earth. The culmination of all his work and their development over the last few years is this – the Olfi 4K One.Five Camera.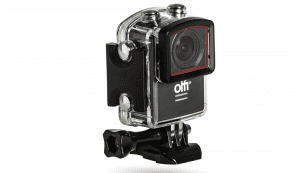 The big news with this camera is of course the 4K (3840 x 2160 pixels) shooting option, allowing UHD (Ultra High Definition) capture at 24FPS (frames per second). It also allows 1080p capture at 60FPS (and at 30FPS), and 720p at 120FPS which, incidentally, makes for some terrific slow-motion videos via 2, 4 or 8x speeds which you can choose via the idiot-proof menu system on the crisp LCD rear screen and associated 'action' buttons. It also sports MicroUSB & HDMI output ports, and the obligatory MicroSD card slot.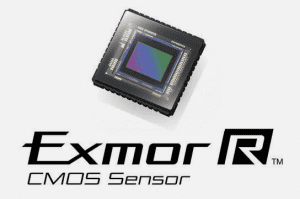 But that's not all, because the One.Five also has other tricks up its sleeve, most notably a brilliant (back-lit) Sony Exmor-R CMOS sensor which helps with picture quality and reduces noise-grain in images. It also features gyro-stabilisation (think a digital gimbal), and can take still pictures at 16MP resolutions, and time-lapse ones at that. To top it all off, there's an app for your phone to control it via Wi-Fi, and if you launch your bike into the sea (or deep swimming pool) by accident and the unit is in its water-proof case, it'll be fine to a depth of 30-metres, though you may not be… That's a hell of a lot to cram into a tiny 54x40x24mm unit size, and it weighs sod all, well under 60-grams out of its case, too.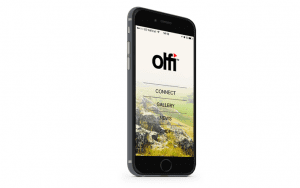 So how does it fare? Well, we've used one quite a bit in the last few weeks, and you can see some examples of those times below right here. We will soon be posting up riding videos soon too, so keep an eye on our YouTube page for more examples of that but, trust us, we're are very, very impressed thus far.
With the initial kit, for £149.99 you'll receive the camera in a neat little carry case, along with the WP case and another more svelte 'cage' for non-WP and less dangerous (to the camera unit itself) larks, plus a slew of sticky mounts (the 3M variety). It also has some kind of clip we've not used yet, all the USB leads you need for charging and data transfer and, for some reason though gratefully received, what appears to be an Olfi branded bottle opener! However it's probably a tool, and I'm just being stupid…
Accessories are nicely priced in line with the main unit, with a smorgasbord of things including suction mounts (£19.99), remote controls (£29.99), chest harness (£14.99) and so on and so forth. Thus far we've used the suction mount and the chest harness, and despite initial misgivings about the cup of the suction mount being a little small, it's actually better (than some others) as it both fits to more areas of whatever bike, and sucks like a good'un! And anyway, the experienced among you will already always, always, back up a suction-cup with a bit of gaffa tape for those JIC (Just In Case…) scenarios.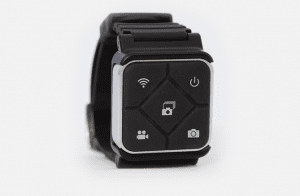 Having access to both a 4K monitor and top 4K TV, we can report that the picture quality at 4K is superb and (we think) comparable to far more expensive units we've tried – when shown to some unaware office folk videos from the Olfi, a 4K Sony and Go-Pro, they struggled to distinguish the differences, which we'd say is job done for the diminutive wee Welsh derived Olfi.
Recordings shot at slo-mo 720p looked great, and general 1080p clips were also very good, with the 4K LG TV having little issues up-scaling 1080p shoots to look pretty decent, and on a 1080p TV they looked beautifully crisp and as good as anything else we've shot before – we're not tech experts, so can only judge by our own mince-pies, sorry, eyes!
When used free-hold for unboxing videos and the like, at 4K we did find things often a little jarring until we turned on the gyro-stabilisation, and then it settled down nicely. We did at one point have one video where it seemed that a single errant pixel was dotting about the place in playback, but a quick look through their FAQs on the website detailed a fix – we did the fix and it worked perfectly!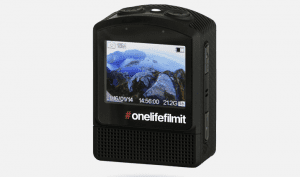 For onboard bike stuff it is brilliant, and only on super-bumpy roads did it seem to give the camera a bit of a workout to keep the image completely stable, but on track and smoother highways it's an absolute diamond and, as we said before, we'll get some onboard stuff up soon.
We did also have a little issue with sound during free-hold shooting (which you may pick up on during one of the embedded vids), not picking up voices clearly of those a few feet from the camera, however, diving into the unit's menu options we were able to increase the audio sensitivity and hey presto, fix'io!
We suppose the only real bug-bear to us is battery life, which is slated as being roughly 90-minutes use. We have gotten just shy of that (about 80-mins), but it took a bit of working out to reach that figure. When using the LCD screen a lot we were getting around an hour's worth of footage, sometimes a bit less, but by leaving that off (it goes off automatically, you have to press a button to bring it back) it increased the life of the 900mAh battery by nearly 30-minutes.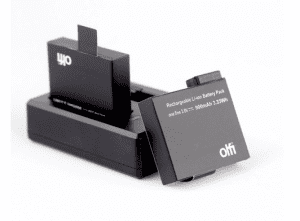 That may be a deal-breaker for some, but there's a really cheap way of combating this! In their accessories store they have spare batteries for £14.99, which is very cheap. However, they also have a 'battery bundle' at £29.99, which includes two spare batteries AND a charging unit which can charge both at the same time. This would bring the basic unit plus extra batteries to a total of £179.98 – still well over £100 cheaper than the basic bundle of the perceived market leader.
We're still yet to use many of the cameras features, accessories and apps, but will update you as time goes on and we get more used to it. So far we've gotten on well with all the little extra mount gubbins and so forth, and are yet to yearn for any other extras.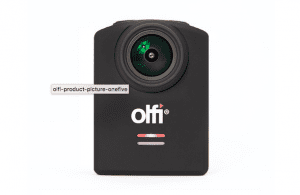 Yet if you're like us all you would care about is A) does it work? B) does it look good (and therefore do I look good?!) and C) how much is it going to cost? Well as far as we're concerned, the answers to those questions would be 'Yes, Oh Yes & Not As Much As You May Think For 4K'!
Keep an eye on here, our Facebook Page and YouTube channel for plenty more videos created using the Olfi One.Five.
Verdict – 9/10 – Pretty damn good for what we use a camera for, crisp UHD images and doesn't completely empty your wallet – winner winner chicken dinner!
For more info on the Olfi One.Five head right HERE
To Buy Now head right here Olfi One.Five Camera
FB

Enjoy more Fast Bikes reading in the monthly magazine.
Click here
to subscribe.