As always, there's a fair amount of blurb and bluster doing the rounds about what we could be seeing next from some manufacturers, so here's the latest we've heard, along with some completely made up rumour scores, just for fun!
Two of the more interesting rumours we've heard come from the Ducati camp, which may involve a new Supersports machine, and a new naked bike…
Ducati Panigale V4 750 / 800
Now then, this one won't go away. When we first heard it may become a reality we were a little sceptical, however then a very similar set of whispers came from another different source, and then another, too. Word is that the bottom-end of the incoming Panigale V4 R engine (which is sub litre for racing), could be used to form the basis of a smaller capacity version to replace the current 959 Panigale, and there are various options of how they could go about it from a mechanical point of view. In an ideal world, as FB is busy trying to tell anyone who will listen that the Supersport class should be replaced with bikes such as the 959 Panigale, MV Agusta F3 800, incoming Triumph 765 and potential new Suzuki GSX-R750 (see below), we'd love it to be a 750cc motor. Should it ever come to pass that is! That way it could slot into a new Supersport class as a four cylinder. Rumours do point towards 800cc being a potential choice given it was a MotoGP capacity for a few years. But with four pots a three-quarter-litre engine would be more than handy enough against an 800cc F3, and so on.
Rumour Rated – 5/10 – It's possible, but we won't hold our breath…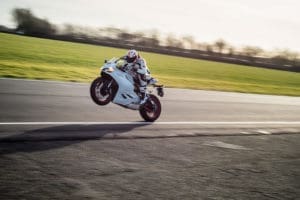 Ducati Panigale 'Nudo' / Streetfighter
Yeah, the 'Nudo' part we made up (it means naked, in Italian), as we haven't heard any particular name being bandied about for this potential machine. Ducati have a terrific naked bike in the Monster, but haven't really had a balls deep naked sportsbike since the mad-cap (and sorely missed) Streetfighter range. As excellent as the Monster is, it's more Roadster material than pure sports fare, and Ducati do need a rival to Aprilia's all conquering Tuono 1100, don't they? The Panigale 1100 engine with some slight fettling will make an absolute beast of a naked bike engine – drop the delivery curve way down the range, cap a stack of rpm off it and throw it all back down low – sorted! There's ample rumours zapping about that point to this bike maybe being revealed later this year, and unless they really want to keep sports for their sportsbikes and all the rest of their range V-twin based, we reckon it's more than likely. The only bone, is they never made one from the V-twin Panigale, which we all expected them to, so, there's the potential fly in this ere ointment…
Rumour Rater – 8/10 – Please happen! Don't let us down, Ducati!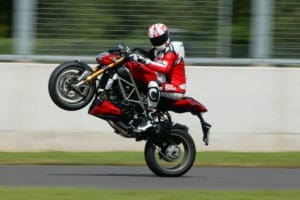 MV Agusta F7
The long awaited replacement for the venerable (but still proper Bo!) F4 range, allegedly called the F7 for now, was originally intended to be revealed last year, before MV hit the financial skids. Work was well down the line, and at one point apparently had some involvement from AMG with the engine side of things, before that relationship went down the swanny. Having spoken to those who've seen the bike, or plans for it at least at some stage of its development, it's supposed to look like something between an F4 and a Panigale –and that's probably not a bad thing! The last we heard it would remain an inline-four with a traditional firing order, but this was a while ago so it could have changed by now, but that remains the likely configuration. We also know that a 'Final Edition' F4 is at the precipice of being released, probably some time in July, which all points to the F7 being incoming. With that being said, and with MV still recuperating and getting back to a healthy business, maybe this year is a little early – but we can't wait!
Rumour Rater – 9/10 – Stun us, MV! Even if we have to wait until 2020!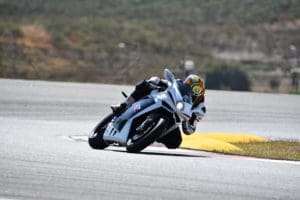 MV Agusta Brutale
Using a larger capacity version of the F7 engine, MV boss Giovanni Castiglioni has been reported as saying he wants the new Brutale to be the most powerful naked sportsbike in the world. Not just by a bit, but by a lot! This would point to a much larger capacity, around 12-1300cc perhaps. They need it though, the big Brutale has quietly shuffled off, being non Euro4 compliant and was the only MV to not have a RBW throttle assembly. It's missed, quite frankly, because even the 'lowly' 910 version from a few years back was insane and a bag full of fun.
Rumour Rater – 8/10 – Just give it to us already!
Triumph Daytona 765
Look, Triumph, everyone wants one and the chances of you making a Superbike capacity Daytona are slim to none – so just get on with this one! We hear rumour after rumour this is going to happen, so let's just say it is and WILL IT into being – c'mon everyone, vibe the 'make it now make it now make it now' thoughts in Hinckley's direction!
Rumour Rater – 10/10 – We simply won't take 'no' for an answer, lack of evidence be damned!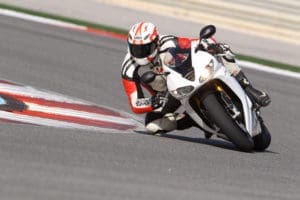 Suzuki GSX-R750
We were so excited a few months back when we heard there was to be a new Gixer Seven Fiddy on the way, in the same vein as Suzuki have so successfully updated the GSX-R1000. It's sad that 2018 is the first year since 1985 that a Gixer 750 hasn't been on the UK market, especially as even when it wasn't the latest and greatest it sold well and was a near perfect middle-range choice. Originally we were told to expect a late 2018 reveal, but have recently learned that's unlikely to be the case (with Euro5 not far off), and now more likely to be a 2020/21 machine if they still go through with it. C'mon, Suzuki, you were doing so well with some of your new bikes, keep it up, and give us another bike for our new pretend Supersport class! Er, please?
Rumour Rater – 6/10 – We do hope they haven't got cold feet…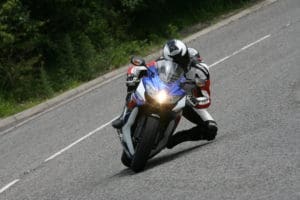 Suzuki GSX-R1000R SE
We're quite confident this is going to happen, although we're basically expecting the same current machine to be fitted with Showa's ridiculously good electronic suspension that's on this year's Kawasaki ZX-10R SE (which is why we stole the 'SE' bit for our purposes here!). Kawasaki had the exclusive deal for 2018, but we've heard that runs out for 2019, and as we've also heard Suzuki may not have a great deal to show this winter, this could be a no-brainer for them to get a bit of coverage.
Rumour Rater – 8/10 – Highly likely, for 2020 if not 2019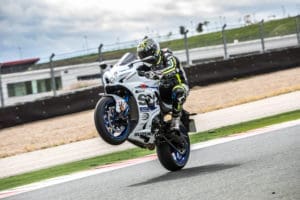 Yamaha R1
Next year the 'new' Yamaha R1 will be five years old! That's a long time for a model at the cutting edge. Yes, the current bike is already at the, er, current edge, but the words used to us were to 'just look at our (Yamaha's) usual schedule of releasing models, you get a new one, then an updated one a year or so before it goes off sale'. The R1M was updated for 2018, so we could see a brand new R1 quite soon. We'd go for 2020 ourselves, there's enough life left in the current bike to squeeze out at least another year of stocker and R1M sales, we'd venture.
Rumour Rater – 7/10 – It's coming, just maybe not for 2019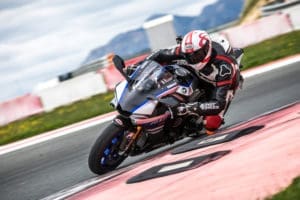 Honda V4 Fireblade
Those rumours never go away, but then neither did the ones for decades telling us a road going NSR500 was on its way, either… God we'd love to be proved wrong on this, we really would, but just can't see it happening. Has no one else noticed how much of Honda's range has been a little stifled of late? A bit like Suzuki? Sure, updates here and there, couple of new bikes here and there but nothing substantial bar the new big CB, the Fireblade and Fireblade SP (and other stuff we're not that bothered about…) – and even the Blades are basically the old bike tarted up a bit, rather than being completely new. Yes we had the RCV'alike that cost £150k a couple of years back, but even that bike out of the box made less power than a 2003 Fireblade! Honda don't tend to play any tune than their own, which is fine, but what makes it hard for us lot is we all know what they're capable of – Aprilia and Ducati can produce sub-£20,000 V4 superbikes, and sell every one they make, so there's no real excuse for the largest motorcycle manufacturer in the world to not easily best or beat that, nay?
Rumour Rater – 2/10 – Please, Honda, for the love of Pete make us wrong!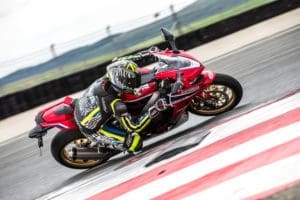 BMW S1000 RR
Let's just be frank – this is happening and we should see it later this year – boom!
Rumour Rater – 10/10 – Don't make us look silly, BMW!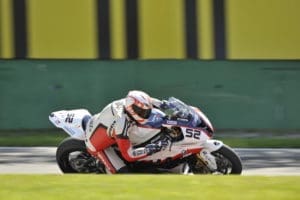 Lots more rumours when we get them!
FB

Enjoy more Fast Bikes reading in the monthly magazine.
Click here
to subscribe.