Good old Assen – no matter the series or class, chances are you'll always get a good race around there! It's often the way with the older tracks, the ones with fast, flowing corners, and this year we finally got a multi-rider MotoGP scrap (nearly) all the way to the flag…
Qualifying had been tight (as is often the case with Assen, once a few years ago in WSB the entire field of 25 was split by just 1.1s during practice!), with Jorge Lorenzo in 10th spot less than 0.4s from Marc Marquez on pole. Being so far back didn't stop the form man from exiting turn 2 after the race start, in second place! It wasn't long until he was in the lead, adding to his tally of most laps led so far in 2018 – you would have never said it would be Jorge, would you, given his season up till Mugello!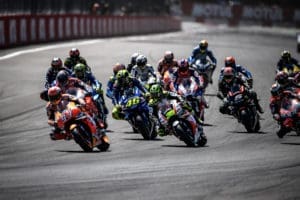 What was also impressive was to see Jorge battling, passing rivals back after they'd passed him, and he would in fact lead most of the race. And what a race it was, with an initial break-away group (of the main contenders) being joined by Alex Rins, Johaan Zarco, Cal Crutchlow and Maverick Vinales. It was great to see so many positions being swapped through the line-up, Valentino Rossi would be scrapping for the lead one lap, back in seventh the next, and right back in contention the lap after.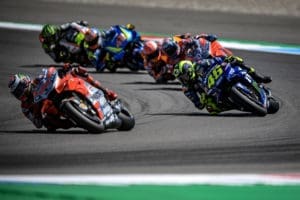 One of the great levelers here, as well as the track itself, was the fact that everyone seemed to choose tyres they never normally would like, for example, Marquez using a soft rear, while Lorenzo chose a hard, options neither have opted much for in the past. The temperature being higher was likely part of their decision making process, but what this meant was most of the front-runners were in relatively unknown territory, and few were in their comfort zone, which only added to the closeness of the racing itself.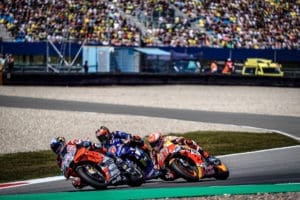 There were also very few crashes, another byproduct of the above, as lap times were relatively low throughout the race – everyone was being ever so slightly more cautious than usual. Despite this, some of the overtakes, while fine from an angry internet perspective, had fans on the edge of their seats, and ruined a race for the odd rider, too. Rins' pass on Lorenzo with just a few laps to go, was just harsh enough to lose Jorge just over a second, and that gap to the front group remained until the flag, had he been there or abouts, he may have had a better result and not watched his slim title hopes vanish while finishing seventh…
The same goes for Dovizioso and Rossi, still just about in touch with (a starting to check out) Marquez with a couple of laps to go. Rossi passes Dovi, then Dovi passes back into turn one, runs wide (leaving Rossi to run off track entirely), and any chance of either catching Marc spirals right down the swanny, while Vinales and Rins take full advantage. That's how tight this race was.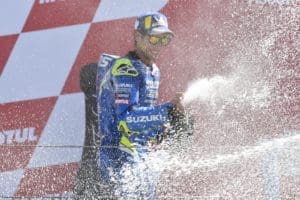 Marquez put the hammer down with a handful of laps to go and was ever so slightly gapping the field with each circulation, and was then helped by the aforementioned scrapping behind him, meaning we (sadly) didn't get a grandstand finish for victory. We did get some action between Rins/Vinales (for second and third respectively) and Dovi/Rossi (for fourth and fifth) for the final placings, but Marquez had flown the coop and takes away a healthy points lead from Assen.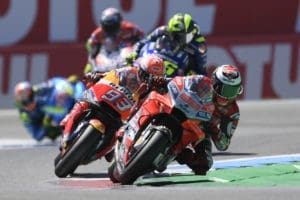 He leads Rossi by 41-points, while his furthest potential title challenger, Lorenzo, sits a massive 65-points adrift. It was though, good to see Dovi back in the mix after failing to finish three of the four previous races, though he himself sits 61-points back. It's going to take some gargantuan stroke of luck for either to chase down Marc, and while as we write Rossi technically has the best chance of chasing him down, he needs to be doing much better than the odd third place or worse – his current placing in the points table mostly comes down to the poor results, DNFs, or inconsistent performances of Marquez's rivals, rather than great results. Still, a 41-point gap isn't stupidly massive, shit happens after all and Rossi has been consistent enough thus far to stay in touching distance. Plus, Marquez does enjoy the odd crash, doesn't he? Maybe things aren't all over just yet…
Results:
1 – Marc Marquez
2 – Alex Rins
3 – Maverick Vinales
4 – Andrea Doviziozo
5 – Valentino Rossi
6 – Cal Crutchlow
7 – Jorge Lorenzo
8 – Johaan Zarco
9 – Alvaro Bautista
10 – Jack Miller
FB
Pics: Suzuki, Ducati, Yamaha

Enjoy more Fast Bikes reading in the monthly magazine.
Click here
to subscribe.