Quick warning – spoilers lay inside regarding yesterday's MotoGP race in Germany – you've been warned! Anyway, with all major racing series now on a hiatus, let's just have a quick look at a few points of interest…
Old Dog – New Tricks
One must simply give props (say the kids, in the '90s…) to Valentino Rossi and his work ethic. Whether you like him or not, the old boy certainly puts in the effort to keep himself somewhere near the sharp end of things, and in 2018 as we hit the summer break, that means sitting second in the MotoGP points table, albeit a currently coincidental 46-points behind wonder kid Marc Marquez.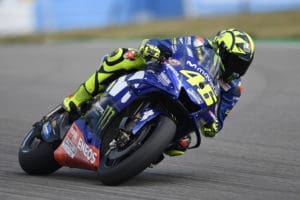 It's been a pretty naff year for Yamaha thus far, and they haven't won a MotoGP race now for 19-odd events, which is an entire season. In matter of fact, until Sachsenring third-place was Rossi's best finish all year which he managed on a handful of occasions. His team-mate, Vinales, likewise has a couple of podiums to boast about – something is amiss at Yamaha, mostly a lack of rear grip which was made quite clear in Germany from onboards where both riders were hitting 100% throttle a lot quicker than anyone else. The reason? Because they were seemingly letting the traction-control try and find the grip for them, running it higher than they would like no doubt, as corner exit edge-grip with just a little TC and their right hands was lacking. So, rather than try and apply the power the way both would prefer, which was creating too much spin, they leaned on the leckies – and this is usually such a crucial balance to get exactly right – too much and the bike doesn't go forwards, too little and you lose time trying to clean up errant slides, you want that particular porridge 'just right' and they've been struggling to hit that sweet spot all season.
Yet, it appeared to actually help them conserve their tyres in Germany, enough for both to make the podium with Vinales making up lots of places in the last few laps. Rossi, however, revealed he had been working very hard between Assen and the latest round to try and make the difference. Firstly, he'd been working out a great deal as the 'Ring is physically demanding. But he had also been watching Jonas Folger's performance from 2017 over and over, too. Yamahas had traditionally not gone well around there, but Folger did, so Rossi analysed everything he had been doing – lines, lean angles, braking markers etc – to incorporate some of these things into his race there. And, it worked, bravo!
It just shows the will and determination still burns bright within him. When you're young things just happen for you, you're automatically fitter, but as you get older, not so much. It's part of laws of diminishing returns – you have to work doubly as hard to do the same as last year (like him changing his riding style etc), another 200% the year after, and so on. You also need every little trick you can pick up to make the difference, in this case, picking apart Folger's challenge to Marquez in 2017. While anyone over 40 will tell you 39 (Rossi's age) is not old, when it comes to top-level competitive sport, it really is, which makes what he puts into staying near the top even more impressive. But it is a huge amount of effort never mind finding the motivation to graft, too, and you just have to wonder how much longer he can do it? Or, will want to do it, if that tenth title continues to elude him…
World Stupid Holiday…
Following the Misano round of WSB a week or so ago, the series moved into its summer break – a staggering ten weeks long! Whether anybody even remembers it's still going by that point will be some kind of miracle, we'd say it beggars belief, but then with Dorna in charge, perhaps not.
Ever since they took over WSB they've tried to 'put it in its place', by continually making the bikes less and less like race bikes, and by generally farting about with the series. An insider, just a few months after they took control, told us all of the promotional budget had been slashed in half – the budget that promotes the series in every territory it races within. Hardly a huge surprise then, that spectator numbers began to fall immediately, is it, short of it being an incredible coincidence…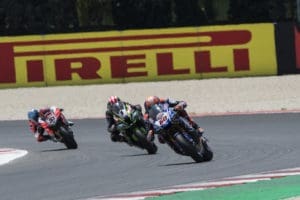 Curbing the rules also killed the competitiveness in it, too. All that happens when you bring bikes closer to stock, is the better supported teams spend even more making the best from what they're allowed, which just makes the gap between the best and least supported teams even larger. It also makes it harder for manufacturers to come in and be immediately competitive, especially when the rules get shifted year on year – more work, more money, etc. One manufacturer representative of a returning brand said to us at Donington earlier this year – "If we'd been running the old rules, we'd have been winning races by our second year easily, if not before".
So, how competitive were the old rules? 2012 was the last year before Dorna took over and we had 10 different winners on 6 makes of bike, with an even larger slew of podium finishers and, 3 of those wins came on privateer bikes – how can it possibly get more competitive than that? 2011 saw 6 different winners from 5 manufacturers. 2010 saw 7 different winners on 5 makes of bike – need we go on? We're not quite sure what needed fixing exactly: a really hotly contested series where privateers could still win, with good TV coverage and decent crowds – where was the problem?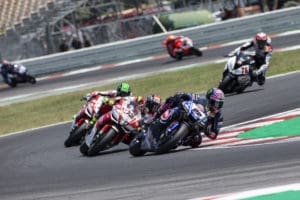 That it was getting so popular once more it threatened MotoGP, which was going through the yawnsome years back then, that was the problem. The promoters of the series were also making moves into burgeoning new territories, too, which was what finally brought down the Dorna edict to the umbrella operation that happened to own both Dorna and WSB's FGSport. With GP being the cash cow, they got their way, the Flammini bunch were kicked out of the door and the series began a slow slide which has only hastened.
So, why the stupidly long summer break? Because MotoGP's is just three weeks long, and they only really want you to watch that during the summer months. Dorna is trying all sorts of things to 'save' WSB, and we have to say they've done a great job in MotoGP turning it into pure entertainment. But they're also only trying to fix the mess they've made WSB into, too, they don't seem to really care about it, they just wanted to have control to make things as good for GP as possible. Yes they can bang on about different winners etc this year, but that would probably have happened anyway and despite everything they've done the points table has settled into the usual rhythm it's been in the last few seasons. If ever a series needed to be sold (or moved to be a winter series as we suggested a couple of years back) to give it the best chance of both survival and success, it's WSB, if only that we could have some races during the bloody summer, rather than possibly forgetting it was even on at all…
BSB – Change Is Good
We love BSB, we really do, and are happy to say it's the very best national Superbike series in the world. However, it has a problem, and that's its end-game results. We've been banging on about this for a couple of years now and folk are finally starting to come around to what we're saying – when was the last big export from the series? Rather, what rider moved on to bigger and better things from WSB since, say 2010? Two, really, which is Alex & Sam Lowes moving to WSB. That's not a lot from a lengthy span of time, though.
At the end of 2007/8/9 we had a big clear out in BSB, with Jonny Rea, Leon Camier, Leon Haslam, Cal Crutchlow and others all moving to world level series. Since then, just the Lowes lads, bar Luke Stapleford (and a couple of unsuccessful others), but then that's not really gone to plan for the boy, at least not yet. BSB's prime aim, as well as being thoroughly entertaining, has been to move young riders on to bigger and better things, but with legends such as Shane Bryne, Josh Brookes and Leon Haslam (and Kiyonari) competing there, who are all phenomenal racers, the kids haven't had the chances to win.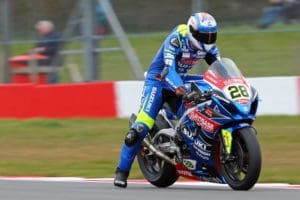 We've had brief glimpses of potential, like Luke Mossey, Jake Dixon and most recently Bradley Ray. All have won races and looked unbeatable, but then, not much thereafter. Ray we thought had the best chance of making the move, and the word is he may well find himself in WSB next season on a Suzuki, but still, it's disappointing nobody has managed to regularly de-throne the usual suspects. This may be about to change though. With Shakey's future unknown given his awful accident during testing (get well soon mate!) and Leon Haslam likely to hot-foot it back to WSB too alongside Jonny Rea (replacing Tom Sykes, we hear), the new breed will finally have the time to shine.
It's always sad when favourites move on, or retire for whatever reason, but sometimes you need to clear the decks to bring on the rest of the pack. Once that happens, then we'll see our young guns being given more chances to move onwards and upwards.
FB

Enjoy more Fast Bikes reading in the monthly magazine.
Click here
to subscribe.