Well, well, Harley Davidson are once more trying their hand at something new, again, but this time we reckon they could just make a really good go at it!
We all remember their foray into sportsbikes in the mid to late 1990s with the VR1000, don't we? While the bike raced in AMA for a good few years, production models were scarce (if made at all…). Then they tried to change and appeal to the more modern biker with the V-Rod in the Noughties, yet while the model still rumbles on in different guises, it seemed to nark the HD traditionalists and, given they accounted for basically all their business, the new groove wasn't given the push it probably deserved.
And now in 2018 we have this new approach, utilising a modular outlook many manufacturers have been enjoying great success with – one that will likely annoy the HD'isti, but also one that could well bring new people to the brand, starting off with a wicked looking Streetfighter. Details are scarce but we know it'll have a 975cc V-twin motor, which will join other engines between 500 – 1,250cc to power the new range. Looks pretty smart for an HD, huh?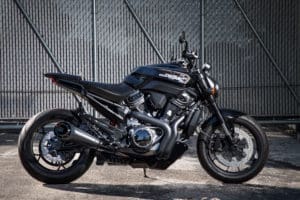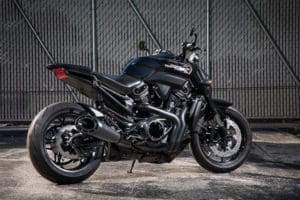 But that's not all, they're also entering the 'custom' scene (which is weird, given that customizing an HD is what the whole thing's already about, isn't it?), with machines such as the below. And as this kind of cruiser goes, it's also not a bad looker!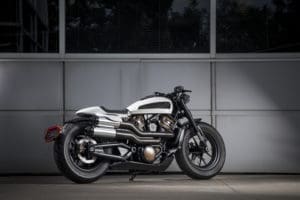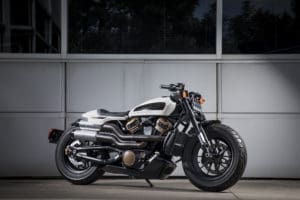 But there's more, including a new Pan America 1250 Adventure bike, too! An adventure bike from HD? They'll be entering Moto2 next… joke…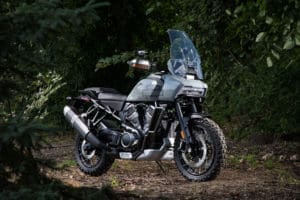 And of course there's the Live Wire which we've already seen as their foray into electric power. All of the above will be joined by other new machines, including small capacity ones for different markets. HD have been so set in their ways for so long (bar the exceptions we've already mentioned), this has come of something of a shock, but a good shock – where will their meddling end exactly?
"The bold actions we are announcing today leverage Harley-Davidson's vast capabilities and competitive firepower – our excellence in product development and manufacturing, the global appeal of the brand and of course, our great dealer network," said Matt Levatich, president and chief executive officer, Harley-Davidson, Inc. "Alongside our existing loyal riders, we will lead the next revolution of two-wheeled freedom to inspire future riders who have yet to even think about the thrill of riding."
In other news, Satan has reportedly been seen ice-skating to work, and a clunge of pigs just had a close call with the 12.10 Gatwick to Palma flight at 8,000-feet – it's clearly just one of those days, given April 1st was months ago!
FB

Enjoy more Fast Bikes reading in the monthly magazine.
Click here
to subscribe.