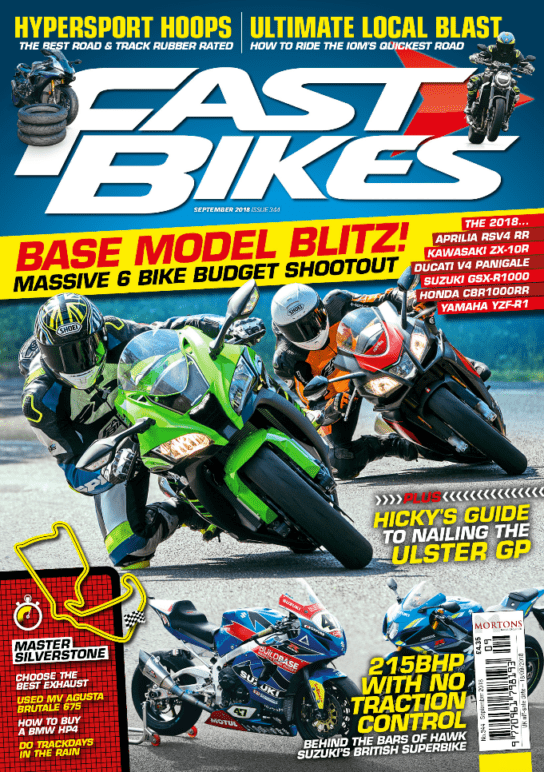 The latest issue of Fast Bikes is out now. Get yours at any discerning newsagent or subscribe to get yours delivered to you each month.
Base Model Brilliance
Just how good are standard litre bikes?
Hypersport hoops
With so much choice, which rubber is best for you?
Superbike spanking
Dangerous is let loose on a factory Suzuki GSX-1000R Superbike…
Ultimate local blast
You NEED to go here.
Garmisch
We invade BMW's annual party.
IT'S THE NEWS
Upfront
All the tastiest biking titbits.
GEARED UP
Products
All the latest, coolest and trickest products.
THE KNOWLEDGE
Used Buyer's Guide
Everything you need to know about buying a 2012-2013 BMW HP4.
MASTERCLASS
Legal
What to do when someone else's crash caused your accident.
Track Attack
How to master the best of British circuits. This month: Silverstone.
Track Craft
Dean Ellison tells us why a bit of rain needn't dampen your trackday enthusiasm.
Know Your…
Exhaust pipes. What they give you and why they give you it.
YOUR LIFE ON BIKES
Addiction
Stuart Rankin's smokin' hot two-stroke Suzuki RG 500.
You & Yours
All of your adventures!
Chatter
It's only right and proper that we give the world's best readers two pages of their own.
OUR LIFE ON BIKES
Staff bikes
More models, more miles and more mods.
• Suzuki GSX-R1000R
• Suzuki GSX-S1000
• Yamaha R6
• Yamaha R1M
• KTM 1290 Super Duke
• Kawasaki Ninja 400
RACE SECTION
Pit pass
The lowdown on BSB, WSBK and MotoGP.
Destination Dundrod
The 2018 Ulster Grand Prix is upon us.
Race Riot
What we get up to when we're not putting together the best mag in the world.
COLUMNISTS
Neave twins
It's been a mental month for the Neave twins… we'll let them explain.
Christian Iddon
It's Suzuka 8-Hour time.
Steve Parrish
Parrish's view on all things bike-racing.

Enjoy more Fast Bikes reading in the monthly magazine.
Click here
to subscribe.