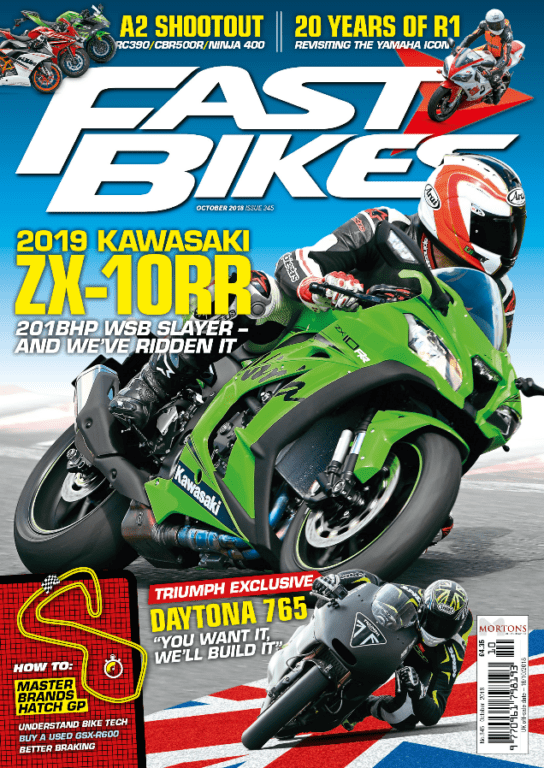 The latest issue of Fast Bikes is out now. Get yours at any discerning newsagent or subscribe to get yours delivered to you each month.
Kawasaki ZX-10RR
We ride Kawasaki's all-singing, all-dancing Ten-RR.
Triumph Moto2 Project
Bruce got the chance to have a go with Triumph's new 765 Moto2 engine.
20 years of the R1
Boothy's been finding out first-hand what 20 years' worth of R1 development is like.
A2 bike test
Pretty Boy puts some A2 legal bikes through their paces.
Techo(no)
Some rider aids are great, some not so. We take a look at the good, the bad and the ugly.
Ten with: John McGuinness
We catch up with McPint to check on his fitness and his TT plans.
Dirty Weekend
Boothy went to the Brecon Beacons to get down and dirty at Triumph's new adventure centre.
IT'S THE NEWS
Upfront
All the tastiest biking titbits.
GEARED UP
Products
All the latest, coolest and trickest products.
THE KNOWLEDGE
Used Buyer's Guide
Everything you need to know about buying a 2011-2017 GSX-R600.
MASTERCLASS
Legal
If you're in the wrong, admit it.
Track Attack
How to master the best of British circuits. This month: Brands GP.
Track Craft
Get the best from your tyres on track.
Know Your…
Know why brake discs are so important.
YOUR LIFE ON BIKES
Addiction
Ant Van Looy shows off his Kawasaki ZXR400SP race bike.
You & Yours
All of your adventures!
Chatter
It's only right and proper that we give the world's best readers a page of their own.
OUR LIFE ON BIKES
Staff bikes
More models, more miles and more mods.
• Suzuki GSX-R1000R
• Suzuki GSX-S1000
• Yamaha R6 Track
• Yamaha YZF-R1M
• Yamaha YZF-R6
• KTM 1290 Super Duke GT
• Kawasaki Ninja 400
• Kawasaki H2 SX
• Honda CB1000R
RACE SECTION
Pit pass
The lowdown on BSB, WSBK and MotoGP.
Shakey: Down but not out
We caught up with the six-time BSB champ.
Race Riot
What we get up to when we're not putting together the best mag in the world.
COLUMNISTS
Neave twins
Tom's bagged another great BSB ride.
Gary Johnson
Gaz was on for a classic TT, until it all went wrong…
Christian Iddon
Iddon's been trucking about.
Steve Parrish
Parrish's view on all things bike-racing.

Enjoy more Fast Bikes reading in the monthly magazine.
Click here
to subscribe.